In this article:
Cincoze has introduced the DS-1400 Series, featuring DS-1400, DS-1401, and DS-1402 models, designed to deliver enhanced performance and features for large-scale real-time image processing in the rapidly evolving Edge AI landscape.
DS-1400 Series: High-Performance PCIe Expandable Embedded Computer for Edge AI
The DS-1400 Series offers exceptional performance, PCIe expandability, and rugged characteristics, making it an ideal choice for industrial applications. It features increased processing power, high-speed memory, and robust protection, ensuring reliability in demanding environments. With versatile I/O options and compliance with industry standards, it provides flexibility and meets diverse expansion needs.
Advantages and Benefits:
Robust Performance:  The DS-1400 Series offers robust compatibility with 12th generation Intel® Core™ i9/i7/i5/i3 (Alder Lake-S) processors, leveraging the advanced Intel 7 process technology. With a formidable configuration of up to 16 cores (8 performance and 8 efficiency cores) and 24 threads, it delivers an impressive performance boost of over 1.35 times compared to the Comet Lake-S platform.
Furthermore, the integrated Intel® Xe architecture within the UHD 770 graphics chip significantly enhances GPU image classification inference performance, achieving an outstanding 2.8x speed increase compared to Comet Lake-S.
Memory and Speed: With support for up to 64GB of DDR5 RAM running at speeds of 4800MHz and ECC technology, this series guarantees high stability and reliability, vital for industrial automation.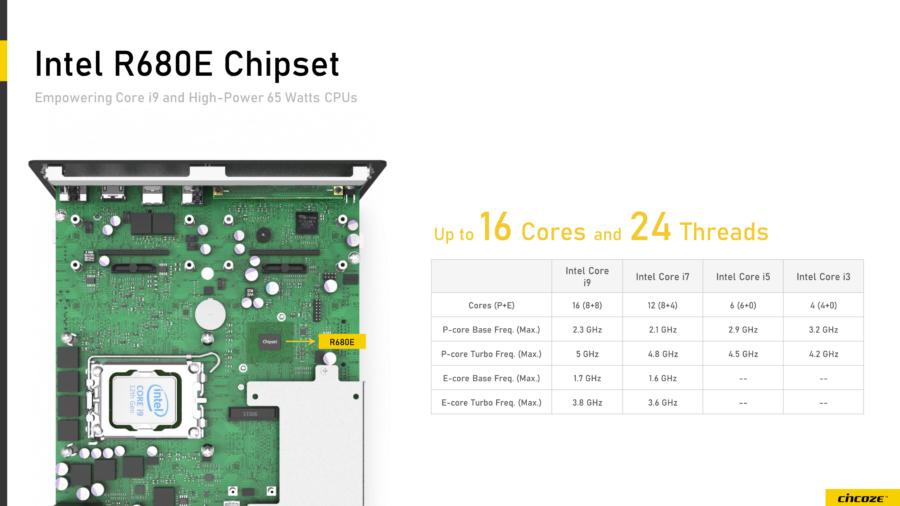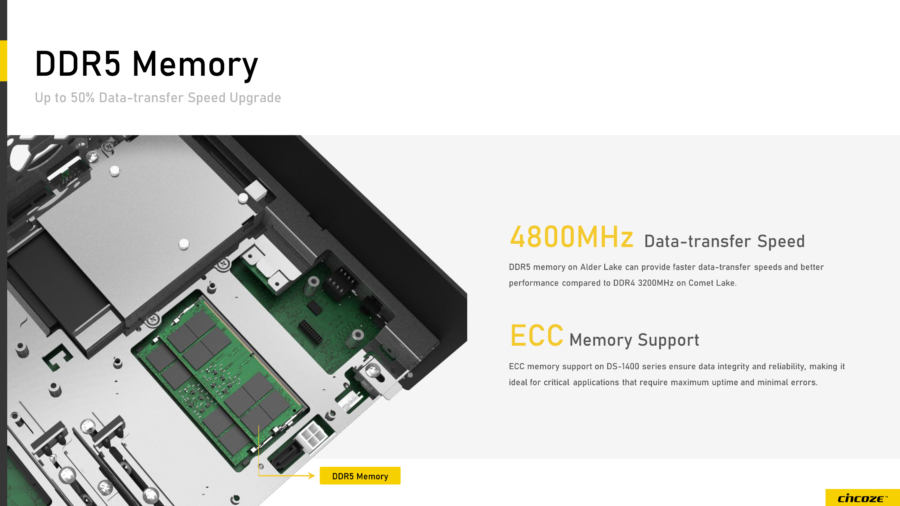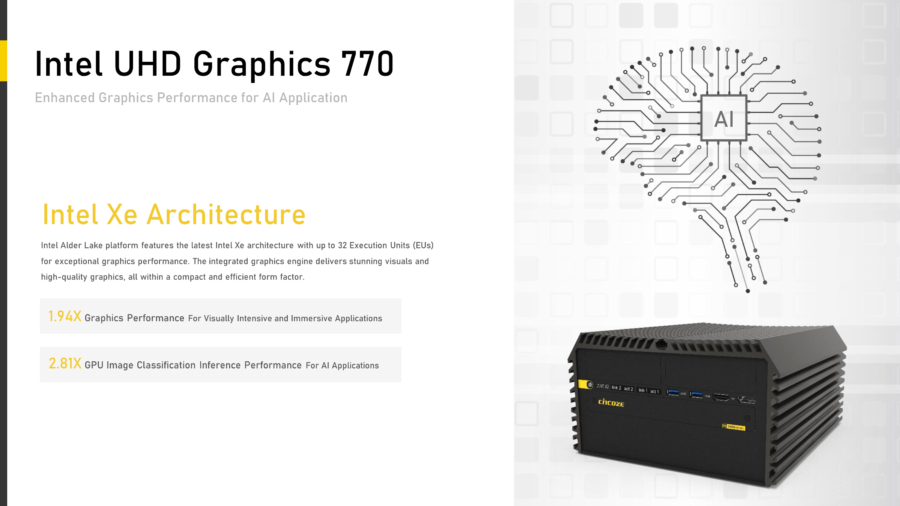 PCIe Expandability: Featuring up to 2x PCI/PCIe expansion slots, the DS-1400 series accommodates add-on cards up to 110W with dimensions of 111 x 237 mm. Cincoze's patented PCIe card retainer ensures card stability even in vibration-prone environments, making it perfect for GPU-intensive tasks.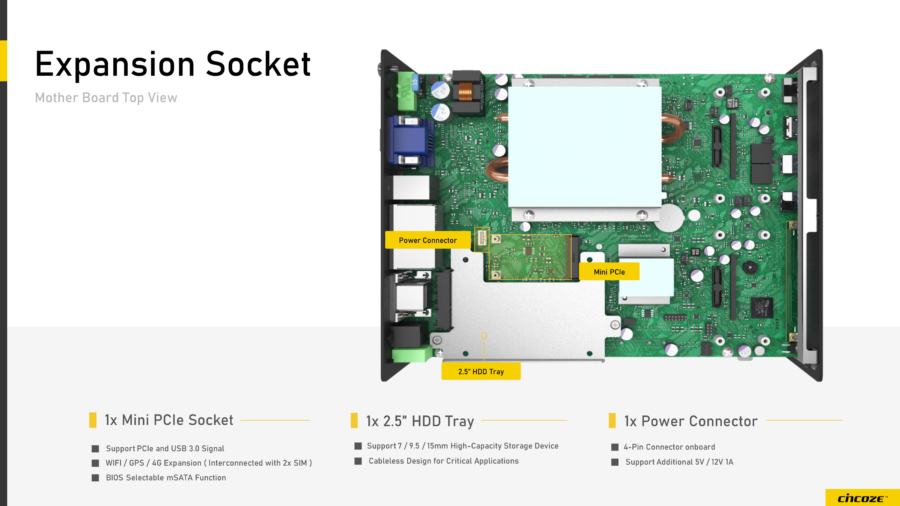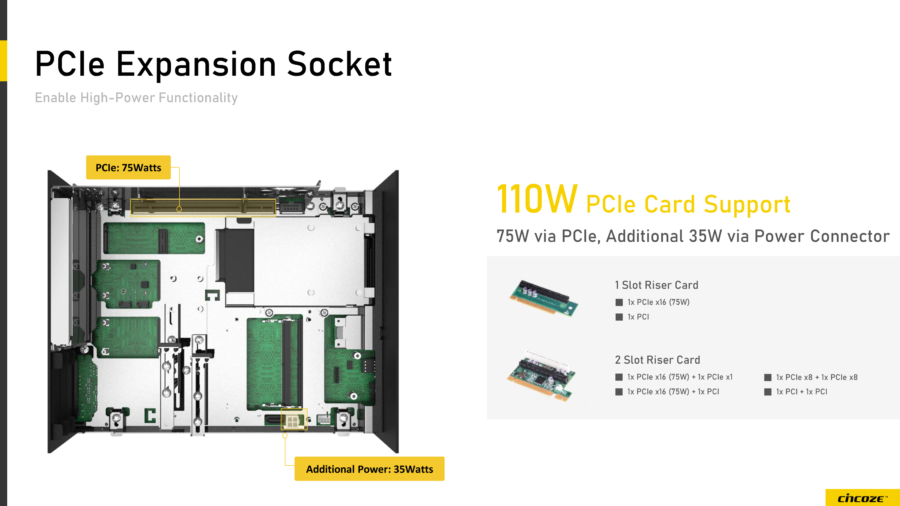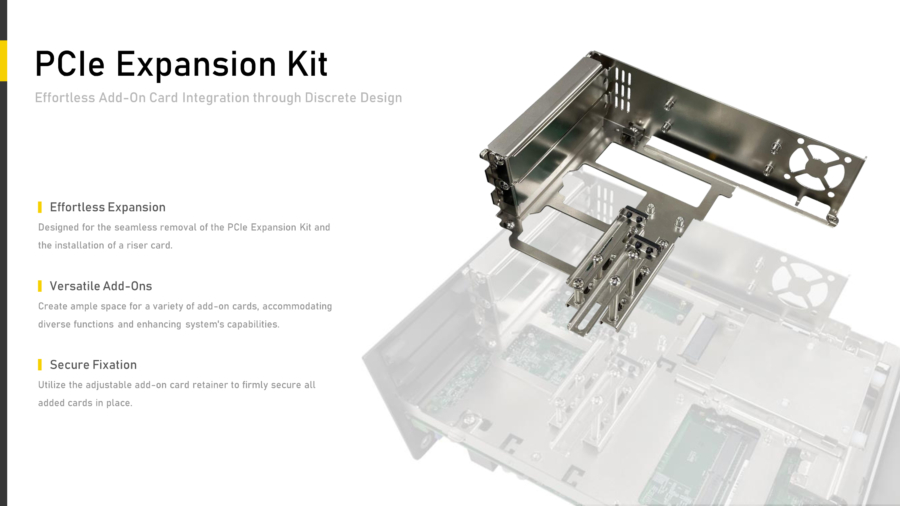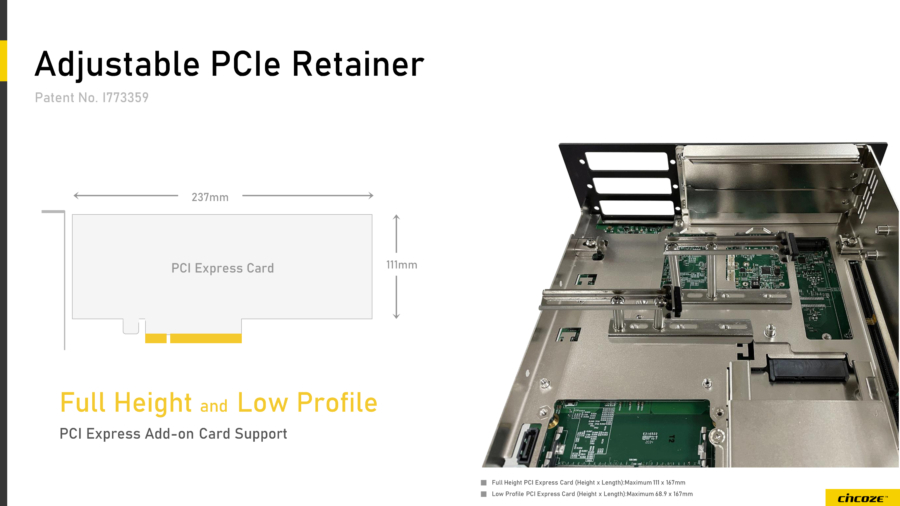 Native and Specialised I/O Options:
The DS-1400 Series boasts an extensive range of industrial-focused I/O options, making it a versatile choice for diverse applications. It offers up to 2x GbE LAN, 6x USB 3.2, and 2x USB 2.0 ports, along with 2x RS232/422/485 interfaces. Additionally, it includes 2x 2.5″ SATA connectors, 3x mSATA slots, and 1x M.2 key M slot designed to accommodate NVMe SSDs.
To cater to various connectivity needs, the DS-1400 Series features 2x SIM card slots, ensuring reliable communication options. Furthermore, it supports up to 3x full-size Mini-PCIe slots, allowing for versatile expansion capabilities.
With its capacity to drive quad independent displays through DisplayPort, HDMI, and VGA outputs, the DS-1400 Series offers exceptional visual flexibility.
Moreover, this system provides modular expansion opportunities via Cincoze's CMI/CFM modules. These modules enable the addition of extra I/O options or functionality enhancements such as high-speed 10GbE LAN, Power over Ethernet (PoE) support, and IGN (power ignition sensing), making the DS-1402 adaptable to a wide range of industrial requirements.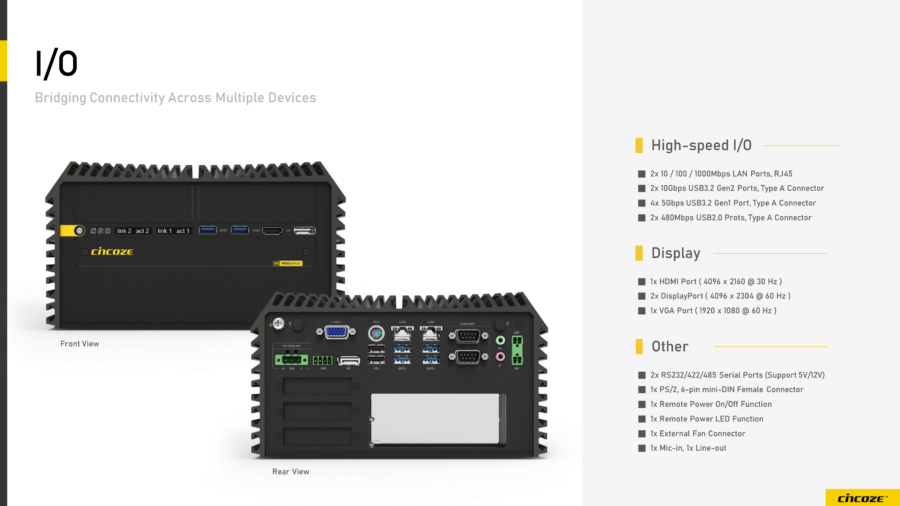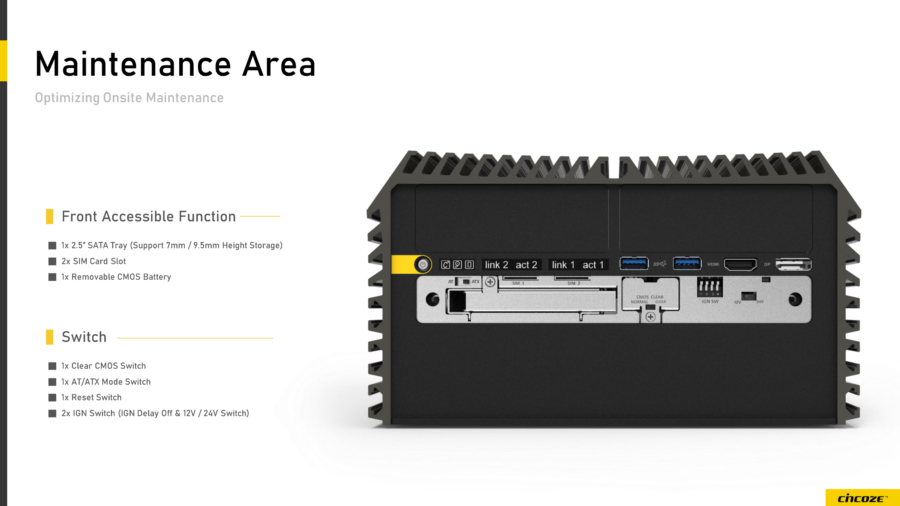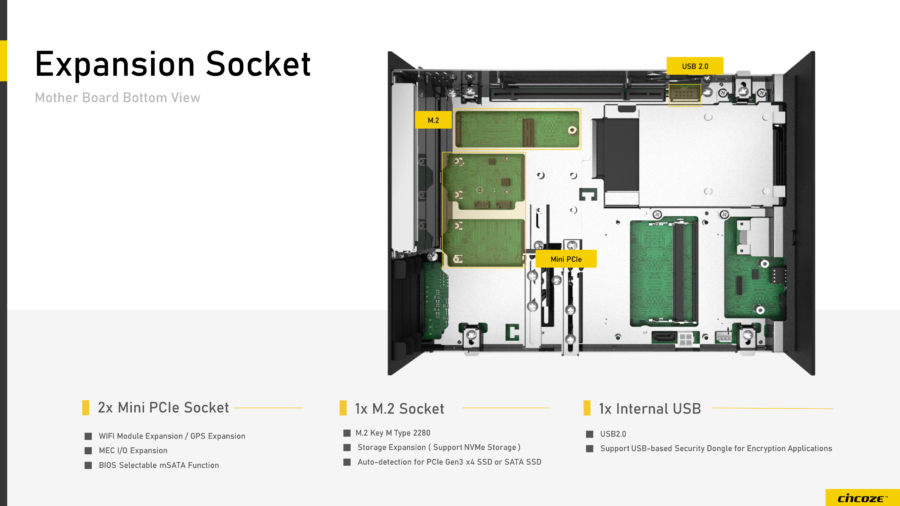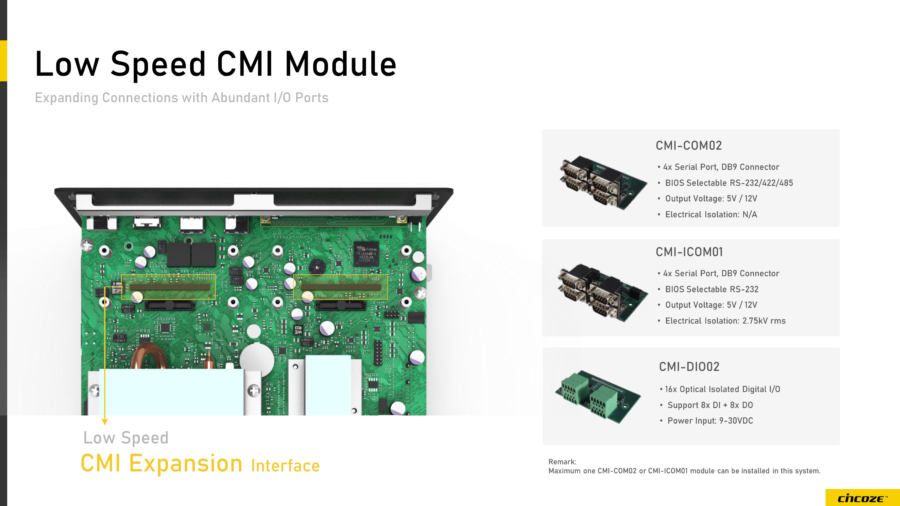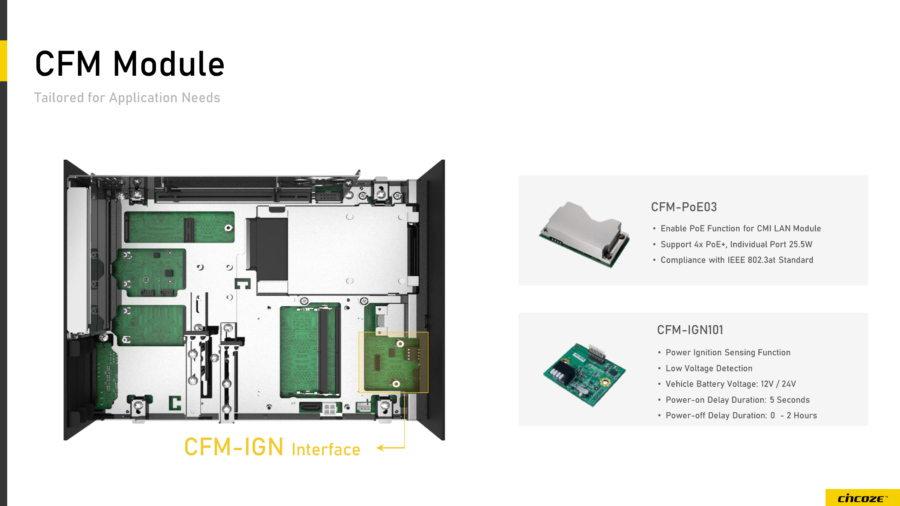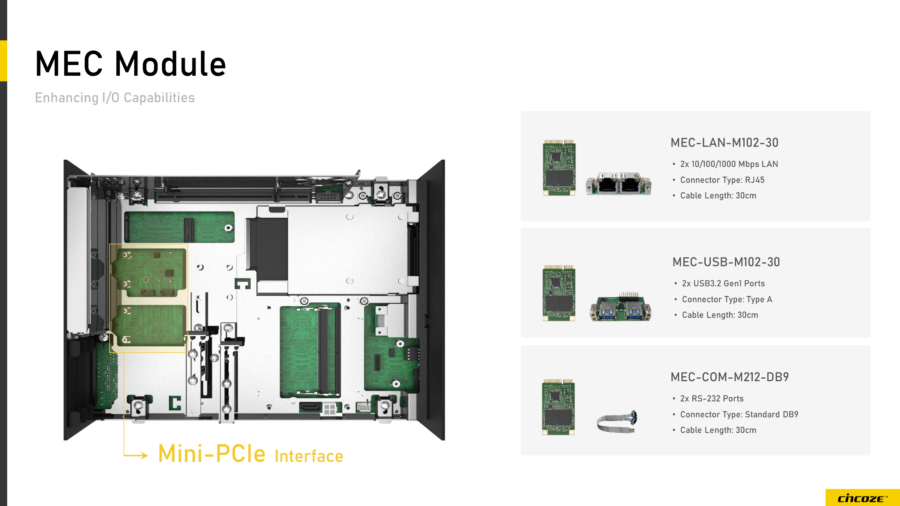 Rugged Characteristics: Designed to withstand extreme conditions, the DS-1400 series operates in temperatures ranging from -40°C to 70°C, boasts wide voltage support, and provides robust protection against overvoltage, overcurrent, and ESD, ensuring reliability in harsh environments.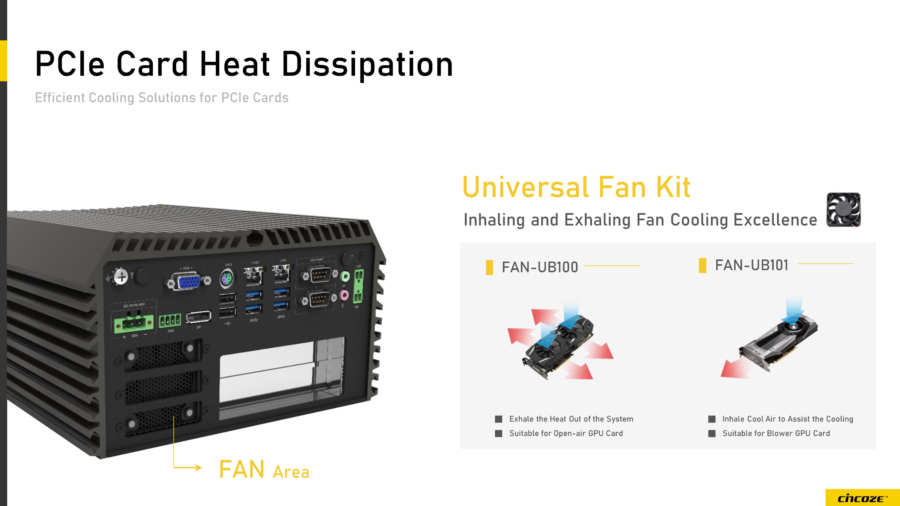 Compliance with Standards: The DS-1400 Series adheres to stringent standards, including the U.S. military's MIL-STD-810G for shock and vibration resistance and the EN 50155 (EN 50121-3-2 only) standard for railway computing. Future safety certifications further guarantee its suitability for various industrial applications.
Suitable Applications - DS-1400 Series
1. Industrial Automation and Control Systems:
Unlock peak productivity with the DS-1400 Series' 64GB 12th gen Intel Core processor, featuring DDR5 RAM. Designed for harsh environments, it ensures seamless data processing, making it perfect for industrial automation and control systems. With 2 x GbE LAN and optional 10 GbE LAN, it guarantees fast, reliable communication, reducing downtime and boosting efficiency.
2. Transportation and Fleet Management:
Elevate your fleet management with our rugged embedded computer. Powered by a 12th gen Intel Core processor and DDR5 RAM, the DS-1400 Series of systems can handle data from sensors, cameras, and GPS systems effortlessly. The optional 10 GbE LAN ensures real-time tracking, route optimization, and vehicle health monitoring, all while enduring the rigors of the road.
3. Surveillance and Security Systems:
Enhance your security infrastructure the DS-1400 Series' 64GB DDR5 RAM. They excel in processing high-resolution video feeds from multiple cameras. The 2 x GbE LAN ports offer robust network connectivity, and the optional 10 GbE LAN ensures rapid data transfer. Perfect for critical applications like city surveillance and facility monitoring.
4. Oil and Gas Exploration:
Tackle extreme environments with the DS-1400 Series.  The 12th gen Intel Core processor and DDR5 RAM enable efficient data analysis, sensor monitoring, and communication. The optional 10 GbE LAN ensures swift data transmission from remote drilling sites, enhancing safety and decision-making.
5. Aerospace and Defense:
Reliability meets performance in the DS-1400 Series, making it ideal for aerospace and defence applications. Deploy it for data processing, communication, and control systems in military vehicles, aircraft, and drones. Its rugged design and optional 10 GbE LAN guarantee mission success and safety.
6. Healthcare and Medical Imaging:
Revolutionise healthcare with our embedded computer. Its robust processing capabilities handle data-intensive tasks in medical imaging equipment like MRIs and CT scans. The high-speed LAN options facilitate large image file transfer, expediting diagnosis and patient care.

M1101 Monitor Module Optimises Various Industrial Touch Monitors
In addition to the DS-1400 Series, Cincoze presents the M1101 monitor module, a reliable and high-performance addition to their industrial-grade touch monitors line-up, demonstrating their unwavering commitment to providing exceptional solutions for industrial applications.
The M1101 Series offers innovative monitor modules with the exclusive Convertible Display System (CDS) for customized touch monitors. It provides versatile options, including rugged and high-brightness models, along with flexible connectivity and compliance with international standards for durability and safety in diverse applications.
Advantages and Benefits:
Convertible Display System (CDS): The M1101 Series is distinguished by its exclusive patented technology – the Convertible Display System (CDS, Patent Number: M482908). This ground-breaking feature enables seamless pairing with various display modules, allowing the creation of customised touch monitors tailored to specific application needs.
Versatile Options: The M1101 offers a wide range of options, including rugged industrial touch monitors designed for challenging environments, high-brightness models (up to an impressive 1,800 nits) optimised for outdoor use in bright sunlight, and open-frame touch monitors for seamless integration into machinery.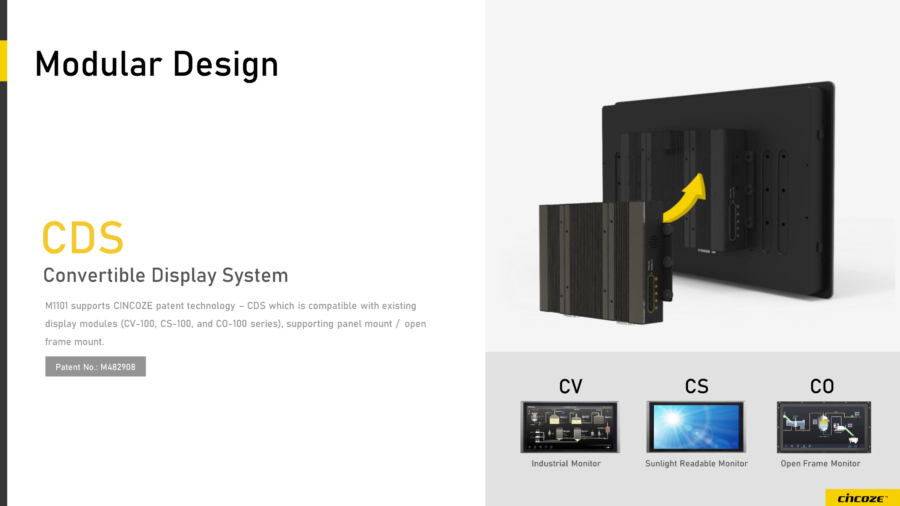 Multi-Language OSD Menus: Each of the three touch displays combined with the M1101 module features multi-language OSD menus, providing user-friendly customization options.
Flexible Connectivity: The M1101 supports three signal input interfaces, including HDMI, DisplayPort, and VGA, ensuring versatile connectivity options to meet diverse requirements.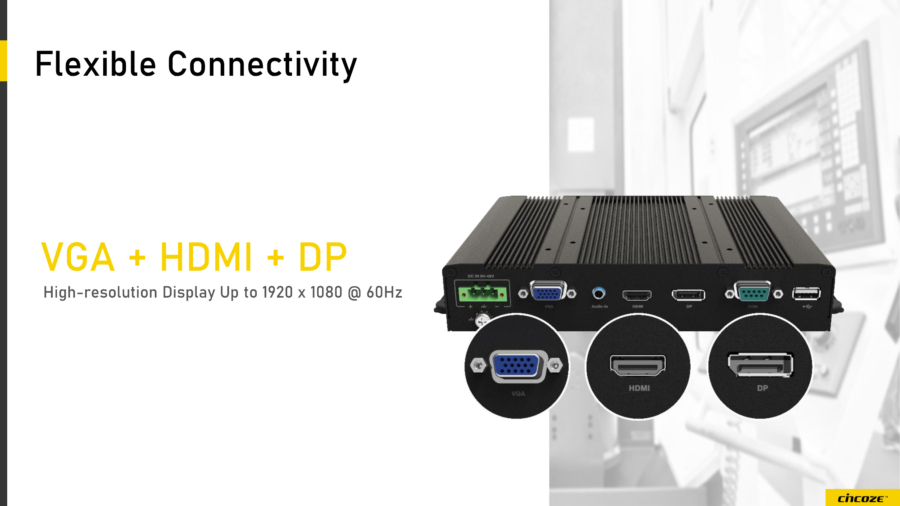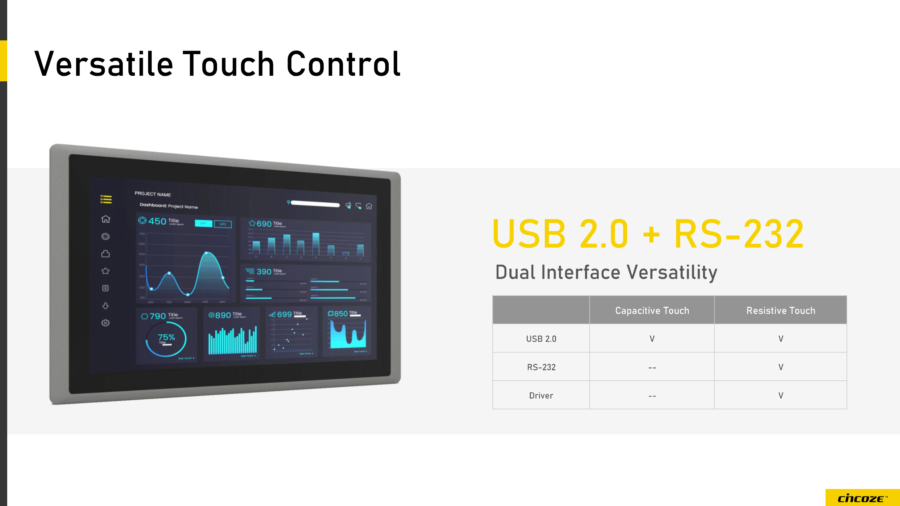 Compliance with International Standards:
EMC Protection: The M1101 complies with industrial-grade EMC protection standards (EN 61000-6-2/4) to shield against electromagnetic interference, ensuring stable performance in challenging electromagnetic environments.
Shock and Vibration Resistance: It has demonstrated resilience against shock and vibration according to EN 60068-2, guaranteeing its durability in demanding conditions.
Safety Assurance: The M1101 adheres to the safety standard UL/c-UL 62368-1, providing the highest level of stability and safety for peace of mind in various applications.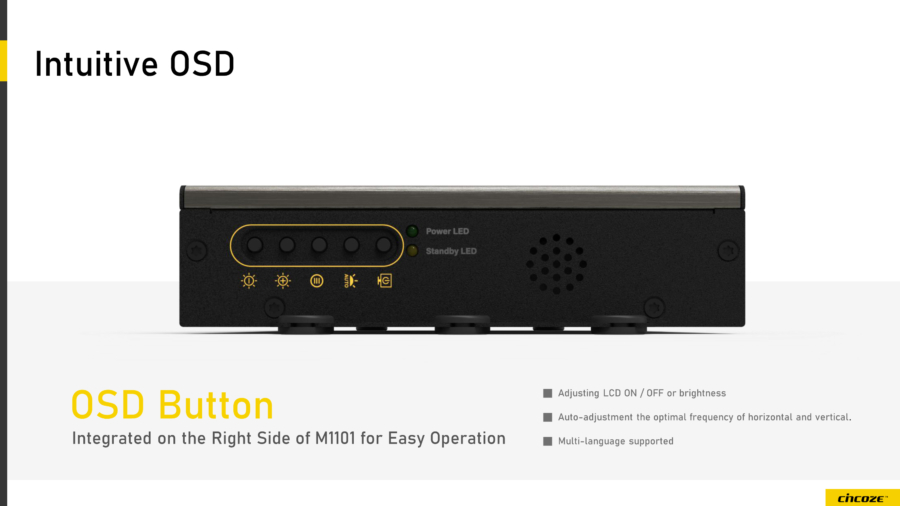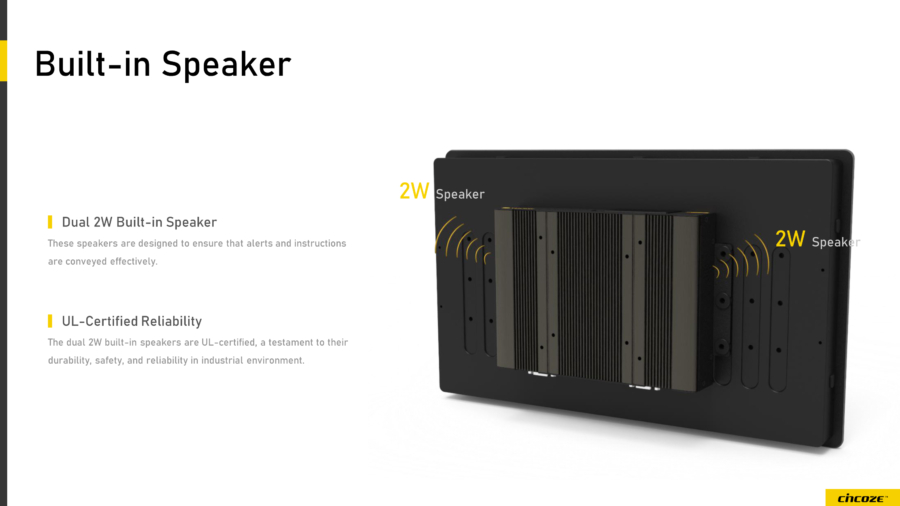 M1101 Compatible Products