In this article:
The Client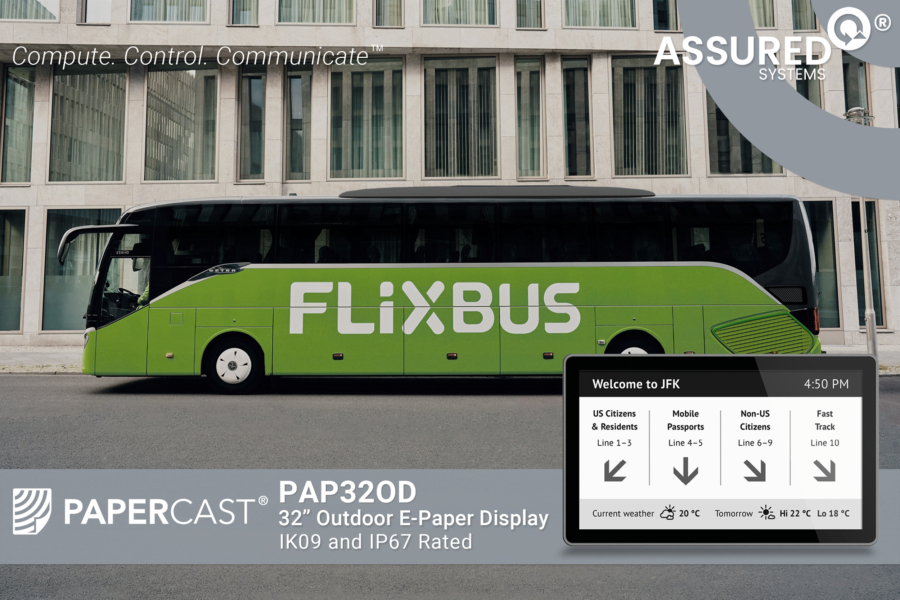 FlixBus, the largest intercity bus provider in Europe, is propelling a paradigm shift in the continent's travel landscape.  Using Papercast products, FlixBus is at the forefront of testing innovative solar-powered e-ink/e-paper technology at bus stops, marking a significant stride towards transforming travel norms.
In just three years since its inception in 2013, FlixBus has achieved a remarkable feat, creating Europe's most expansive intercity bus network. This achievement has been attributed to FlixBus's strategic digital integration within conventional bus travel, paving the way for revolutionary changes in the sector.
FlixBus has consistently embraced smart mobility advancements that challenge the status quo. The introduction of e-ticketing, the innovative FlixBus-App, and real-time GPS Live Tracking has positioned FlixBus as a trailblazer, elevating passenger convenience and redefining industry benchmarks.
Looking beyond its remarkable achievements, FlixBus has set its sights on enhancing the passenger experience at physical bus stops.
FlixBus is dedicated to reshaping European travel remains unwavering and is poised to usher in a future where sustainable, technology-driven travel experiences redefine the norm. This pursuit of progress not only benefits FlixBus but also empowers millions of travellers to embark on journeys that are more efficient, convenient, and environmentally conscious.
Highlights
Furthering its mission to change the way millions of people travel in Europe
Digital bus stops will replace paper timetables to provide live arrival times and updates on delays
Aligns with Flixbus mission to digitise mobility with smart, green technologies
32" interactive e-paper display installed in Germany, with more now planned across the network
The Demands of The Application
"We want to improve the overall experience at the bus stop and give customers accurate service information with live arrival times and updates on delays. We are looking for a solution that aligns with our mission to digitise mobility with smart, green technologies and we are very impressed with Papercast so far." Martin Mangiapia, FlixBus spokesperson for DACH region.
The Solution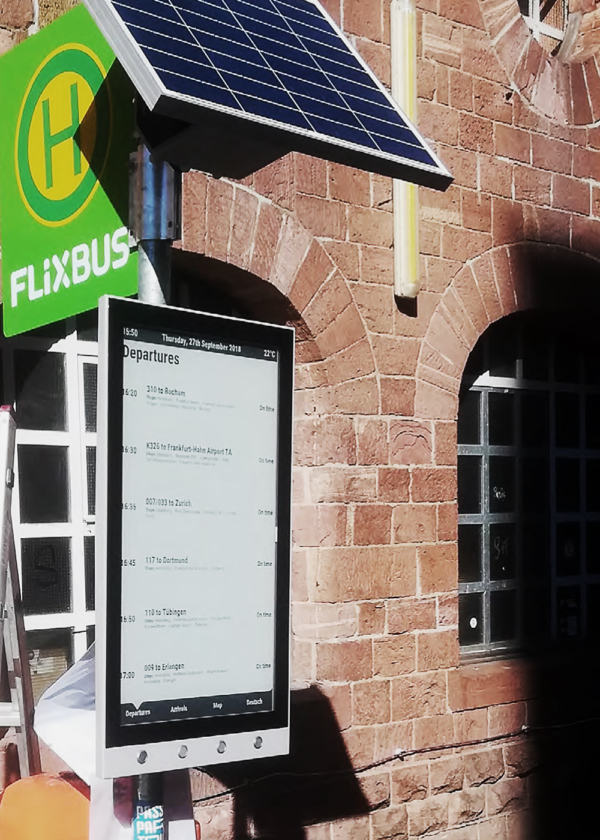 FlixBus Advances Sustainable Travel: Papercast E-Paper Display
FlixBus continues to reshape the travel landscape by taking bold steps towards sustainability. The introduction of the Papercast PAP32OD 32" e-paper display in Heidelberg, Germany, highlights FlixBus's commitment to eco-friendly innovation, a move that has led to its expansion across the network.
Revolutionising Passenger Experiences with Papercast
FlixBus's foray into sustainable technology is exemplified by its partnership with Papercast. The successful trial of the Papercast PAP32OD 32" e-paper display in Heidelberg has paved the way for its integration across FlixBus's extensive network, ultimately redefining how passengers engage with information.
Eco-Friendly Excellence: Solar Power and Wireless Connectivity
At the core of this sustainable transformation lies the Papercast PAP32OD 32" e-paper display. Driven by solar power and bolstered by wireless connectivity, this display epitomises FlixBus's commitment to environmental responsibility. By harnessing renewable energy and minimising resource consumption, FlixBus sets an inspiring example for the industry.
The collaboration with Papercast signifies FlixBus's commitment to transitioning from paper timetables to pioneering solar-powered e-paper/e-ink displays. This partnership seeks to create a new era of real-time, eco-conscious, and visually captivating passenger information dissemination.
FlixBus's collaboration with Papercast, as showcased by the deployment of the Papercast PAP32OD 32" e-paper display, exemplifies the company's dedication to a greener future. By extending this initiative across their vast network, FlixBus is not only providing a superior travel experience but also proving that sustainable practices can be seamlessly integrated into modern technology. Through this partnership, FlixBus continues to pave the way for eco-conscious travel, setting the standard for others to follow and demonstrating that environmental responsibility and innovation can go hand in hand.
It also satisfies other requirements, according to Martin: "Papercast's web-based management system is very easy to use, offering flexible display layouts that can show a lot of information in a simple format. The high resolution e-paper screen provides crystal clear content and the interactive function lets the user choose their preferred language, essential for long distance bus services in Europe".
Other Suitable Applications For E-Ink Displays/Signage
E-ink outdoor signage offers a versatile and energy-efficient solution for various applications. Here's a list of possible applications along with descriptions:
Public Transportation Displays: E-ink signs can provide real-time transportation information at bus stops, train stations, and subway platforms. These displays can show schedules, arrival times, route maps, and service updates, offering travellers valuable information without the need for frequent power supply.
Wayfinding and Maps: E-ink outdoor displays can function as interactive wayfinding systems in public spaces such as malls, airports, and large campuses. Users can easily access maps and directions to navigate these areas efficiently.
Restaurant Menus: Outdoor dining areas can benefit from e-ink menus that showcase food and beverage offerings. These menus are easily readable in different lighting conditions and can be updated remotely, making them a great addition to restaurants' outdoor setups.
Event and Concert Information: E-ink signs can display event schedules, performer details, and venue information for concerts, festivals, and other outdoor events. Their high contrast and visibility make them suitable for informing attendees about ongoing activities.
Retail Storefront Displays: Retailers can use e-ink signage to showcase product information, sales, and promotions outside their storefronts. The energy-efficient nature of e-ink technology ensures that the displays can operate for extended periods without frequent maintenance.
Real Estate Listings: E-ink outdoor signs can display property listings, prices, and contact information at real estate properties for sale or rent. These signs can be updated remotely, allowing agents to manage their listings efficiently.
Tourist Information Centres: E-ink displays placed at tourist information centres can offer visitors details about local attractions, maps, and recommended itineraries. These displays are particularly useful for enhancing the visitor experience in outdoor spaces.
Outdoor Museums and Galleries: E-ink displays can provide context and information about outdoor artworks, historical landmarks, and exhibits. The technology's non-glare properties make it suitable for delivering information in bright sunlight.
Construction Site Information: E-ink signs can be used at construction sites to communicate safety guidelines, project progress, and contact information. Their durability and visibility can enhance communication with workers and the public.
Weather and News Updates: E-ink signs can display real-time weather forecasts, news headlines, and emergency alerts. Their readability in various lighting conditions ensures that critical information reaches a wide audience.
Parking Lot Guidance: E-ink displays can indicate parking availability, directions to available spots, and payment instructions in outdoor parking lots. Their low power consumption makes them suitable for continuous operation.
Campus Information Boards: Universities and schools can use e-ink signage to provide campus maps, event schedules, and important announcements in outdoor common areas. The displays' energy efficiency allows for constant updates without significant power usage.
Healthcare Facilities: E-ink signs can guide patients and visitors around hospital campuses, providing directions to different departments, waiting times, and appointment information.
Sporting Arenas and Stadiums: E-ink displays can offer real-time scores, player stats, and advertisements during sporting events. Their high visibility ensures that spectators can access crucial information without straining their eyes.
In all of these applications, e-ink outdoor signage excels due to its energy efficiency, high visibility in various lighting conditions, and the ability to update content remotely, making it a valuable addition to enhance communication and engagement in outdoor settings.
10 Things You Need To Know About E-Paper (and Papercast)
The virtues of e-paper as a passenger information display technology is increasingly being embraced across the public transport sector.
Major transport hubs around the world implement e-paper passenger information displays. In fact, Papercast technology is behind many high profile public information initiatives worldwide – UK, France, Germany, Abi Dhabi, Dubai, Singapore, Japan, Australia, New Zealand, USA, Canada and more.
The reality is that e-paper/e-ink is now becoming the de-facto technology for forward-thinking public transport providers that need to get live information to customers in a sustainable manner, and to locations where mains power is not readily available.
The benefits real-time passenger information at bus stops
In their relentless pursuit to transform information into a vibrant experience, Papercast is steadfastly dedicated to upholding the forefront of e-paper technology. As pioneers in innovation, they consistently push the boundaries of their exclusive hardware and software, seamlessly integrating elements from top-tier industry players when synergistic. Their mission is to infuse life into data, cementing Papercast as a beacon of cutting-edge technological advancement.
Here are the top 10 things you need to know about e-paper technology and Papercast solutions:
Crystal-clear content, even in direct sunlight E-paper stands out as the premier display technology, offering impeccable high-resolution content even under direct sunlight, ensuring no compromise in clarity. Its exceptional visual quality mirrors that of genuine paper, free from any pixelation, distortion, or glare. The secret lies in its reflective nature, in stark contrast to power-intensive LCD screens that rely on backlighting to showcase pixels. Plus, with its energy-efficient built-in illumination, e-paper guarantees equally sharp visibility during night-time hours.
The lowest energy consumption of all display technologies Displaying an image on e-paper consumes negligible power, with only a minor energy outlay required for image updates, in stark contrast to LCD screens demanding frequent 30-times-per-second refreshes. This positions e-paper as the epitome of low-power display technology. Furthermore, Papercast has meticulously honed its electronics to achieve an unparalleled level of power efficiency, propelling it to the forefront of sustainable outdoor display solutions. In comparison to similar e-paper alternatives, Papercast consumes approximately three times less power, while outshining other display technologies with a remarkable power efficiency up to 32 times greater.
No power? No problem! An added benefit of e-paper/e-ink bi-stable technology is its unique ability, unmatched by any other display technology, to exhibit images without requiring any power supply. This remarkable feature ensures that even in the exceptionally unlikely scenario of a power disruption or battery concern, users won't encounter a blank screen. Instead, they will be greeted by a stationary image, such as a timetable, providing continuous information reliability. Explore how e-paper's ground-breaking bi-stable technology guarantees uninterrupted visual content, making it an exceptional choice for dependable displays in all situations.
Power your displays your way Papercast e-paper displays are characterised by their exceptional energy efficiency, resulting in remarkable versatility regarding power supply options. Many customers are drawn to the autonomous 'off-grid' capabilities, often selecting solar-charged battery systems. In situations where direct sunlight isn't accessible, battery recharging can be facilitated through streetlight infrastructure. Additionally, the utilisation of long-life batteries empowers displays to operate continuously for more than 2 years. For those seeking alternative power solutions, mains electricity and Power over Ethernet present feasible options.
A genuinely unique solution with our proprietary technology Papercast stands out as a premier purveyor of e-paper passenger information displays, distinguished by its proprietary e-paper controller technology. This intricate electronics module governs every facet of E Ink display performance, encompassing content rendering, image processing, data communication, and power optimisation. Unlike opting for pre-fabricated solutions, Papercast's commitment to in-house development empowers us to deliver unparalleled capabilities and functionalities that diverge from conventional offerings.
Extremely stable in extreme environments Papercast exhibits unparalleled stability in the face of challenging conditions, effortlessly enduring the scorching summers of the Middle East to the frigid winters of the Northern Hemisphere. Engineered to excel in demanding environments, our displays boast a certified external temperature range spanning from -20°C to +70°C / -4°F to +158°F. It's worth noting that we've documented instances where our displays have performed admirably in locations with temperatures even lower than this specified range.
Spoilt for choice, design your digital bus stops to suit you Opt for a display configuration that seamlessly blends with your existing street furniture or opt for one of our convenient standalone alternatives. Tailored to your precise specifications, our displays can be customized to match specific branding, designs, colours, styles, or street furniture aesthetics. Regardless of your choice, the displays are securely housed in ruggedised IP67 enclosures, ensuring swift installation while safeguarding functionality in demanding conditions. Furthermore, we offer the flexibility for customers to select a display size and amplify content potential fourfold by integrating interactive buttons. This innovative feature empowers users to navigate through up to four screens of content, enhancing engagement and information accessibility.
Cloud-based management system puts you in control Crafted with the distinct requirements of transit authorities in mind and continuously refined through ongoing user experience studies, the Papercast cloud-based Content Management System stands at the forefront of advanced functionalities within the industry. Tailored to perfection, it empowers users to seamlessly establish, supervise, and oversee all operational dimensions of their displays. This includes connectivity, power modes, power consumption, shutdown and active periods, automated diagnostics, movement detection, solar charging, update frequency and mode, illumination and external sensors. Additionally, the system enables the effective administration of notifications and alerts. Effortlessly disseminate a diverse array of visually captivating graphical content to the public and exert total control over every facet of your Papercast e-paper displays. The system seamlessly integrates with a broad spectrum of CAD/AVL system data sources through simple API integration, delivering real-time passenger information that enriches the user experience.
Flexible and sophisticated content design When addressing content, Papercast displays present an expansive canvas capable of showcasing virtually any concept or information – a truly blank slate! In a noteworthy achievement, our design system was recently honored with an award. The Papercast design system stands as a testament to excellence, providing an extensive repository of user-friendly, visually striking, and entirely adaptable layouts, templates, and design elements that adhere to the highest design benchmarks.
Any time, any place, any where E-paper displays stand out for their lightweight design, battery-powered operation, and seamless wireless connectivity, eliminating the need for physical attachments. This inherent flexibility empowers them to be effortlessly mounted in virtually any location, offering unparalleled ease of mobility and making them ideal for settings that demand portable digital signage solutions.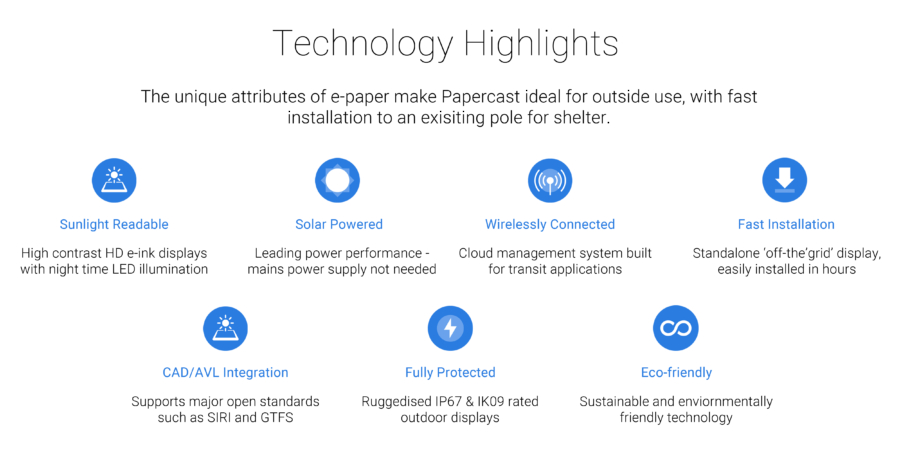 Summary
The possibilities presented by e-paper are truly astounding, making it unsurprising that there is a significant surge in demand within the worldwide transport industry. E-paper provides an exceptionally cost-effective substitute for outdated electronic systems and conventional paper schedules. Additionally, it serves as the perfect technological foundation for innovative solutions pertaining to public transport information in smart city environments:
Reduce Operating Costs– Cut down on expenses and minimize your environmental footprint by making the switch from outdated LCD displays to energy-efficient e-paper technology (which boasts an efficiency gain of approximately 32 times).
Technology Refresh– A future-proof platform designed to ensure readiness for upcoming technology updates, offering adaptability to address evolving customer and business requirements.
Smart City Solution– An optimal technological foundation to be integrated within any smart or sustainable urban development strategy.
Better Customer Experience– Deliver enhanced informational content through advanced high-resolution e-paper displays, available in a variety of sizes.
Take Control– Efficiently provide precise service and public information to numerous locations, including even the most remote situations.
Replace Paper Content– Eliminate the requirement for manual replacement of paper-based content, which often becomes outdated rapidly and doesn't consistently reflect the expected service.
Should e-paper/e-ink displays be part of your strategy? We at Assured Systems think the answer is probably yes. Contact one of our experts to find out how.
Current Transport Industry Clients of Papercast