About Ecom
The Pepperl+Fuchs brand Ecom Instruments is a leading manufacturer of comprehensive solutions for intrinsically safe mobile computing and industrial communication in hazardous areas.
Since 1986, Ecom Instruments has played a key role in pioneering explosion protection for mobile devices. The company has demonstrated its technological expertise with a number of innovations and tried-and-tested mobile solutions—from intrinsically safe smartphones, cell phones, and tablets to accessories like wireless headsets and barcode scanners.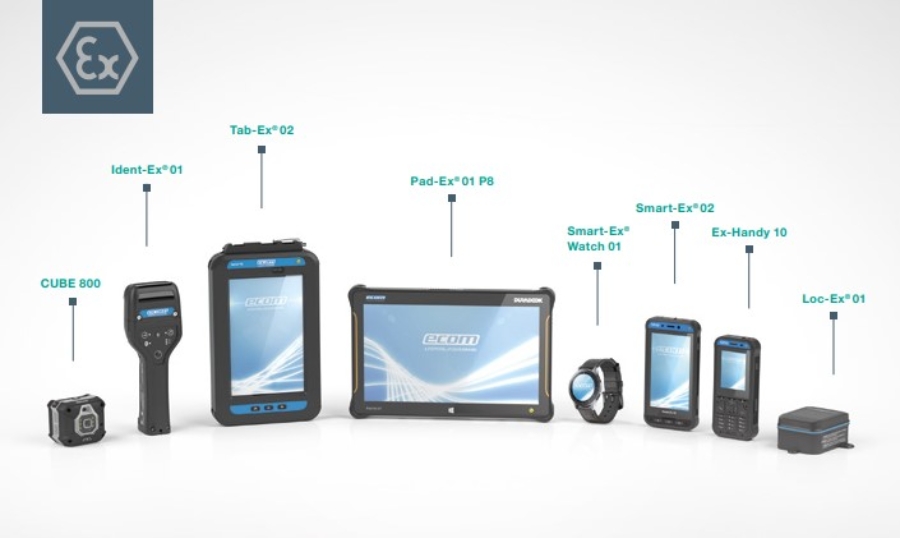 Ecom's new Digital Products and Services platform completes the portfolio, offering automated staging during device production, mobile device management, and device analytics; the platform can also be used as a full-fledged enterprise mobility management system. Each of ecom's solutions combines uncompromised security with the highest level of functionality, and includes all necessary approvals and certificates for global use. A global sales and support network with service centers in Germany, the US, Singapore, and the United Arab Emirates completes the range of products.
Ensuring Safety Across the Globe
Explosion protection is a matter of trust, and to ensure safety across the globe Ecom Instruments sets the highest standards by collaborating directly with our customers. Only by working together can Ecom tailor solutions to our customers exact requirements. Their global service network allows them to integrate this concept into the life cycle of their products. Personalized support is always just a phone call away.
Exploring Mobility
Organizations are starting to realize how mobility solutions can benefit their business. Today, the focus is on technologies that reduce costs and improve efficiency. Game-changing breakthroughs in mobile computing and communication technologies are enabling industries to improve workforce productivity, data quality, and the speed and accuracy of decision-making. The Internet of Things (IoT) will become increasingly important in the industrial sector and will change the way companies deploy labor to use resources more effectively.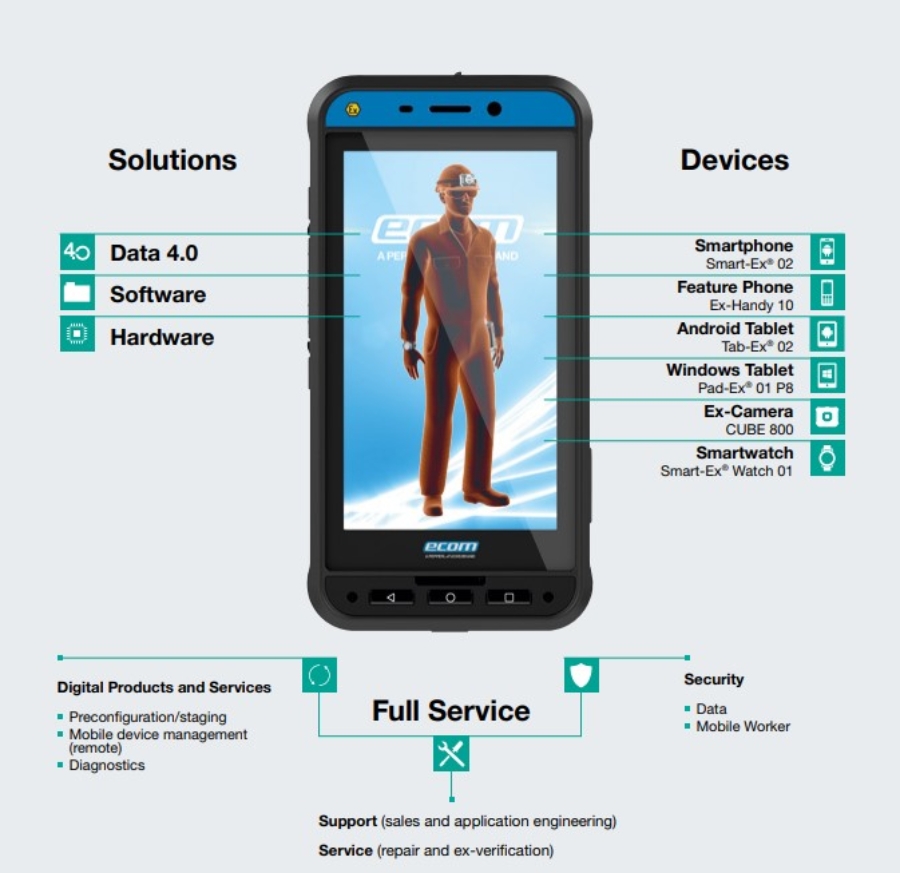 Customisation
Digital Products and Services is a solution that combines automated staging, mobile device management, and device analytics. It can also be used as a full-fledged enterprise mobility management system if desired. At the customer's request, ecom's mobile devices can ship from the factory with predefined custom configurations such as security settings, applications, and wireless setup. This allows devices to be used anywhere in the world immediately upon delivery—manual configuration is not necessary. The devices can be managed via the ecom online platform and updated remotely at any time during operation without having to be sent to local IT staff or the head office. Cloud servers hosted in Germany meet the highest data protection standards and guarantee high data availability and security. One-time staging and enrolling can also be done internally via ecom's production servers. If desired, device diagnostics and analytics can collect real-time operating data and fault analyses to continuously monitor device status and fix malfunctions preventively or immediately. Additionally, the platform analyzes historical data to detect critical software events, installations, and other safety-critical processes. A statistical accumulation of events can be used to establish correlations and causalities between software errors, geographical data, and Wi-Fi coverage, for example. Digital Products and Services is a ready-to-use service that ensures quality and security for all devices. This saves time and valuable resources.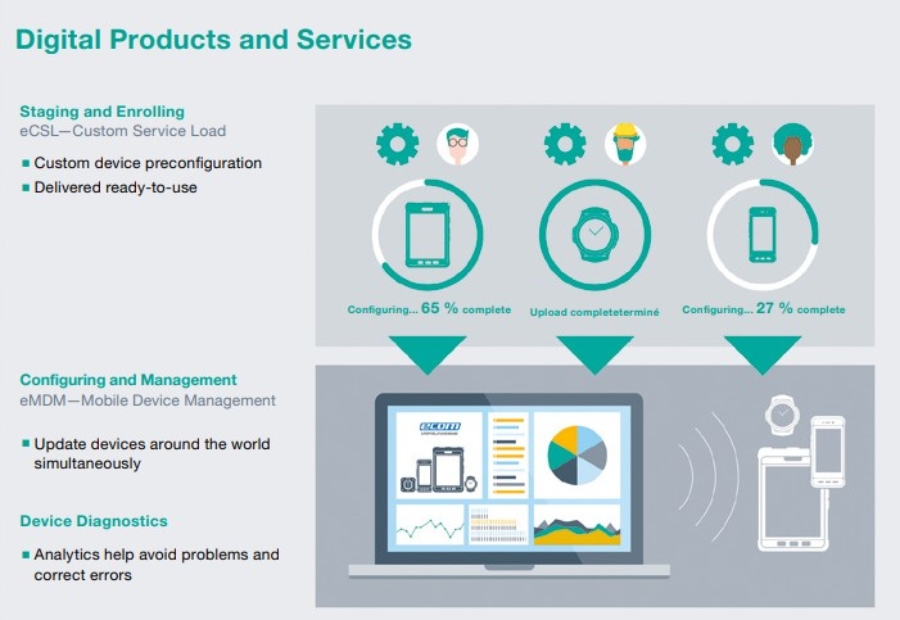 Smart-Ex 02 – The Intrinsically Safe Smartphone for Hazardous Areas
The Smart-Ex 02 is the world's first intrinsically safe smartphone for Zone 1/21 and Div. 1 areas that meets Google's sophisticated Android Enterprise Recommended (AER) validation. In addition, it meets all important global hazardous location and regulatory certifications. The rugged smartphone has a large, high-resolution display, powerful features, and optimized accessories. Its extended temperature range makes it suitable for even the harshest environments. Designed to support 21 LTE frequency bands, the Smart-Ex 02 has no SIM lock and can be connected to different networks worldwide. An AndroidTM 9 operating system enables the intrinsically safe device to work safely, quickly, and efficiently. The Next Generation of Rugged and Intrinsically Safe Smartphones Smart-Ex 02 7 The ergonomic design and intuitive user interface enhance the user experience, and optimized accessories and peripherals ensure total compatibility with current and future ecom products. Equipped with the most powerful replaceable battery (4400 mAH) on the market, the device can handle unexpectedly long shifts and runtimes. The Smart-Ex 02 also sets new standards when it comes to security. The Android Enterprise Recommended certification and regular security updates prevent unauthorized access to confidential personal and company data. To ensure unlimited, long-term use of the smartphone, ecom offers a three-year service level agreement. Pepperl+Fuchs' global sales and service network provides excellent customer service around the globe. Support from ecom's system engineers and development teams is also available when software requirements change.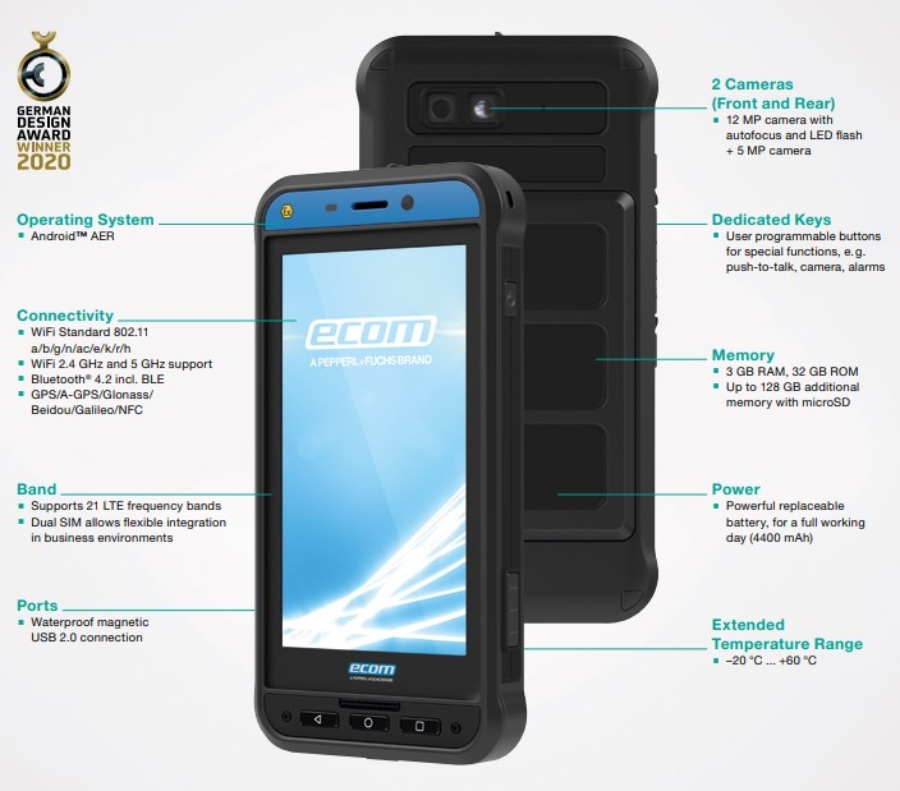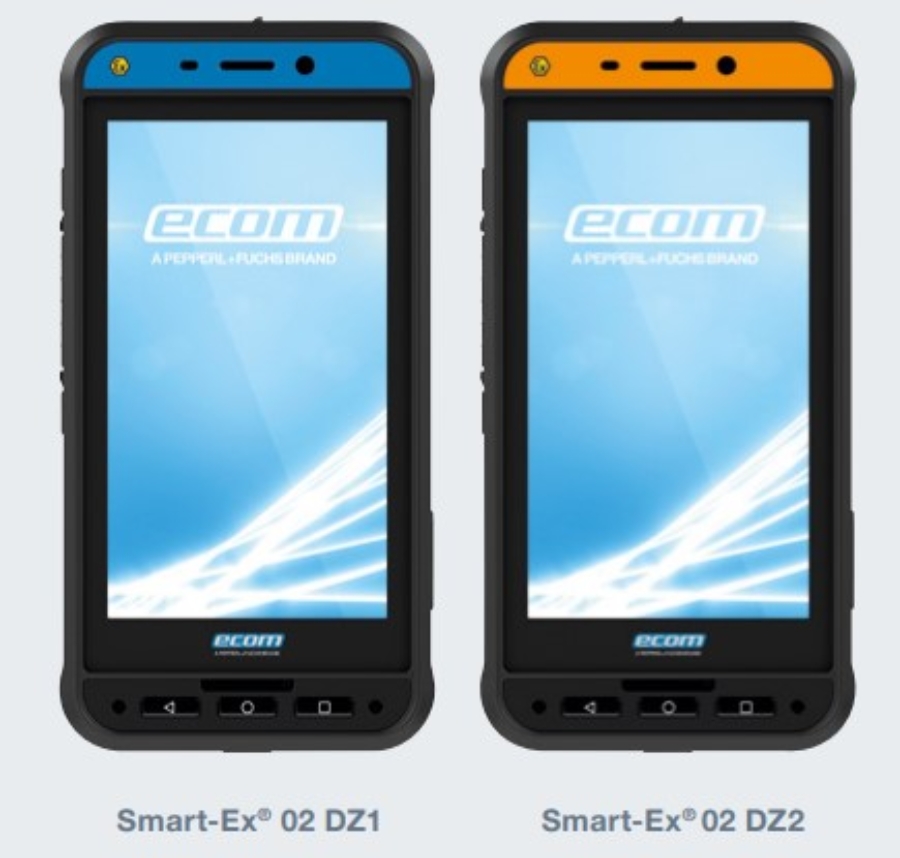 Ex-Handy 10- Flexible Communication in Hazardous Areas
Simple, rugged, and practical: The Zone 1/21 and Div. 1 certified 4G / LTE feature phone is ideal for a wide range of applications—from pure communication and push-to-talk (PTT) to lone worker protection and innovative Industry 4.0 applications.
The Ex-Handy 10 is suitable for global 4G communication, supports 21 LTE bands, and offers both keypad and touch screen operation. The display is made of extremely durable, scratch-resistant Gorilla® Glass (IP68-rated) and can even be operated with gloves.
The Ex-Handy 10 is designed for the harshest environments—it is operable in temperatures from -20 °C to +60 °C and has good readability in direct sunlight. The feature phone has an optional 8 MP camera, which includes autofocus, LED flash, and flashlight. An advanced rechargeable battery and energy management enable outstanding operating times. 11 The Next Generation of Rugged and Intrinsically Safe Feature Phones Ex-Handy 10 The Android operating system offers regular patches and security updates.
To ensure unlimited, long-term use of the smartphone, ecom offers a three-year service level agreement. Pepperl+Fuchs' sales and support network provides excellent customer service around the globe. Support from ecom's system engineers and development teams is also available when software requirements change.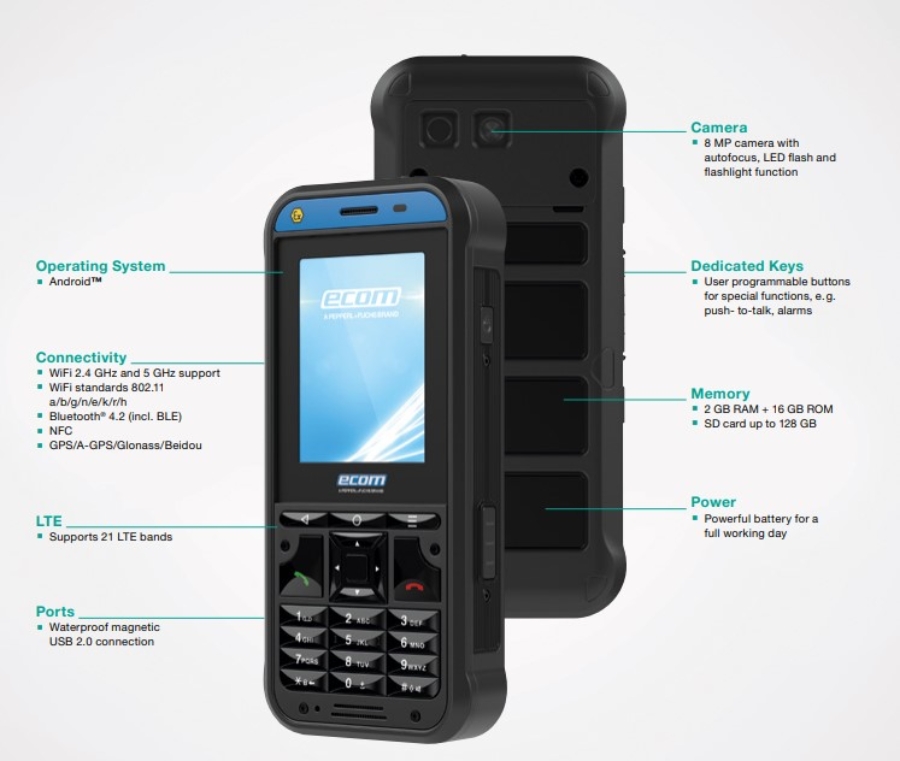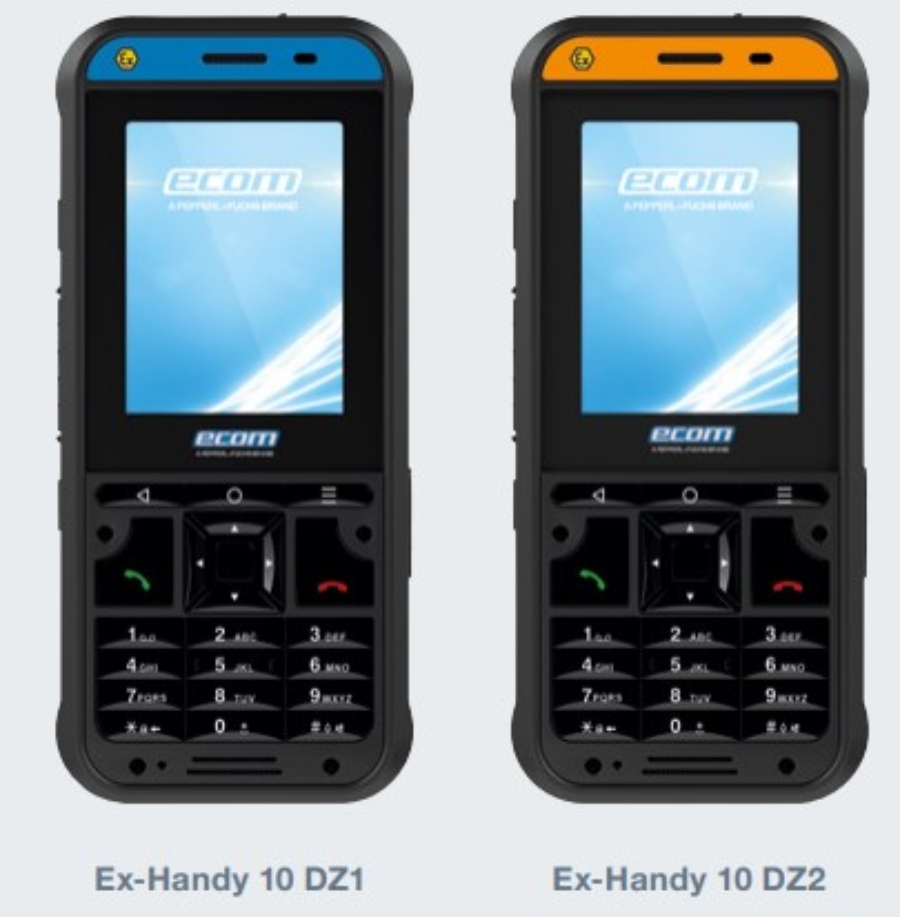 Successor of the worlds first Intrisically Safe Tablet
ecom's hazardous area tablet, the Tab-Ex 02, leverages Samsung's know-how and brings a new level of customer focused solutions and increased ease of use to mobile workers in the oil and gas, refining, chemical, pharmaceuticals, and other hazardous industries. Since many tasks are performed in both hazardous and non-hazardous areas, ecom offers an entire family of tablets, peripherals, and accessories suitable for use in Zones 1/21, 2/22, Div.1 / Div.2, and rugged environments.
Designed for powerful performance and safe operation, the Tab-Ex 02 is a stylish, portable tablet device that can go anywhere to get the job done. ecom offers customized configurations via its MDM system. ­
Thermal endurance testing—samples placed within an environmental test chamber and subjected to 4 weeks of extreme heat and humidity and 1 day of extreme cold. ­
Impact tests—test weights were dropped onto the samples from different heights. ­
Drop tests—samples were dropped onto a concrete floor from heights of 1 m. ­
Overpressure and flame propagation test—the samples then underwent hydrostatic overpressure testing to verify the strength and integrity of the enclosure. Following this, an internal explosion of test gases was triggered to ensure that the flames did not spread from the interior to the exterior. ­
Ingress protection—following the tests above, the objects were tested for resistance to the ingress of water and dust in accordance with IP64.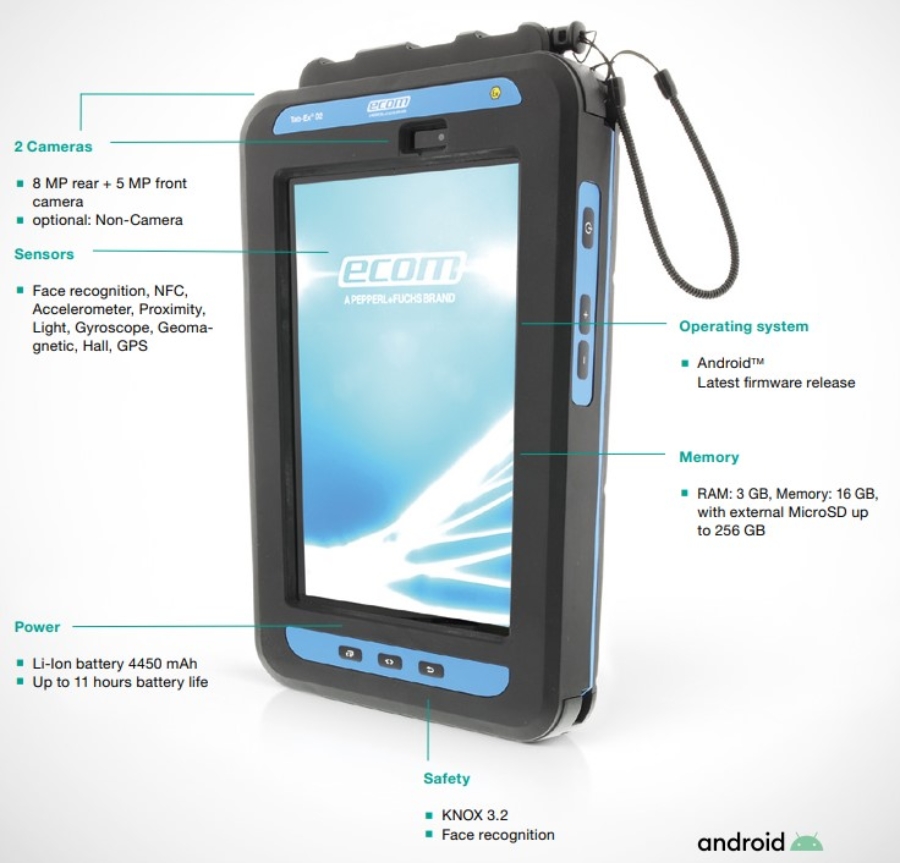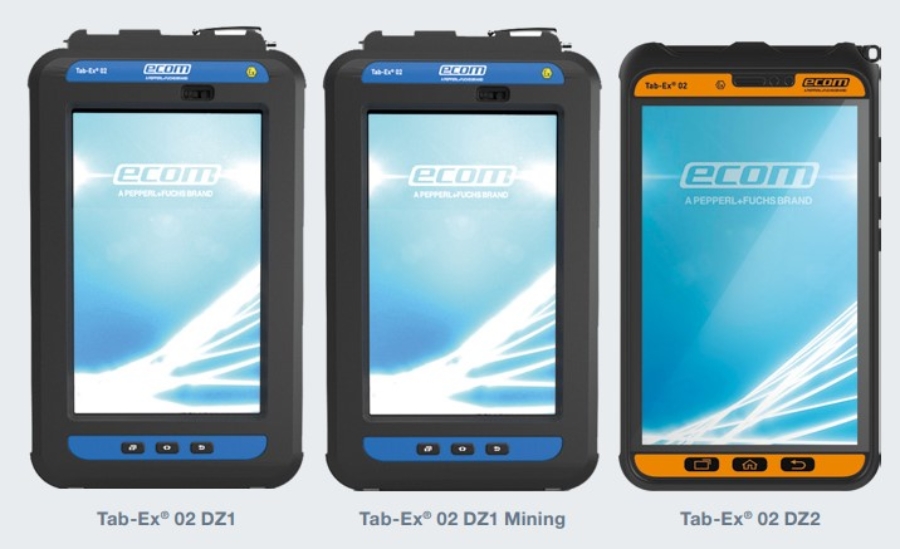 Windows Tablet Rugged Mobility at its Finest for Zone 2 and Div. 2
Pad-Ex 01 P8 redefines the mobile tablet PC with Windows support. In addition to its incredible ruggedness, Pad-Ex 01 P8 meets all demands and supports the 8th generation Intel Core i5 processor.
It also provides battery life up to 7 / 14 hours and Windows 10 support. The combination of durability, superior performance, and a large display makes the device an ideal addition to or replacement for desktop PCs, laptops, or wall-mounted displays in the field.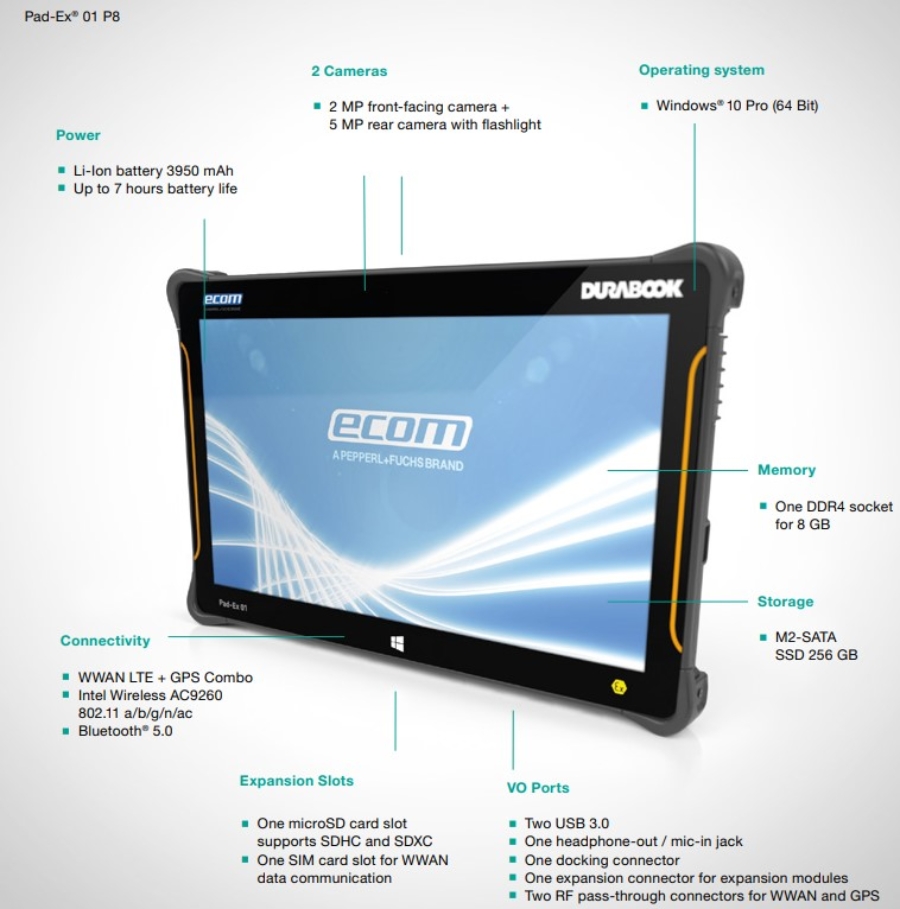 Pad-Ex 01 P8 is rugged mobility at its finest. lts ultra-thin, lightweight exterior measures only 20 mm in height and 1.2 kg in weight. With its ultra-compact design, Pad-Ex 01 P8 complies with IP64 and MIL-STD 810G for vibration. Additional display protection offers durability in harsh environments and an ergonomic design makes it easy to transport.
Cube 800, Intrinsically Safe Wearable Camera for Zone 1/21 and Div 1
Designed for safe operation in Ex-certified and rugged environments, the CUBE 800 brings hands-free collaboration to the world's toughest locations. Dual cameras allow users to choose between optical and thermal camera modes. The integrated thermal imaging camera provides infrastructure health analysis and trending information, while the optical camera provides HD video and images. An integrated light ring ensure high-quality visuals even in low light conditions and with the laser pointer the user knows exactly where the camera is aligned. The magnetic auto-latch mount provides an easy and secure way to attach the CUBE 800 to hard hat and headband accessories. Its multipurpose design allows for hands-free, handheld, and monopod use for capturing visuals in hard-toreach places.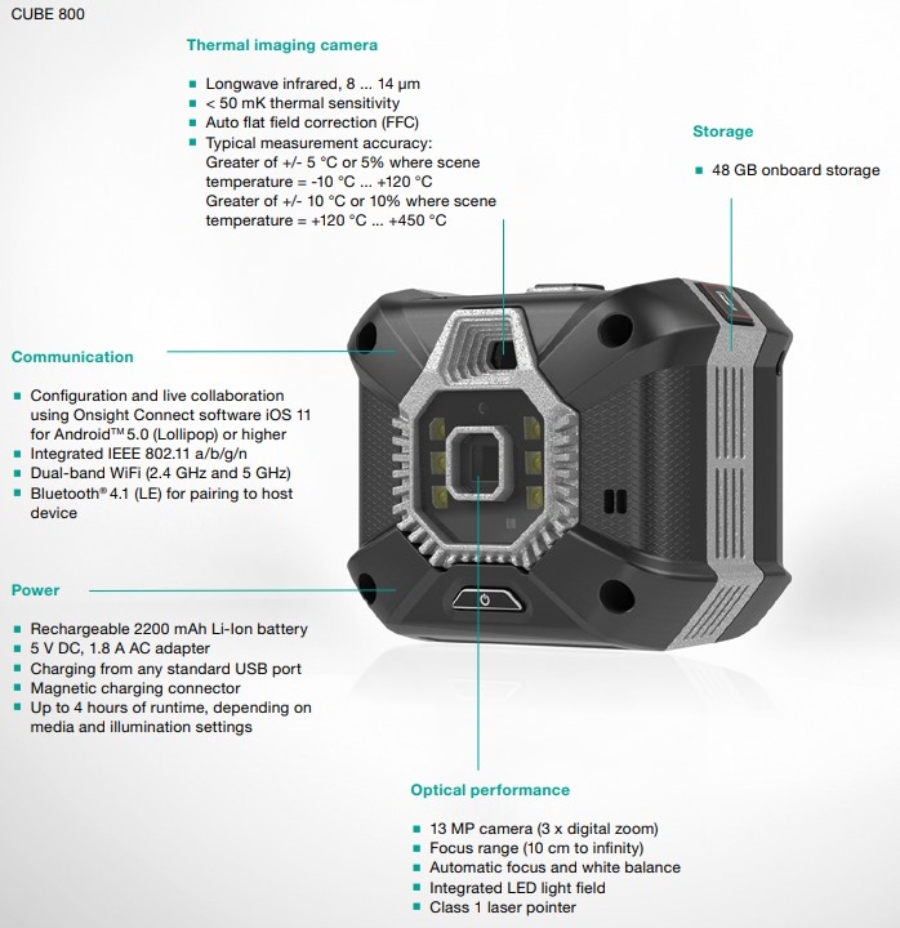 The CUBE 800 can be used to share live videos and images via the Onsight platform or store them locally. Simply pair the CUBE 800 to an Onsight-Connect-enabled mobile device such as the Smart-Ex 02. During a live Onsight session, remote participants can control camera settings including zoom and camera modes. Remote control allows for a completely hands-free experience for workers. The CUBE 800 combines the power of the Onsight collaborative platform with a compact camera for effective, hands-free remote communication.
Smart-Ex Watch 01: Safe and Fast communication right from your wrist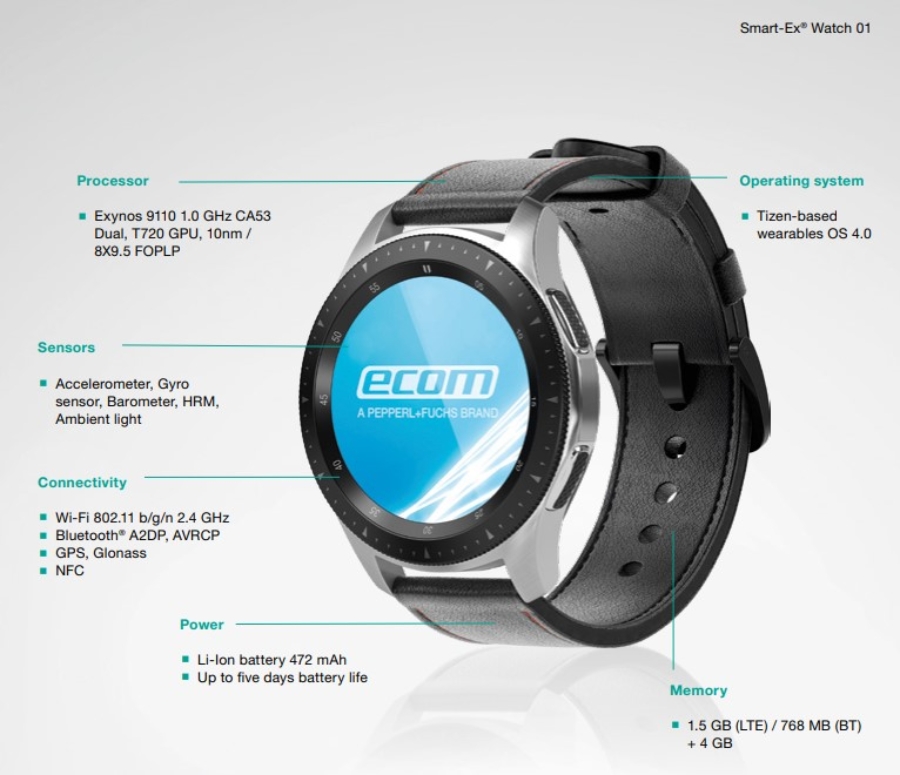 Hands-free navigation via advanced voice control and wrist gestures simplifies operation. A rotating bezel allows for intuitive, quick, and easy scrolling through apps and instructions, even with gloves. The powerful battery can run for up to five days, and the GPS can be used for up to 28.5 hours.
The rugged Smart-Ex Watch offers an extended temperature range of -15 °C to +55 °C, and its durable design withstands impact and mechanical vibration. ecom's Smart-Ex Watch 01, based on the Samsung Galaxy Watch, is the first smartwatch for Zone 2 / 22 and Division 2. The watch can be synced with ecom devices like the Smart-Ex 02 smartphone. It offers a new form of hands-free communication.
Ident-Ex 01: Intrinsically Safe Barcode Scanner and RFID Reader
Using a unique modular design, Ident-Ex 01 can be specifically configured to the customer's requirements by selecting different head modules. When requirements change, the head module on the unit can be replaced by one of the ecom-approved service centers.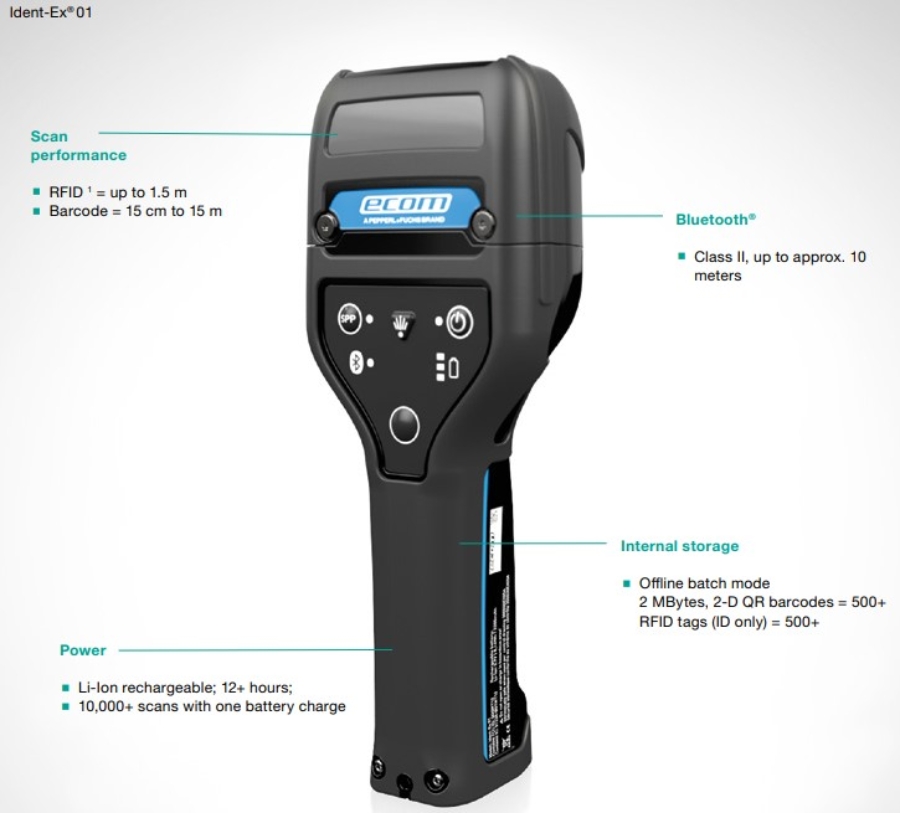 The device can be connected via Bluetooth to one of the base products, including Smart-Ex, Ex-Handy, Tab-Ex series, and Pad-Ex, or with any generic device.
Lox-Ex 01: Intrinsically Safe Bluetooth Beacon
BLE beacons are small radio beacons that emit a signal at periodic intervals. The Bluetooth 4.0 standard makes the beacons compatible with most smartphones and tablets, and they can be recognized at distances up to 200 m (geolocation). Mobile devices can evaluate beacon signals and interact with the user or other programs by using special applications. They can be mounted directly onto a suitable surface or with the optional mounting base.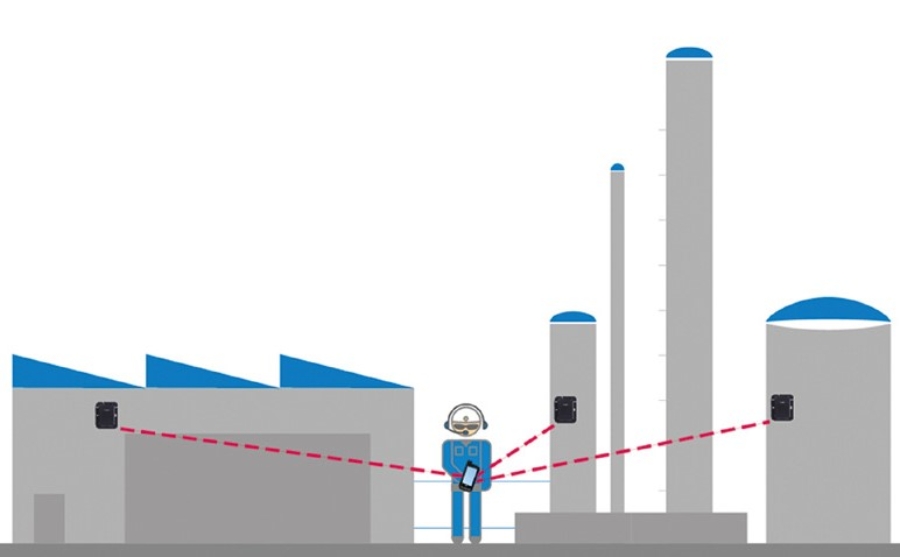 The beacons are available for ATEX / IECEx Zone 1/21 and Div. 1 (Loc-Ex 01). Their UV-resistant housing makes it possible for them to be used indoors and outdoors.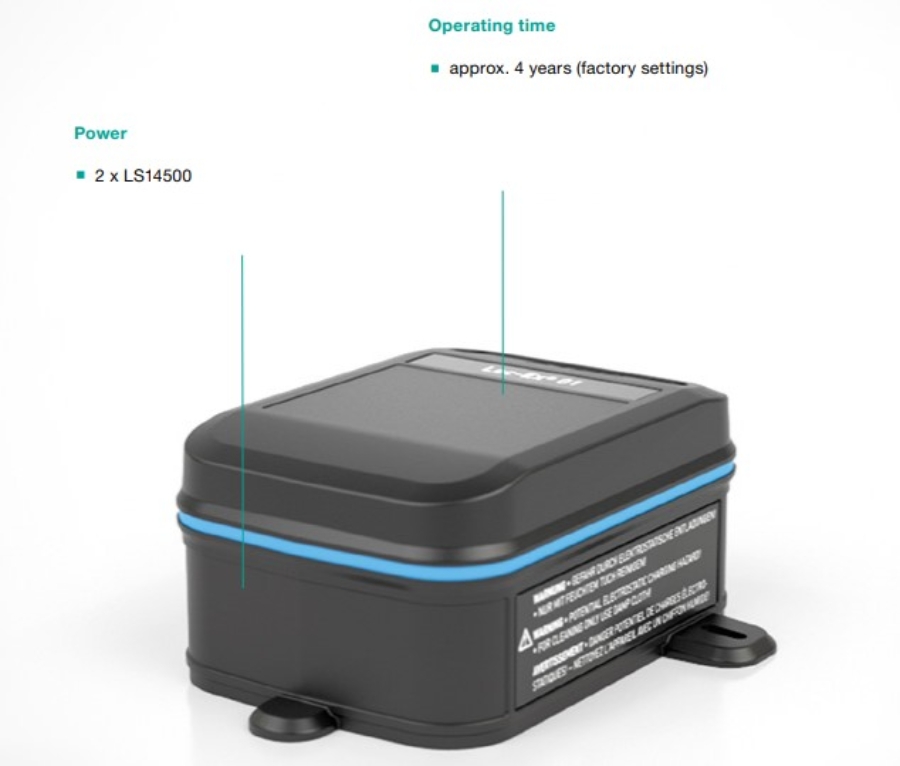 RSM-Ex 01: Remote Speaker Microphone for Use in Hazardous Areas
The RSM-Ex 01 comes with an IP65/67 rating and a built-in noise reduction function. It is able to produce clear, high volume audio (up to 103 dB). The RSM is intuitive and easy to use, even when wearing gloves.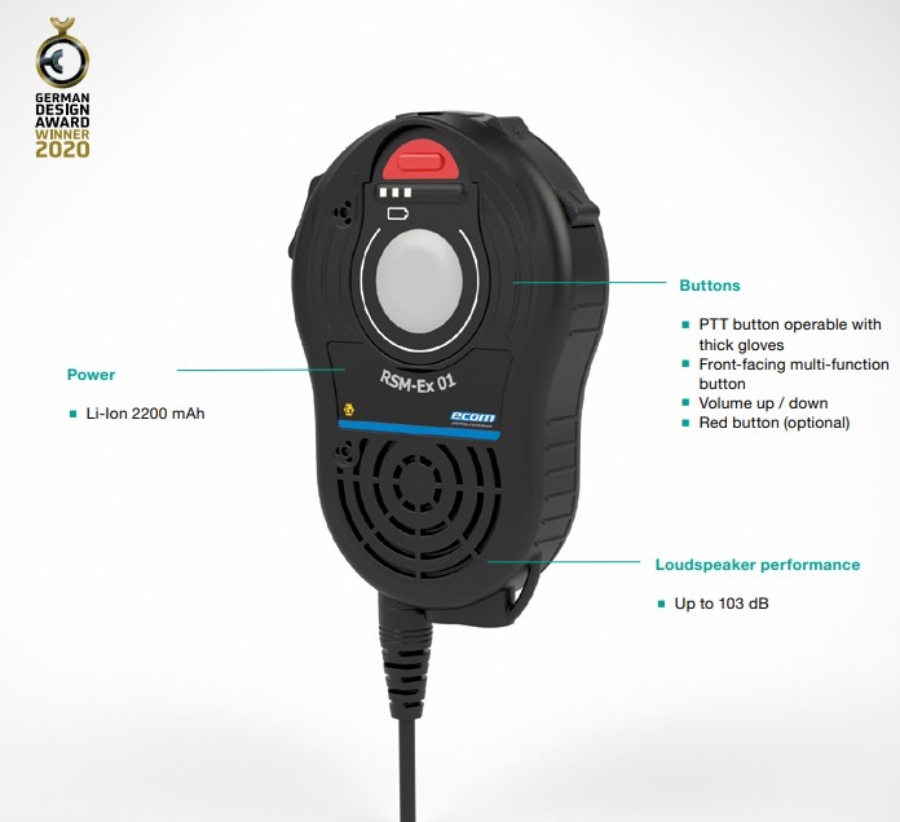 The new 3.5 mm plug is intended for industrial applications and offers a rugged design, a safety screw for attaching the plug to a smartphone, and compatibility with current and future ecom products. Additional headsets can be connected using the standard 3.5 mm plug.