About Avalue
With headquarters in Taipei established back in 2000, Avalue Technology are a professional embedded solutions and services provider. Offering complete product lines ranging from board to system level products including single board computers, COMs, industrial motherboards, barebone systems and touch panel PCs, Avalue are committed to providing the best service to customers.
What Avalue Do
At present, Avalue has built its international branches and distribution network to serve its customers worldwide. With a wealth of OEM/ODM experience, Avalue is capable to quickly transform your ideas into viable computing solutions. Avalue builds each project with its extended services to satisfy the customer's needs. The extended service includes product life cycle management, PCB/Assembly/BIOS revision control, high quality design, manufacturing, and legacy form factor/device support. Providing our customers with a quality product that meets their embedded requirements at a very competitive price.
Avalue is an ISO 9001 certified company. Committed to total quality management that applies to a full range of standard products, as well as to our design and manufacturing services.
Avalue Single Board Computers in variety of form factors introduces EMX-WHLGP, a 8th Gen Intel Whiskey Lake U Core SoC i7/i5/i3 & Celeron BGA Onboard Processor Thin MINI ITX motherboard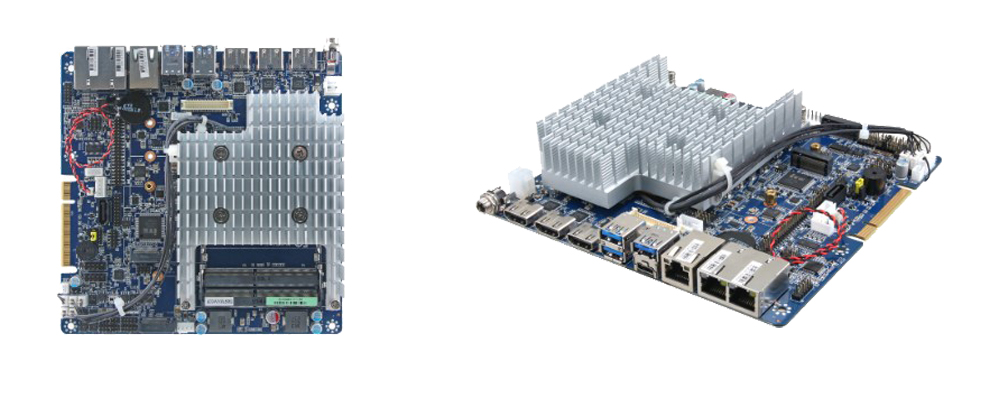 The 8th Gen Intel Whiskey Lake U Core SoC i7/i5/i3 & Celeron BGA onboard processor, leverage the power efficiency of 14nm microarchitecture to deliver double-digit performance compare to the KabyLake Refresh, offers a future-proof platform for intelligent solution development and higher turbo clocks.
EMX-WHLGP, the Thin Mini ITX Motherboard, offering Triple display: two HDMI plus one HDMI switch with one dual-channel LVDS (default LVDS) by Chrontel CH7511 in the resolution of 1920*1080, ideal for all-in-one PC, POS, Digital Signage, and kiosk markets.
Meanwhile, EMX-WHLGP features extended temperature tolerance -20°C~+60°C (with heatsink and heater attached, 0.5 m/s air flow speed testing) and fanless design, which is suitable for industrial and outdoor application under harsh operating conditions. It is designed with high temperature resistant components and automatically heating by EC and heater when operating temperature is below 0°C, which takes around 8 to 10 minutes for EMX-WHLGP to boot up from -20°C. Heatsink with heater for extended temperature is optional for ordering. For customer who does not require extended temperature support, Avalue also offer finished product which support 0°C~+60°C
Additionally, EMX-WHLGP provides more flexibilities and expansions as below, making it an ideal solution for versatile industrial applications. Such as, PCI-e x 8 Golden Finger offers 1 x PCI-e x 1, 1 x PCI-e x 4, 1 x SATA III, and 1 x USB 2.0. The customers can either design their own daughter board easily, or transform the form factor into uATX by connecting with a Riser card.
Medical Tablet PCs
As a global industrial PC solution provider and an associate member of the Intel Internet of Things Solutions Alliance, Avalue Technology launches new Medical Tablet PCs in its HID series.
Providing built-in hot-swap battery with the HID-2334 and high-end DIN-standard medical diagnostic images with the HID-2232/HID-2432 both of these new models are compliant with UL-60601-1 medical standard and their antibacterial outer shell effectively reduces risk of infection.
Their full flat front panel is IP65 water- and dust-resistant, which provides greater ease of cleaning and maintenance, and can be cleansed and disinfected with alcohol. Furthermore, healthcare personnel are able to operate the touch screen wearing gloves, preventing the spread of infection by contact. Both models are suitable for use in any medical environment, including operating room, intensive care unit, examination room and preoperative preparation room.
The Avalue HID-2232 (22-inch) and HID-2432 (24-inch) are especially designed to meet the stringent requirements of medical diagnostic imaging. Compliant with DICOM and DIN 6868-157 standards, both sizes of the medical PC can be used for examining various medical images, including X-ray, ultrasound, MRI, angiography and CT scan, providing accurate DICOM grayscale standard display and images of highest clarity.
Both HID-2232 and HID-2432 also provide 5KV insulation LAN/COM/USB ports for unique leakage protection.
HID-2334 medical full-flat touchscreen PC has built-in hot-swap battery and an optional four-slot battery charger, enabling all-day operation with battery swapping, facilitating various mobile medical applications.
Using Intel Kaby Lake i5 processor for convenience and high performance, the entire PC is lightweight and thin, effectively reducing the weight of traditional nursing cart. The night reading light below the PC is ergonomic and does not disturb patients while providing healthcare personnel with the required lighting for reading. Its function is also expandable with optional devices, such as barcode scanner.
HID-2334 medical full-flat touchscreen PC lightens healthcare personnel's burden, increases work efficiency and reduces data error, allowing healthcare personnel to focus more on taking care of patients and strengthening their relationship with patients.
Avalue Deliver Intelligent Transportation Systems To Fit Your Needs
In the future, the intelligent transportation development processes, integrable and multi-stability products, with faster data transfer and analysis rates as well as stronger stability and ruggedness, are required to satisfy the increasingly complex demands.
Avalue offers a variety of integrated intelligent transportation solutions for vehicle, rail transit and maritime transport related industries. All series including Public Transit, Dynamic Bus Info System, eBus Total Solution, Real-Time Traffic Information System, Smart Taxi Dispatching system, Truck Fleet Management, Intelligent Waste Collection Truck, Driver Fatigue Management and Intelligent System Architecture of Bus Station. From entry-level to high-end level, not only saves costs but also accelerates the time to market goals, generating more sales and greater profitability.
Avalue pride themselves in unique characteristics of their intelligent transportation systems. Which include:
Customizations and modular designs, multiple expansion ports for more applications
Users can choose CPU and chipset according to application needs or budget control. Connect main board and daughter board by IET (Intelligent Expansion Technology) concept interface. Easy to assemble and expandable, can help to meet customer's need in the shortest time. IET module is an 80-pin connector with several signals reserved on the system board which is able to connect to different IET modules for different applications. For example, if customers have more PoE ports requirements, they can choose AUX-M04 IET module to quickly expand PoE ports to meet customer's needs.
Rugged structural design for under extreme environmental
The rugged structural design can withstand strong vibrations or impacts and operate normally under extreme weather conditions.
The outstanding power management, wide voltage input, and low power consumption can effectively prevent voltage overload and product overheating. Protecting and extending the life of the vehicle's battery.
Reliable military-grade and navigation certifications
Product reliability and stability are certified by industrial product quality tests. Anti-vibration and anti-shock tests pass MIL-STD-810G grade of US army、E-MARK (E13)、ISO-7637-2、EN50155、EN45545、EN50121、IEC 60945.
Various communication services integrated
Avalue's Intelligent transportation systems supports various communication requirements, such as 3G, 4G, 5G, WI-FI, Bluetooth and GPS. Executes high-performance data transfers and calculations.
Avalue's sophisticated industry integration experiences and professional services have successfully incorporated various vertical industries. Their excellent product performances make intelligent transportation development safer, smarter and more reliable.
Avalue Launches Dual-Display AIO POS Touchscreen Terminal RiVar
Enables rapid expansion with modular versatility
Having won the iF Design Award for its mini POS terminal RiPac-10P1's compactness, excellent operability, and sophisticated and innovative exterior design, Avalue are determined to continue its winning streak with the launch of their advanced version RiVar. While they have kept the POS terminal's all-in-one functions, the greatest change to its exterior is the shift to desk stand from its previous triangular form, allowing users to view the screen at a more ergonomic angle. Its dual displays and versatile expansion options also meet requirements of different businesses and make assembly and maintenance more convenient. Suitable for use in any system that requires human-machine interface (HMI), such as self-service ordering system, ticket machine, kiosk, digital display, cash register and kitchen display system (KDS), it enables information input, display, monitoring and preview.
With clean, simple and stylish design, RiVar multifunctional POS terminal features a fan-less touchscreen flat panel PC that measures only 1.4cm. Lightweight, thin and noiseless, it uses Intel Celeron Apollo Lake platform, and supports Windows 10, Android operating systems. Fitted with a rapid guide track, the 15.6-inch Full HD touchscreen flat panel PC can be easily installed on a desk stand. The ergonomic desk stand is connected to a disk which allows the panel PC to perform left-right rotation and up-down tilt, allowing user-friending viewing. Configured with a SD card slot and two USB3.0 slots below the screens, its rich I/O ports allows for further connectivity and expansion of storage devices at any time. Card reader or fingerprint reader may also be installed on the side of the screen. Designed like a transformer robot, the Avalue multifunctional POS terminal RiVar's panel PC may be removed from its desk stand and mounted on the wall by installing a wall mount bracket at the back of the PC.
Lightweight but sturdy, the desk stand makes it easy to tuck away unsightly cables and wires to keep the desktop clean and neat. Its integrated auto-cut thermal printer supports 58/80mm paper roll, which can be easily loaded by opening the printer directly. Expansion ports at the base of the desk stand also support USB/COM/RJ45/RJ11 connection.
The extensively modular design of RiVar has come from the Avalue R&D team's customer-centric perspective, which has increased the versatility of upgrades, and decreased complexity and difficulty of maintenance. The Avalue RiVar takes its expandability so far that you can even add in another screen! The second touchscreen panel, which can be tilted up and down, will make it easy for customer viewing and can be installed in just seconds. Options include PCAP (projected capacitive input) touchscreen panel, lens and NFC/RFID. For a dual-display arrangement, you can choose either a portrait or landscape view, and the terminal itself is available in either black or white.
In comparison to normal large-size kiosks, the 15.6-inch RiVar is compact and lightweight, allowing for more efficient use of space. Its plug-and-play capability also means you only need one RiVar terminal to quickly expand your fleet of stores!
In step with the trend toward smart self-service, multifunctional POS terminal RiVar can be connected to various modular systems, including NFC card reader, ticket printer and fingerprint reader, achieving the operational goal of saving manpower. Furthermore, in the wake of the severe coronavirus pandemic recently, RiVar multifunctional kiosk reduces the chances of infection from human contact. The entire terminal can be cleaned and sterilized at any time; simply wipe the surface with a clean cloth doused with 70% alcohol, or use any laptop cleaning kit available from retailers.
Suitable for use in any system that requires human-machine interface, the RiVar's modular parts and configurations are expandable, versatile and easy to maintain and replace, allowing manufacturers to leave room for versatile assembly and expansion during initial setup.
Avalue ARC Industrial-Grade Touch Panel PCs Introduce Widescreen Series
Following the launch of their modular and scalable ARC touch panel PCs, which have since won rave reviews for their toughness and upgrade flexibility, Avalue Technology have recently rolled out their widescreen series in 10″ – ARC-10W33 and 15″ – 15W33.
Besides continuing the advantages of the ARC series, the widescreen series allows for continuous interaction in a public network access environment, making it suitable for applications such as information terminal, outdoor digital signage and kiosk. The ARC series' shockproof and waterproof characteristics, and wide operating temperature range, are best demonstrated at the factory end or light industrial environment.
Avalue ARC widescreen series touch-panel PCs are equipped with projected capacitive flat panel touch screen and easy-to-install fanless open-frame modular design. Its 10-inch version features Intel Apollo Lake processor while its 15-inch version features 6th Gen Intel CoreTM i5-6300U 2.4GHz dual core processor.
With an IP-65 rating in front and IP-41 rating at the back, the series may be used in dusty or humid factory operating environment. Its 12-26V DC wide voltage input provides stable power supply, reducing system damage caused by unstable power; and it is certified to MIL-STD-810 in vibration, shock and drop tests, ensuring normal operation of industrial automation system even under harsh environmental conditions.
To rectify the problem of screen visibility caused by bright light, reflection or sudden lighting changes in an outdoor or semi-outdoor environment, Avalue ARC series uses optical bonding to achieve perfect bonding between the touchscreen panel and glass protective layer, eliminating any gap or air pocket so that light can directly penetrate glass surface, preventing ghosting caused by refraction. Not only does it provide high quality display under bright ambient lighting conditions, it also allows the user to operate smoothly and conveniently. Furthermore, multiple optical coating technologies are used on the screen surface to solve problems caused by lighting changes, fogging and dirt. Anti-glare coating effectively reduces reflection on screen surface and thus diminishes light interference, while anti-reflection coating reduces light reflection and increases glass screen transmittance. With anti-smudge, also known as anti-fingerprint, coating, the screen surface has a low friction coefficient, giving it the advantages of being highly waterproof, dirt-proof, scratch-proof, fingerprint-proof, static-proof and easy to clean.
The Avalue ARC widescreen series has also inherited a highly scalable architecture and its advantages. Its highly flexible I/O expansion port includes USB3.0, HDMI, opto-isolator, GPIO and CAN bus expansion, allowing users to quickly assemble the industrial computer they require according to the specifications, location and budget they have, while ensuring convenient maintenance and flexibility for future upgrades. In addition to the 10-inch and 15-inch screens already launched, a 21-inch widescreen model is expected to roll out in Q2~Q3.