In this article:
The Client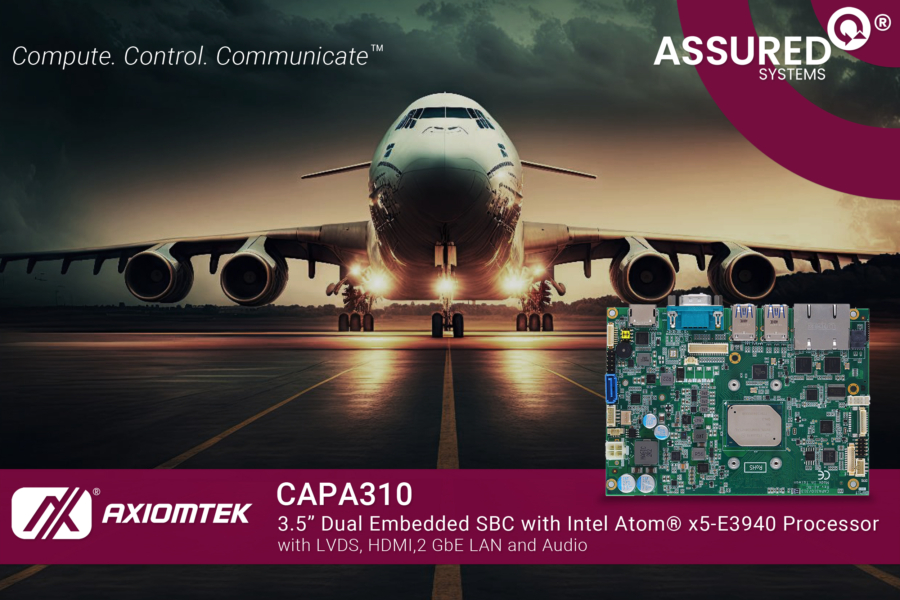 In numerous bustling airports worldwide, maintaining efficient operations is paramount. It requires swift and precise aircraft parking on the apron while prioritising safety to enable easy access via the jet bridge. To achieve this level of accuracy, Advanced Visual Docking Guidance Systems (A-VDGS) have been introduced at airports. These systems offer pilots invaluable visual guidance, ensuring they park their aircraft at the exact position in front of their respective gates.
The client, a prominent solution provider within the aviation industry, was in search of an industrial-grade and dependable single-board computer. This requirement is essential for the construction of their state-of-the-art Advanced Visual Docking Guidance System (A-VDGS).
Advanced Visual Docking Guidance Systems, also known as A-VDGS, represent a cutting-edge upgrade to the conventional VGDS. With A-VDGS, achieving a perfectly aligned parking position for docking becomes a seamless reality, boasting an impressive maximum deviation of merely 10 cm. The precision of this state-of-the-art system allows for unparalleled accuracy in aligning the boarding bridge with the final position, ensuring an effortless boarding experience for passengers. Say goodbye to unnecessary movements during docking, as A-VDGS keeps manoeuvres during docking to an absolute minimum, guaranteeing a smoother and more efficient process overall.
The Demands of The Application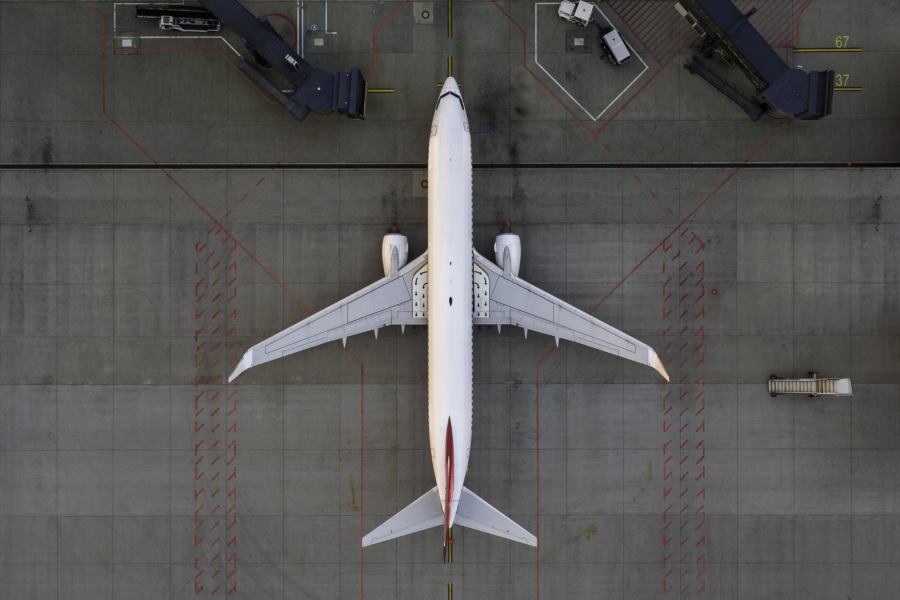 In order to optimise a A-VDGS project, it's crucial to source a top-notch Single-Board Computer (SBC) with a compact form factor, passive cooling, and wide operating temperature support. This will ensure seamless and reliable performance for the system.
The chosen SBC must have the capability to drive the infrared laser and 3D scanning devices, actively scanning both vertically and horizontally within the gate area. This feature is essential for accurately capturing the position and locating aircraft during the docking process. With the right SBC, the A-VDGS can achieve optimal precision and efficiency at airports.
Main Requirements
Compact embedded board
Powered by Low Power Intel Atom® Based Processor
Passive Cooling Design For Energy Efficiency and Cost Saving
Wide Operating Temperature Range From -40°C to +80°C
24VDC Power Input For The Aviation Industry
Two RS-232/422/485 and LVDS Supported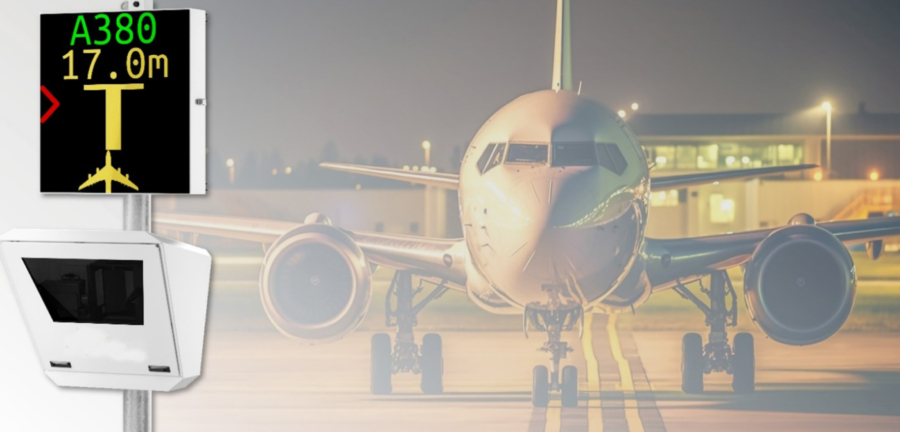 The Solution
Axiomtek proposed the CAPA310, a cutting-edge 3.5-inch embedded Single-Board Computer (SBC) powered by the quad-core Intel Atom x5-E3940 processor.
Despite its small form factor, the CAPA310 is highly efficient and can be easily installed in compact chassis, making it a perfect fit for completing the system. Its exceptional reliability is showcased by its impressive operating temperature range of -40°C to +80°C, allowing it to function flawlessly in various outdoor environments throughout the year. Furthermore, the SBC accepts a power input of 12V to 24V DC, ensuring reliable performance under different power configurations.
With a dedicated COM port for seamless 3D scanner connectivity and an LVDS interface for display and switch integration, the CAPA310 offers exceptional versatility. It serves as an ideal platform for a wide range of applications, including industrial automation, self-service terminals, digital signage, POS/kiosk displays, medical devices, and more.
"Axiomtek's CAPA310 provides an enhanced, feature-rich and easy-to-deploy solution for varying embedded applications. It comes with a small form factor, lower power consumption CPU, fanless operation, high network connectivity, stunning graphical performance, and abundant I/O connectivity. To ensure flexible configuration and expandability, the CAPA310 has an emphasis on expandability with a full-size PCIe Mini Card slot and an optional ZIO connector for additional PCIe, LPC, USB and SMBus. Additionally, this compact embedded board features the Intel integrated Gfx graphic engine to deliver high-resolution HD support for display interfaces: HDMI, LVDS and optional VGA. It is perfectly suited for gaming and signage applications," said Michelle Mi, a product manager of Product Planning Division at Axiomtek.
The 3.5" CAPA310 packs a punch with its cutting-edge features, ensuring superior performance and versatility. Equipped with one 204-pin DDR3L-1867 SO-DIMM slot, this embedded SBC can accommodate up to 8GB of system memory, delivering a seamless user experience.
Stay connected with ease, thanks to its comprehensive connectivity options, including one RS-232/422/485 and one RS-232, along with two USB 2.0 and four USB 3.0 (USB 3.1 Gen1) ports. The two Gigabit LANs, featuring the Intel i211AT Ethernet controller, ensure lightning-fast and reliable networking.
Enhancing its adaptability, the CAPA310 boasts an 8-channel digital I/O and HD Codec audio, providing excellent audio and control capabilities. Additionally, the inclusion of one PCI Express Mini Card slot allows for easy integration of various peripheral modules such as Wi-Fi, 3G, 4G, and LTE, empowering seamless communication.
Storing your data is a breeze with the CAPA310's one SATA-600 socket and one mSATA interface, offering ample storage options for your convenience.
Prioritising security and reliability, this rugged 3.5-inch embedded motherboard is fortified with TPM 2.0 (optional), a watchdog timer, and hardware monitoring features. Rest assured that your system is safeguarded against potential threats.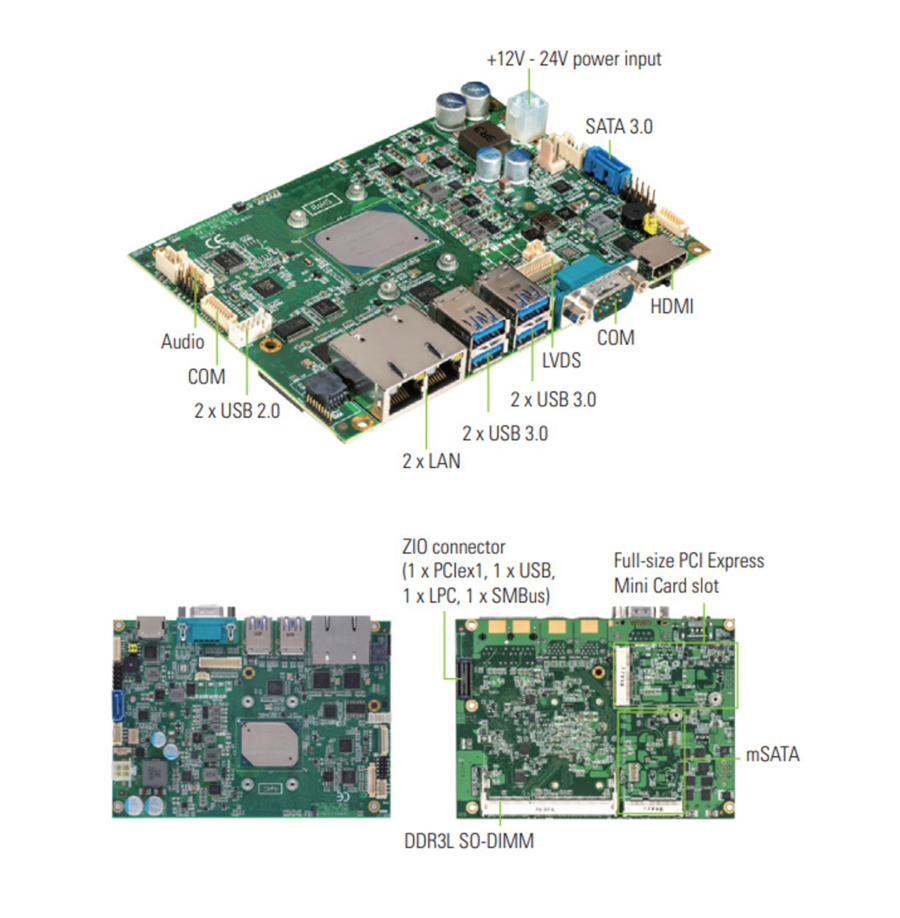 Utilising the CAPA310 for Advanced Visual Docking Guidance System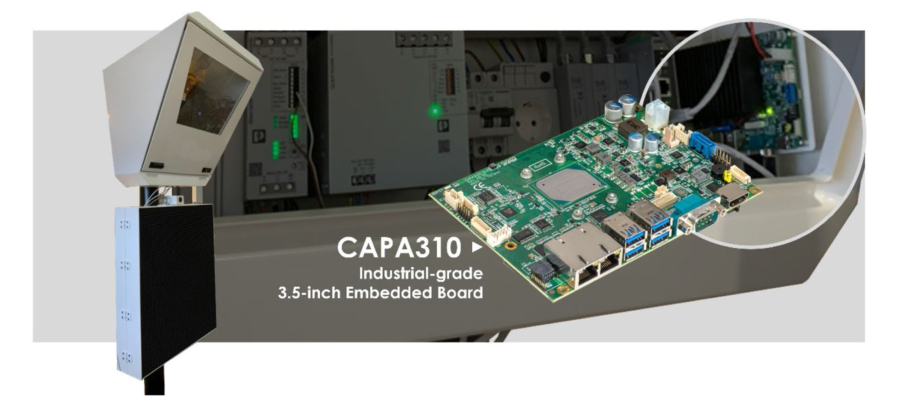 The customer harnessed the potential of CAPA310 to create a cutting-edge Advanced Visual Docking Guidance System (A-VDGS). This intelligent system utilises its proven infrared laser and 3D scanning devices to actively scan the gate area, both vertically and horizontally, effortlessly capturing and tracking aircraft positions.
Featuring a user-friendly screen interface, the A-VDGS provides pilots with real-time active guidance. The system displays vital information, such as aircraft alignment with the centreline and distance to the stopping point, ensuring precise positioning. This continuous display of essential data remains until the aircraft is accurately aligned, at which point a clear "STOP" and "OK" signal is prominently shown.
System Configurations of the CAPA310
Intel Atom x5-E3940 processor (codename: Apollo Lake)
One DDR3L SO-DIMM for up to 4GB of memory
16GB mSATA for storage needs
Two RS-232/422/485
One HDMI and one LVDS
Two USB 2.0 and four USB 3.0
One PCI Express Mini Card slot
Wide operating temperature range from -40°C to +80°C
24VDC power input for the aviation industry
• Customized BIOS