Suitable for industrial automation and test in vehicle, mobile, or any other shock / vibration sensitive application, mPCIe is a third generation small form factor flexible interface designed for the modern mobile world, leveraging the mature and ubiquitous PCI Express and USB buses.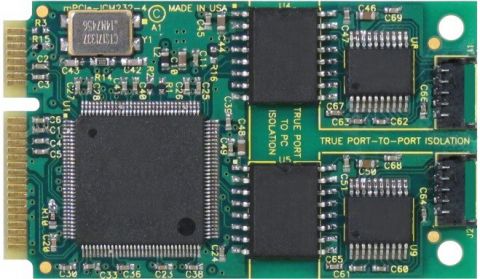 Commonly referred to as mPCIe or Mini PCIe, these devices are a smaller form-factor for PCI Express (Peripheral Component Interconnect Express). Designed with the older Mini PCI standard in mind they are the same basic form-factor (commonly used in small-form-factor devices like laptops and other portables) but lack the retention clips of Mini PCI. Unlike the original PCI Express bus, Mini PCIe provides both the standard PCI Express and USB 2.0 signals, allowing flexibility in peripheral design. The standard is highly suitable for industrial automation and test in vehicle, mobile, or any other shock / vibration sensitive application.
mPCIe was originally developed for adding wireless features to notebook computers, isolating the notebooks' logic board design cycles from the ever-evolving Wi-Fi, Bluetooth and cellular specifications. In order to reduce size and improve ruggedness (while still retaining flexibility with regard to changing CPU technologies and requirements) various Computer-On-Module (COM) standards became popular. Instead of DAQ I/O devices being plugged into the CPU's backplane, the CPU module itself is mated to a single custom-designed carrier board, containing all the application-specific I/O onboard. This carrier board hosts the CPU module as well as the connectors for both the I/O and the standard PC interfaces.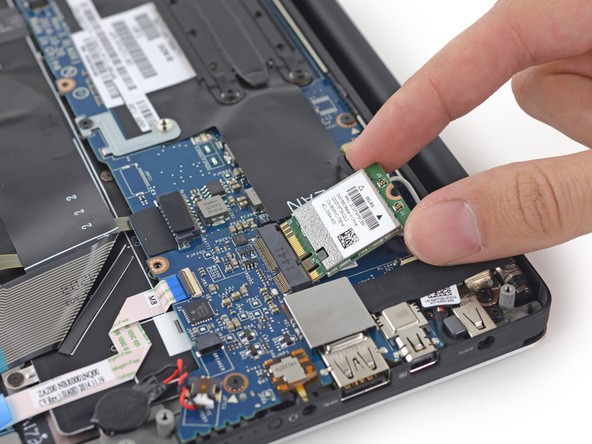 Commercial slot I/O cards (ISA, VESA, PCI, PCI Express) are neither small enough nor rugged enough for many applications. Stackable expansion options, like PC/104 and its faster brethren, are indeed more rugged, but still take up an awful lot of room—and weight—when modern sensor count and mobile applications are considered. These large form factor solutions also encourage a one-size-fits-all approach to I/O design. Thus a wide variety of input and output types, perhaps including voltage, current, frequency, TTL, PWM, quadrature and more, may all be found on one I/O board. Keeping the solution rugged enough, and small enough, to support modern mobile applications requires something different
Unlike its predecessor the PCI Mini Card, mPCIe cards include mounting provisions, preventing any vibration or shock issues common to the older standard. A full size mPCIe device is less than 30 x 51 x 6mm in size, and the Industrial and Military DAQ market has pounced on the standard as a rugged-yet-tiny replacement for the larger legacy options. Perfect for space-constrained systems such as laptops, embedded systems, or industrial PCs.
Example of mPCIe Interface with the mPCIe-DIO-24S Digital mPCIe Module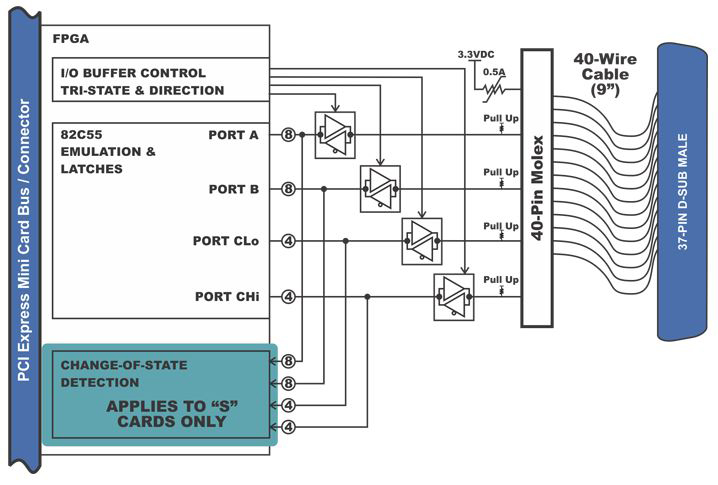 Another benefit of the smaller mPCIe standard is a focused approach to I/O expansion: the limited PCB and connector real estate eliminates the unused I/O types and channels common to the one-size-fits-all "multifunction data acquisition system" devices often seen on the larger legacy interfaces.
Performance is assured with the mPCIe's PCI Express interface, but real flexibility in I/O design is also possible: the mPCIe connector includes a USB 2.0 interface, as well as SMBus and support for future expansion busses. These extra interfaces greatly reduce the time-to-market and upfront costs of bringing new I/O devices to the mPCIe bus, which assures a broad selection of I/O to match application requirements.
Maintenance and repair are also greatly improved over various stackable expansion options: dismantling a PCI-104 stack to replace a failed I/O card is a real hit to system MTTR and usually precludes LRU designation. mPCIe is two simple screws—or even tool-less mounting provisions.
Integrate WiFi or Cellular through Mini PCIe
| | |
| --- | --- |
| Ideal for Internet of Things applications, small form factor industrial motherboards and embedded computers which feature an available Mini PCIe expansion slot can integrate wireless or 3G / 4G cellular connectivity. This edge computer was designed and manufactured by Assured Systems with a Pico-ITX motherboard which supports 1 Mini PCIe slot, allowing for WiFI and Cellular connectivity. | |
Assured Systems Supply And Integrate A Wide Range Of Mini PCIe Cards For Specific Expansion
About Assured Systems
Assured Systems is a leading technology company offering high quality and innovative applied computing solutions to the embedded, industrial, and digital-out-of-home markets across the world. Headquartered in Stone, England and with offices in North America, our reach is truly global. Our impressive product portfolio includes a full range of Fanless Embedded Computer Systems, Digital Signage & Multimedia Computer Systems, Touchscreen Panel PCs, Human Machine Interfaces, Vehicle Mount Computers, Rackmount Computer Systems, Single Board Computers, Rugged Laptops & Tablets.