Neousys have launched an ultra-compact rugged fanless transportation PC that is E-Mark and EN 50155 certified for a wide range of applications. The POC-551VTC measures just 64mm x 176mm x 116mm and features rich I/O ports to accommodate wireless communication, mobile surveillance, in-vehicle entertainment, and fleet management applications.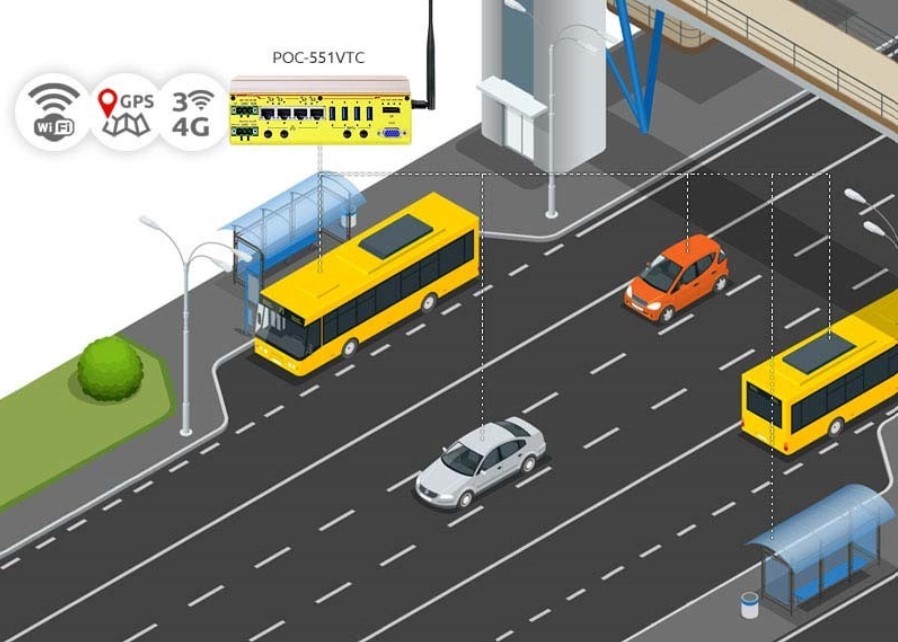 With a rugged chassis and aluminium heatsink this E-marked transportation PC has been designed run at full throttle whilst being able to withstand humidity, shock, vibration and wide temperature ranges of -25 °C to 70 °C making it the ideal solution for railway, lorry or bus applications whereby space may be a limiting factor.
Powered by an AMD Ryzen Embedded V1605B processor, the POC-551VTC certainly offers premium performance despite its compact form factor. With 4-cores and 8-threads, the V1605B CPU delivers the equivalent processing power of an Intel 6th Gen. Core i7 U-series and being coupled with an onboard Radeon Vega GPU this powerful in-vehicle PC delivers an unprecedented 3.6 TFLOPS in FP16 — a mark that previously can only be seen in large form factor controllers.
Featuring four M.2/ mPCIe sockets and six antenna holes to accommodate a variety of 4G, 3G, WIFI and GPS modules the POC-351VTC provides wireless and cellular internet access which is essential for in-vehicle applications such as vehicle to vehicle communication. With an additional two 802.3at PoE+ ports and one GbE LAN port the compact transportation PC can power and communicate large streams of data from IP cameras. It also features four USB 3.1 Gen1 ports, four COM ports, CAN 2.0 port and 4-CH isolated DI/O for data communication between different types of devices. All ports come with a screw-lock mechanism to secure cable connection. The POC-551VTC from Neousys also supports a wide range 8~35V DC power input and built-in ignition control, which can protect the system with ignition sensing and offer gentle shutdowns.
Overall, the POC-551VTC provides excellent performance and extraordinary reliability and is an ideal transportation computer for many in-vehicle applications.
For less demanding applications, the
POC-351VTC
also provides a rich I/O utilising a low power Intel Apollo Lake Atom E3950 CPU.