8-port PCI RS-422/RS-485 Serial Communication Card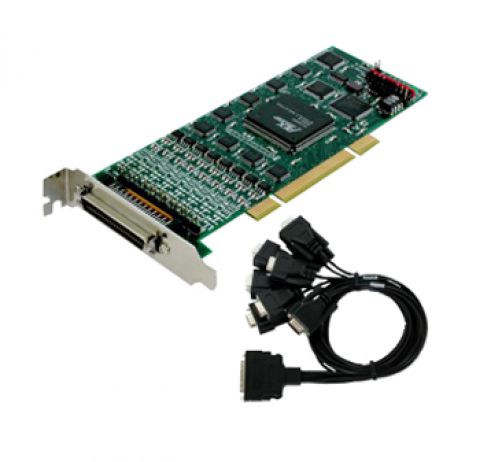 ACCES I/O Official Distributor

These are eight-port, asynchronous, serial communication cards designed for use on the PCI bus. They support RS-422 or RS-485 communications. These cards offer the best combination of high-density and high-speed communications in a low profile form factor. The cards meet the MD2 Low Profile PCI Bus Specification and can be used in applications where space is at a premium, such as thin-client servers and high-density rack-mount servers. The LPCI line has been designed for use in retail, hospitality, and point of sale systems as well as the gaming and defense industries. The cards are 6.6 inches in length and 2.21 inches in height and may be installed in any available 3.3 or 5V PCI or PCI-X expansion slot. Normally, these units are supplied with an eight-connector breakout cable (no external breakout box required). However, they are available without that cable as models LPCI-COM422/8S1 and LPCI-COM485/8S1 for OEMs that fabricate their own cable harnesses. Type 16C550 UARTS are used as the asynchronous communication elements. These include a 16-byte transmit/receive FIFO buffer to protect against lost data in multitasking systems while maintaining 100% compatibility with the original IBM serial port. ACCES also offers16850 UART functionality as an option to lower the CPU loading and allow for error-free data communications even at high simultaneous data rates. Crystal oscillators located on the cards permit precise baud rate capability up to 115,200. Higher baud rates, up to 921,600 baud, are achieved by changing a jumper on the card. The driver/receivers used, type SN75176B, are capable of driving long communication lines at high baud rates. They can drive up to ±60 mA on balanced lines and receive inputs as low as 200 mV differential signal superimposed on common mode noise of +12 to -7V. In case of communication conflict, the driver/receivers feature thermal shutdown. Since these are PCI-Bus cards, the operating system determines the resources assigned to the card. As a result, you cannot set or change the card's base address. You can only determine what the system has assigned. The PCI Bus supports 64K of I/O bus address space so your card's address may be located anywhere in the 0000 to FFFF range.
Universal PCI, PCI-X, 3.3V and 5V compatible (Call for PCI-Express availability)
Eight-Port, RS-422 or RS-485 protocols
Speeds up to 921Kbps
Include type 16550 UARTs (optional 16850)
Meets MD2 Low Profile PCI Bus Specification
Breakout cable provides DB9 connectors for each port (no external breakout box required)
Compute. Control. Communicate.
Call our experts today for friendly advice on
+44 (0) 1785 879 050