1-Port Industrial RS-232/422/485 To Wi-Fi Device Server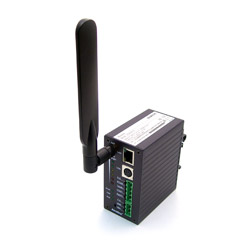 Aaxeon Official Distributor
The Wireless Serial to Ethernet Device Server STW-601C is a gateway between Ethernet (TCP/IP) and RS-232/422/485 communications. It allows almost any serial device to be connected to a new or existing Ethernet network. The STW-601C offers a wireless network interface (IEEE802.11g, 54Mbps) and two serial ports. By encapsulating serial data and transporting it over Wireless LAN; or for security requirements by WEP or WPA encryption, the STW-601C offers full-duplex, bi-directional data transmission transparent between serial port and Wireless LAN.
One Serial Port, RS-232/422/485 Software Selectable
802.11b/g with WPA Security
10/100M Ethernet Port for Configuration & Network Redundancy
Supports UDP, TCP Server/Client Protocols for Virtual COM Mode
Configurable via Built-in Web Server, Serial Console, Telnet, or Windows Based
Utilities
Built-in Standard High-Gain 4dBi Antenna
15KV ESD Protection for Serial Port
DIN-Rail Metal Housing with IP50 Standard
Compact Size
Upgradeable Firmware via Network
Serial Interface: 1-port RS-232/422/485 & Software Selectable
Connector: 5-Pin Terminal Block, 8-Pin Mini-DIN, & DB9 Male cable
Speeds: 1200bps ~ 921Kbps
Flow Control: None, Software, Xon/Xoff, Hardware: RTC/CTS
Surge Protection: Terminal Block or DB9 Connector with 15KV ESD
Isolation Protection: Built-in 1.5KV Magnetic Isolation
WiFi: IEEE 802.11b/g Compliant
Tx Power: "802.11b: 15dBm + 5dBi 802.11g: 14dBm + 5dBi"
Rx Sensitity: -66dBm@54Mbps, -80dBm@11Mbps
Transmission Rate: 54Mbps (Max.) with Auto Fallback
Transmission Distance: Up to 300 Meters (@12Mbps, in Open Areas)
Topologies: Infrastructure, Ad-Hoc
Ethernet: 10/100M Auto-Detect (for Redundancy & Configuration)
Protocols: ICMP, TCP/IP, UDP DHCP Client, Telnet, DNS, SNMP, HTTP, SMTP, SNTP
Serial Port Access Protocols: Telnet Protocol
Management: Web, Telnet, Serial Console, and Windows Based Utility
VirtualCOM: Virtual COM for Widnows 98/2000/XP/2003
Security: WEP 64-bit/128-bit Data Encryption
WPA / WPA2-PSK Compatible (Supports TKIP / AES Encryption)
ModulationType: CCK, DQPSK, DBPSK, OFDM (802.11g)
Flash Memory: 10 MB (2 MB for Bootloader)
SDRAM: 32 MB
CPU: IDT RISC Processor with MMU
Parity:None, Even, Odd, Mark, Space
Data Length: 7 or 8 Bit
Stop Bit: 1 or 2
Power: Input: DC 9 ~ 30V
Power Consumption: Max. 4.5W (Tx Mode)
Operating Temperature: -20° C to 70° C (-4° F to 158° F)
Storage Temperature: -20° C to 85° C (-4° F to 185° F)
Humidity: 5% to 95% (Non-Condensing)
Dimensions: 45 x 91 x 80 mm (1.77 x 3.58 x 3.15 inches)
Certification: FCC Class A, CE Class A, UL
Warranty: 5-year Warranty
Compute. Control. Communicate.
Call our experts today for friendly advice on
+44 (0) 1785 879 050