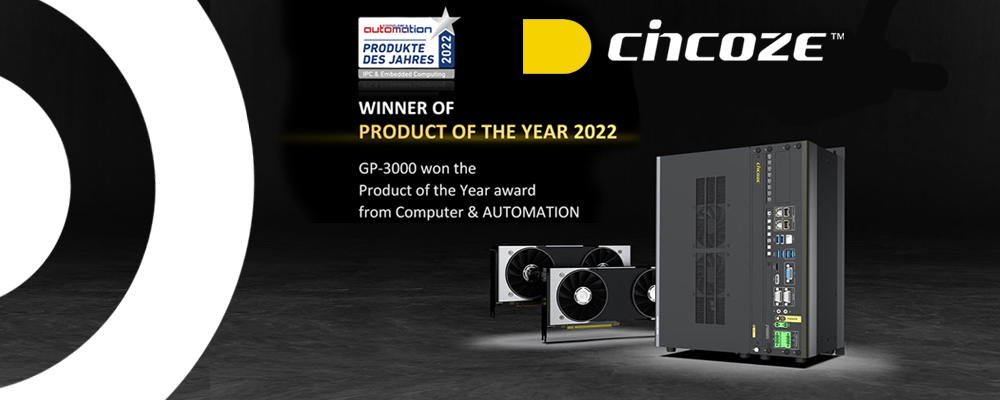 Cincoze launch their 2022 GOLD Product lines featuring their latest Edge AI GPU Computers, with the Award Winning GP-3000.  Deploying this rugged, high-performance GP-3000 machine vision computer, provides the power to manage the most complex artificial intelligence and machine vision workloads.
The GP-3000 is powered by a 9th generation Intel Xeon/Core processor and supports up to two 250 W high-end graphics cards adding blazing-fast performance for AI, machine learning, machine vision, and big data analysis. 9th generation Intel processors are up to 34% percent faster than the previous generation. The GP-3000 supports two ECC or non-ECC DDR4-2666 (up to 128 GB) for exceptional speed and responsiveness.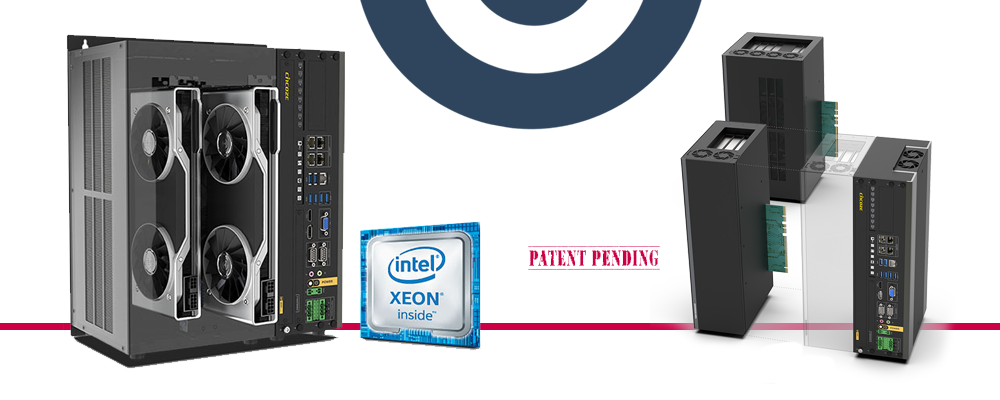 Scalability and Upgradability With GEB (Patent Pending)
The GP-3000 has excellent high-efficiency edge computing capabilities and supports the installation of various GPU cards on the market. It can be expanded with up to two high-end full-length GPU cards (328 mm max.) using the exclusive GPU Expansion Box.
The unique "Adjustable GPU Retainer" fixes the graphics card in place, providing extra protection against shaking loose in high-vibration environments. It has multiple built-in PCIe slots for various high-speed I/O cards or image capture cards for different applications.
Future upgrades for higher-end or more GPU graphics cards are simple because you can just replace the GPU Expansion Box. Multiple full-length card expansion of this calibre is truly a rare find.
Total Power Budget Up to 720W
The GP-3000 has a 720 W total system power budget and supports a wide range DC power input from 9 to 48 V for high-end GPU computing and can power up to 500 W for its GEB with its specialized power design, ideal for dual 250 W graphics cards.
Intelligent Cooling Design for Enhanced Thermal Support
Better performance, can mean higher power requirements. To solve the power consumption and thermal challenges, the GP-3000's mechanical structure and isolated external smart fan kits on both sides of the chassis effectively dissipate heat under full workloads in extreme conditions.
Multiple Native and Expandable I/O
The GP-3000 has multiple native I/O interfaces built-in. Cincoze's proprietary CMI/CFM modules offer customization for additional I/O or other functionality such as 8x GbE LAN/POE, 6x USB 3.2, and 2x 10 GbE LAN and supports four 2.5″ hot-swap SATA SSDs and has a M.2 M key socket for NVMe SSD storage.

Robust Design Enabling Reliable Operation
The GP-3000 packs versatility and performance into a robust design for ultimate GPU computing.
In the pursuit of ever-higher standards, the GP-3000 is MIL-STD-810G certified and promulgated by the US Department of Defense to qualify military equipment.
It can withstand hot and cold temperature extremes, shock and vibration and high electromagnetic radiation.
The GP-3000 features 9–48 VDC power input, is built for -40 to 70℃ temperature operation and supports multiple installation methods, including wall, desktop, face-up and 19"rack mount.
It also has E-mark and EN 50155 (EN 50121-3-2 only) certifications, so it is capable of withstanding the rigors of rail and vehicle applications as well as other harsh environments.
With computing power, scalability, functionality, and reliability baked into its design, it is the ultimate high-performance industrial-grade embedded GPU computer.
The GP-3000 is the ideal platform for multiple verticals, including machine vision, automotive, image recognition, transportation, and any other application that requires high-performance GPU computing power.