In this article:
3D NAND Flash Memory for the Industrial Embedded Market
Next generation 3D NAND flash now available in a fully industrial-grade package through Assured Systems.
3D NAND is well on its way to become the main player in the flash memory market. This next-generation NAND flash promises greater capacities and performance and is now available in a fully industrial-grade package through Assured Systems. This Innodisk solid state drive (SSD) series is designed to tackle the tough conditions seen in many embedded environments and to handle the challenges of edge computing.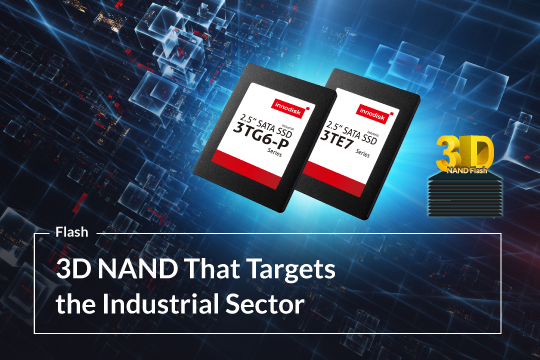 The devices use pure industrial-grade 3D TLC NAND from Toshiba with a rated P/E cycle number of 3000 that ensures lasting endurance as required by many embedded applications. The firmware is also optimized for industrial use and the SSDs strictly avoid SLC caching to avoid performance drops and increased write amplification that lower P/E cycle numbers through excessive data transfers within the SSD.
The series includes two models: 3TE7 and 3TG6-P, with the former being DRAM-less and the latter using an external DRAM chip and a Marvell controller. The modules can incorporate AES encryption for data security and End-to-End Data Path Protection to ensure error correction at every point of data transfer. The modules can also be fitted with Innodisk's trio of power stabilizing technologies iCell™, iPower Guard™ and iData Guard™ to further strengthen data integrity in areas susceptible to power fluctuations.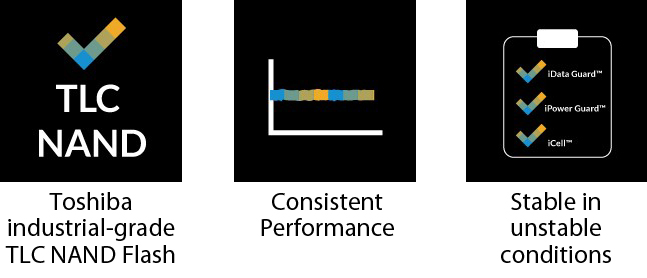 Assured Systems is consistently striving to improve the performance of every component of our systems whilst maintaining budgetary constraints. As 3D NAND technology rolls out, these improved and cheaper SSDs will be integrated into embedded systems as a matter of course, with the cost savings passed on to our customers. If you have specific storage requirements, or large storage capacity parameters have killed budgets for previous projects, contact us and we can advise on the new possibilities offered by 3D NAND.

About Assured Systems
Assured Systems is a leading technology company offering high quality and innovative applied computing solutions to the embedded, industrial, and digital-out-of-home markets across the world. Headquartered in Stone, England and with offices in North America, our reach is truly global. Our impressive product portfolio includes a full range of Fanless Embedded Computer Systems, Digital Signage & Multimedia Computer Systems, Touchscreen Panel PCs, Human Machine Interfaces, Vehicle Mount Computers, Rackmount Computer Systems, Single Board Computers, Rugged Laptops & Tablets.