The GoRugged R2000 Dual 4G LTE router is an industrial grade dual SIM router which offers super-reliable cellular communcations for mission critical connectivity in the most challenging environments. The R2000 Dual features optional dual cellular modules so the device can run two different networks to ensure uptime is maximised. This feature is especially useful in applications where fast, secure and stable communication is critical such a remote payments, real-time data logging, or in mobile applications where signals fade regularly. The device can sense and switch networks in 3 seconds, significantly faster than others in the market. The R2000 Dual also features built-in Wi-Fi allowing it to be used as a Wi-Fi hotspot.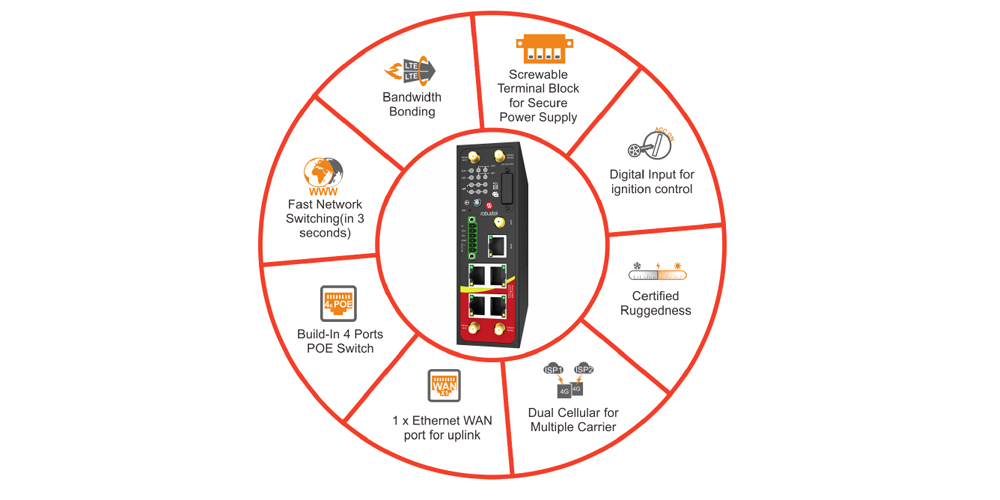 The R2000 Dual also includes a range of features such as 4 x PoE for powering other devices like cameras or HMIs, alongside a digital input for vehicle ignition control, simplfying the installation and cabling requirements. The R2000 Dual Module is housed in a rugged metal chassis with various mounting options available and can operate under wide temperature ranges for maximum flexibility on where it's mounted.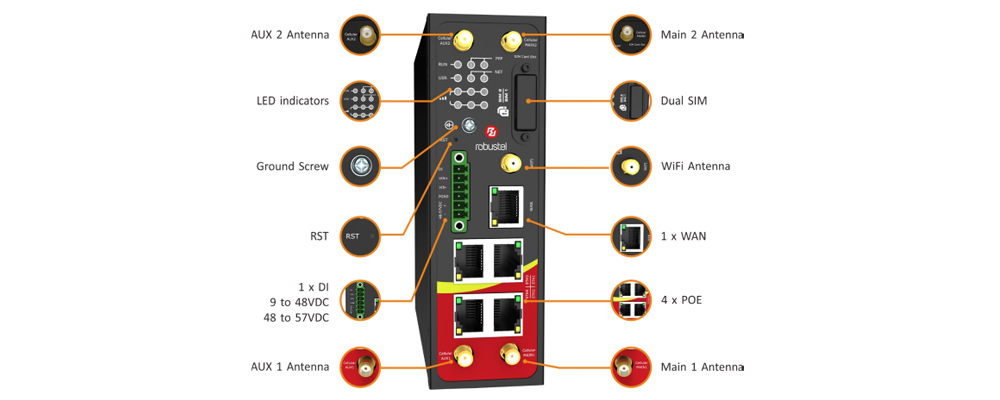 The R2000 Dual is designed to meet requirements where high-speed broadband or service level requirements are in force. The R2000 Dual allows network bonding to improve the speed of the connection or network redundancy to ensure a constant connection via different carriers.

The R2000 Dual is ideal for in-vehicle networks including emergency vehicles, mass transit, taxis, trucks and more. The ACC functionality is provided to control the power supply of the R2000 Dual allowing the device to be turned on and off with the vehicles ignition. The R2000 Dual can also configured for time delay switching allowing the devices power to be managed via the web management interface.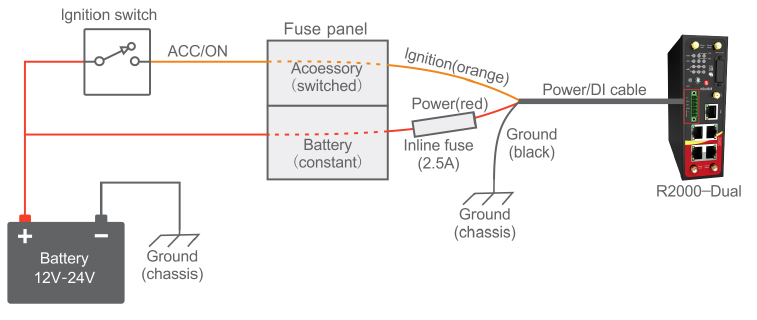 Main Features
Two modules embedded, support two SIM cards online in the meantime
Various interfaces: 1xWAN, 4xLAN, Wi-Fi, POE, Digital Input
LAN: 4 LAN port support POE
WAN: static, PPPOE and DHCP client
Wi-Fi: support AP or client
Support cellular, WAN and WLAN link backup; support cold backup mode, warm backup mode and Load balancing; support ICMP detection
VPN tunnel: IPsec/OpenVPN/GRE/L2TP/PPTP/DMVPN
Auto reboot via SMS/Timing
Support RobustLink (Centralized M2M management platform, to remote monitor, configure and update firmware)
Flexible management methods: Web/SMS/CLI/ RobustLink
Firmware upgrade via Web/CLI/SMS/RobustLink
Advanced firewall: filtering, port mapping, DMZ
Support QoS, DDNS, VRRP, Captive Portal, SNMP, WLAN multi, multi-language
Wide range input voltages from 9 to 48 VDC
The metal enclosure can be mounted on a DIN-rail, on the wall or be put on desktop
The R2000 Dual is only an example of our Cellular Modems and Routers, please follow the above links or click here to see more, or feel free to reach out to our sales team in either the UK 01785 879 050 or USA 864 421 6991.
About Assured Systems
Assured Systems is a leading technology company offering high quality and innovative applied computing solutions to the embedded, industrial, and digital-out-of-home markets across the world. Headquartered in Stone, England and with offices in North America, our reach is truly global. Our impressive product portfolio includes a full range of Fanless Embedded Computer Systems, Digital Signage & Multimedia Computer Systems, Touchscreen Panel PCs, Human Machine Interfaces, Vehicle Mount Computers, Rackmount Computer Systems, Single Board Computers, Rugged Laptops & Tablets.