As trends go 4K is a big one. The human eye is only capable of viewing 8K, so the technology giants won't want to get there too soon, although 4K TV's have now dropped below 300 sterling and rumours are rife of the details regarding a Sony PS4K and the various features that 4K can exert. 4K is effectively 4x the modern standard of 1080p and although content is currently lacking the quick popularity and price dropping are making it a front-runner as more and more media hardware and software of the future are attuned to the 4K notion.
In electronic advertising the swing is ever more relevant representing the opportunity to display campaigns and content in the glossiest format yet, courtesy of diverse digital signage displays that are compatible with the advancements from touchscreens to huge outdoor screens. Joining the new technology is the slow introduction of HDMI 2.0 that was introduced in late 2013 to begin replacing the previous height of HDMI 1.4. We have a number of 4K compatible embedded PC's for all of your digital signage applications with a range of stunning screens to accentuate your content way beyond the ancient wonder that was HD.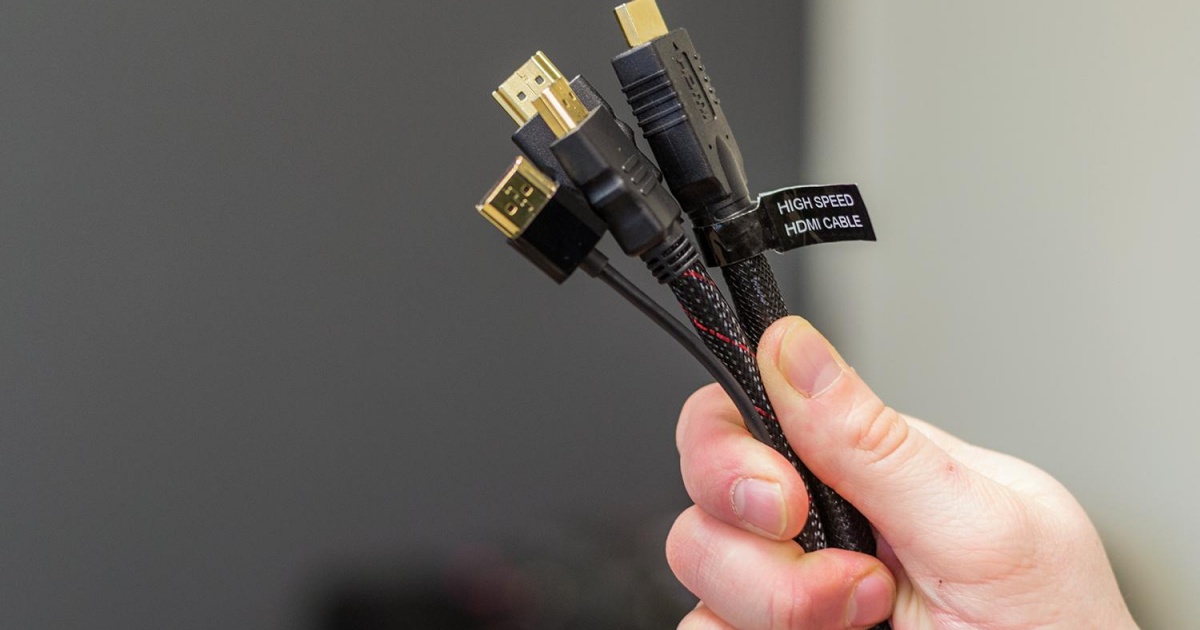 Our embedded computers cover almost any adaptation of digital hardware so take for instance our embedded computer platform- NDiS B325 – it has high-quality playback powered by a Intel Celeron N3150 processor with low consumption to maximize efficiency and content display, minimizing your costs whilst broadcasting your advertising campaigns. Its fanless, solid state design coupled with its wide temperature range permits usage in practically any environment letting you advertise wherever you need with no meithering over the reliability of your hardware.
Along with its heavy-duty capabilities is its 4K compatibility via HDMI 1.4. HDMI 1.4 was introduced with the relevant bandwidth in 2009 for 4K content, 7 years ago it was introduced as a hefty upgrade by the HDMI Licensing Consortium and provided a fantastic solution for a variety of display applications including 4K, 2K as well as an integrated Ethernet channel but this latest advancement revolves solely around the speed that content can be delivered and so the competence in delivering extremely high resolutions. HDMI 1.4 can deliver 10.2 Gbps and its bandwidth is large enough to provide 24 & 30 frames per second think of it as the entry level with the ability to have a dabble with any content such as 4K.
What is HDMI 2.0?
With such high development and research into the various visual formats further applications and evolutions in content mean that a new HDMI doesn't necessarily extinguish the 1.4 but at 50 & 60fps HDMI 2.0 offers all that content without any compromise including speeds of 18Gbps. Gladly the change is fairly minimal with standard HDMI 1.4 cables that will work smoothly with the new devices. Of course a major application is in films where various new technologies and techniques are creating break-away industries. Peter Jackson's "The Hobbit" was shot in 48fps which is of huge transition from traditional cinema. It is a swing that inevitable emphasizes the potential for advertising applications to show new, clerical unmissable content to your audience. All that has to be ensured is that either end of the entertainment chain/ hardware support the new standard.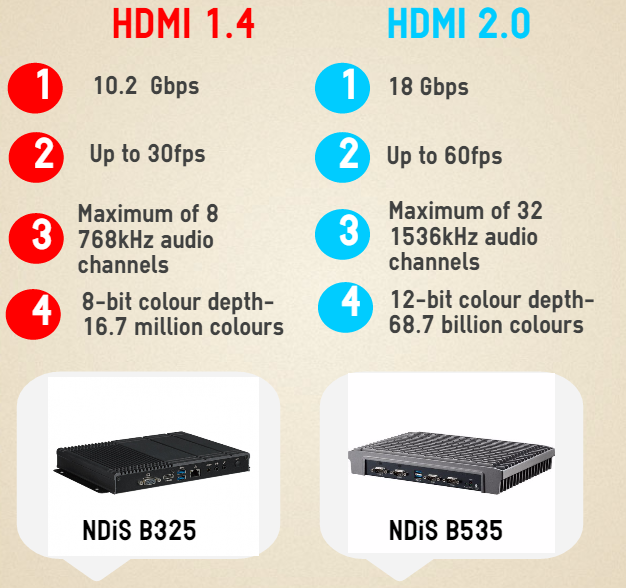 To break that down 18Gbps is 2250MB/s a normal Blu-ray max's out at 6.75MB/s, the new HDMI 2.0 supporting 18Gbps is a metaphorical dual carriageway of data by comparison which crucially enables the new HDMI to essentially be geared for the likely innovations of technology and more demanding requirements of our hardware of the future, especially in areas such as gaming where 60p content offers a variety of potentials, though specific 4K gaming still looks a long way off.
Our similar embedded digital signage computer to the NDiS B325 is the NDiS B535, only the B535 incorporates 3 of the new HDMI 2.0 standard, it is one of the first integrated PC's we have to adhere to these new standards and also incorporates a 6th Generation Intel Skylake CPU, though still maintaining tiny proportions, 6 USB 3.0 ports and a heavy duty nature making it one of our most powerful display orientated machines, if you're looking for a digital signage system, here is the king pin.
The point of all these technology advances ultimately derives from the sharp desire of technology giants to bamboozle us with better colour. In this case it is all about the rendering of the image, ramping up the specificity of the colour information resulting in the 1.4 HDMI offering 8-bit colour, relating to 16.7million variations of the colour palette, whilst the newer 2.0 12-bit colour as represented on the premium B535 allows the total number of colors to exponentially rise to 68.7billion. In numerical terms there is certainly a drastic difference, in real life terms there are unanswered questions, in advertising you don't want to be left behind.
About Assured Systems
Assured Systems is a leading technology company offering high quality and innovative applied computing solutions to the embedded, industrial, and digital-out-of-home markets across the world. Headquartered in Stone, England and with offices in North America, our reach is truly global. Our impressive product portfolio includes a full range of Fanless Embedded Computer Systems, Digital Signage & Multimedia Computer Systems, Touchscreen Panel PCs, Human Machine Interfaces, Vehicle Mount Computers, Rackmount Computer Systems, Single Board Computers, Rugged Laptops & Tablets. Please call the numbers listed above or visit our website at www.assured-systems.com for more information.