Assured Systems is proud to announce it has won 'The Best Partner of the Year Award 2016' by embedded systems manufacturer Axiomtek. The award recognises Assured's work on integrating Axiomtek systems into several large scale projects including using OPS modules for an international bank digital signage roll out. Assured Systems supplies the entire Axiomtek range to clients in a wide variety of industries including automation, IoT solutions, medical, digital signage, renewable energy and more.
The award was presented to CCO, Stuart Martin and CEO, James Priest at the Assured Systems Head Office in Stone, Staffordshire by Wen Wang, Director of Axiomtek.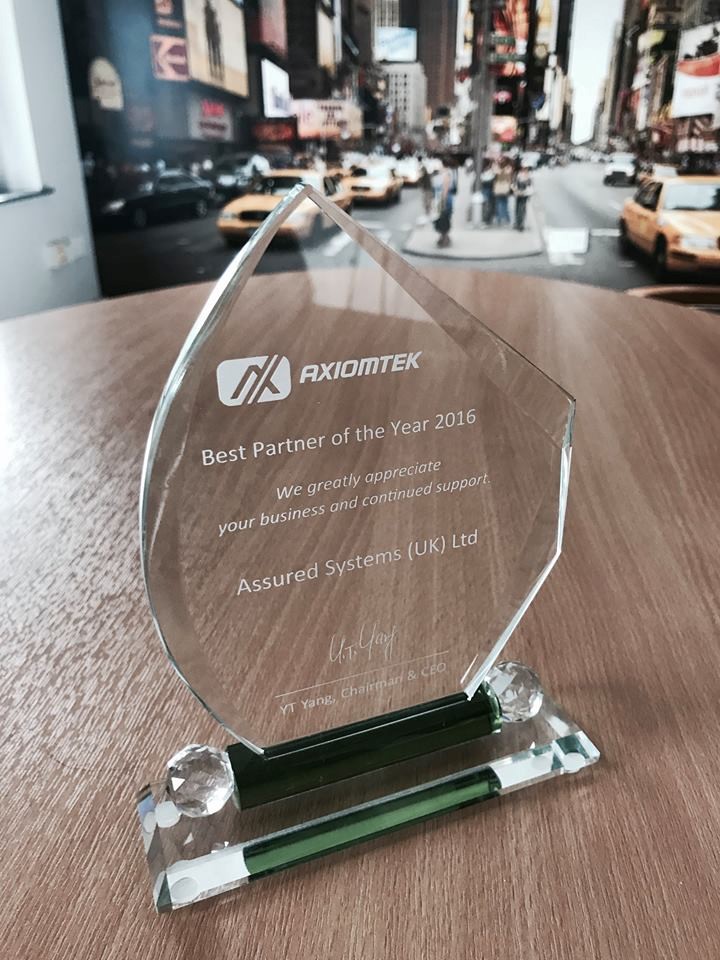 Wen said upon handing over the award "We were very pleased to award Assured Systems with our award for 'Partner of the Year 2016'. Assured Systems' support and contribution with Axiomtek has meant our partnership is thriving and we can't wait to see what the next few years brings both companies!"
James Priest, CEO of Assured Systems Worldwide said "We are delighted to receive this award. The reputation, reliability and range of Axiomtek products has been important to Assured in it's continued growth. 2017 promises to be a big year for Axiomtek and Assureds' partnership."
Sign up to the Assured Systems e-newsletter at the bottom of this page to receive regular updates on new products and news from the embedded sector.
About Assured Systems
Assured Systems is a leading technology company offering high quality and innovative applied computing solutions to the embedded, industrial, and digital-out-of-home markets across the world. Headquartered in Stone, England and with offices in North America, our reach is truly global. Our impressive product portfolio includes a full range of Fanless Embedded Computer Systems, Digital Signage & Multimedia Computer Systems, Touchscreen Panel PCs, Human Machine Interfaces, Vehicle Mount Computers, Rackmount Computer Systems, Single Board Computers, Rugged Laptops & Tablets.
About Axiomtek
Founded in 1990, Axiomtek is a leading design and manufacturing company in the industrial computer and embedded field. Since inception, Axiomtek has successfully gained worldwide recognition for innovative designs and outstanding customer satisfaction. Product lines include embedded boards, system on modules, single board computers, embedded systems, industrial barebone, network appliances, touch panel computers, human machine interfaces, medical PCs, industrial networks, and digital signage.