The GOT815-834 from Axiomtek is a fully sealed 15″ panel computer designed for use in food and pharmaceutical applications. The system is housed in a 316 stainless steel enclosure which is sealed to IP66 and also complies with IP69K ratings allowing the product to be washed down with high pressure, high temperature water jets. These features make the GOT815-834 perfect for use in applications where hygiene and cleanliness are critical and high-pressure and high-temperature washdown are a common requirement.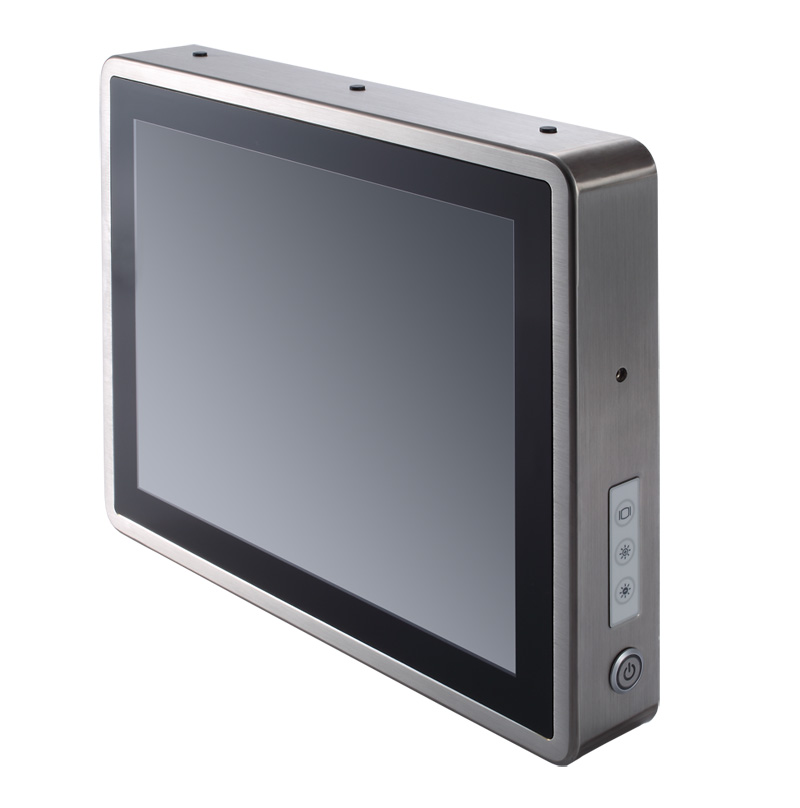 The GOT815-834 is based around the latest Bay Trail Atom processor technology which offers great performance and low power consumption which enable completely fanless operation in temperatures from -20°C to +55°C. The system uses M12 conenctors to ensure its environmental integrity and offers two serial ports (RS-232/RS-422/RS-485), four USB 2.0 and two Gigabit Ethernet ports and can be powered using voltages from 9 to 36V DC. Further wireless connectivity can be added via the on-board Mini PCIe expansion slots.
There are two versions of the system available depending on your applications touchscreen requirements:
GOT815-834-C Flat-bezel design 15″ IP66-rated stainless steel fanless projected capacitive touch panel PC with Intel® Atom™ E3827
GOT815-834-R Flat-bezel design 15″ IP66-rated stainless steel fanless resistive touch panel PC with Intel® Atom™ E3827
What is IP69K?
The IP69K rating is required for applications where systems must be regularly washed down for cleanliness and hygiene reasons. Typically the most effective way to do this is by using high pressure steam cleaning, however, this causes a headache for most electronic equipment enclosures. The IP69K standard was originally developed for vehicles that often required intensive cleaning such as garbage trucks, asphalt loaders and wagons carrying livestock but has been adopted by the food and pharmaceutical industries for products in areas with frequent washdowns.
How are products tested to IP69K?
Products which claim to be IP69K must be able to withstand high pressure water and steam throughout the cleaning process, specifically:
Water at measured temperature of 80 °C
80-100 Bar Pressure
Flow rate of 14–16 L/min
Distance of 10-15cm away
Angles of 0°, 30°, 60° and 90° for 30 seconds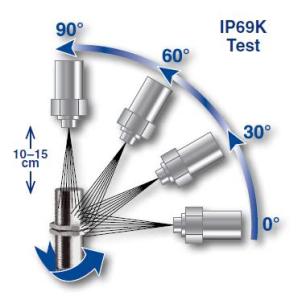 View our full range of industrial panel computers. Our experienced sales team can offer the most up to date information and suggest options which fit your specification and budget; depending on location, please call the numbers listed at the top of the page or use the contact form to send us your requirements.
About Assured Systems
Assured Systems is a leading technology company offering high quality and innovative applied computing solutions to the embedded, industrial, and digital-out-of-home markets across the world. Headquartered in Stone, England and with offices in North America and the UAE (coming 2015), our reach is truly global. Our impressive product portfolio includes a full range of Fanless Embedded Computer Systems, Digital Signage & Multimedia Computer Systems, Touchscreen Panel PCs, Human Machine Interfaces, Vehicle Mount Computers, Rackmount Computer Systems, Single Board Computers, Rugged Laptops & Tablets. Please call the numbers listed above or visit our website at www.assured-systems.com for more information.