9.7" Rugged Mobile Tablet with Intel Atom Z670 1.5GHz CPU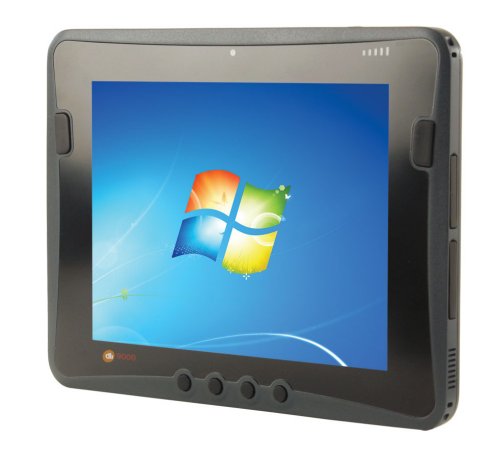 Highlights:
Brand: DLI
Intel® Atom Z670 1.5GHz CPU
Windows or Linux
Size: 206mm (H) x 263mm (W) x 15.4mm (D)
The DLI 9000 rugged tablet features a lightweight design and large industrial rated 9.7" indoor/outdoor LCD touchscreen, offering portable computing whatever the location. With an impact resistant casing, tested to withstand multiple drops from 4 feet onto bare concrete, this is one tough tablet. The solution features a powerful, yet low power x86 CPU and can run a multitude of operating systems including Windows and Android. The system is also offered with a PCI compliant debit pin pad and integrated TPM chip set, making any onsite payments very straight forward. Housed in an impact-resistant IP54 enclosure, DLI has successfully merged the industrial requirements of a rugged tablet with the sleek design desired by the retail market revolutionising the tablet industry. Built on standard PC architecture the DLI 9000 rugged tablet enables you to deploy the same applications that reside on the fixed station terminals bridging the gap between you, your people in the field, and your clients. This platform has an additional advantage offering increased flexibility in the management and maintenance of both OS images (Windows or Android) and OPOS/JPOS compliant drivers.
Casing: Impact-resistant ABS+PC polymer, IP54 rated, multiple 4ft drops to bare concrete
Processor: Intel® Atom Z670 1.5GHz
Display: 9.7" (1024 X 768)
Contrast Ratio: 800:1
Brightness: 400NIT LED Backlit indoor/outdoor readable
Memory: 2GB DDR2 800Mhz
Storage: SATA Micro SSD 64GB
Security: Trusted Platform Module (TPM 1.2)
OS: Windows® 7 Pro/Ultimate, Windows® Embedded 7, Windows® Embedded POSReady 7, Android® 4.0 ICS
WiFi: 802.11 a/b/g/n;
WWAN: Integrated Gobi3000™ GPRS/CDMA Cellular Card;
WPAN: Bluetooth Class 2 Radio
Power: Battery Pac : 4000mAh Lithium Ion Battery (6hrs of usage @ level 7 brightness)
Compute. Control. Communicate.
Call our experts today for friendly advice on
+1 347 719 4508