In this article:
Choosing the Best Industrial Monitor for Harsh Environments
Assured Systems offer a wide range of industrial monitors ideal for harsh environments. Understand all you need to know about industrial LCD monitors.
Introduction
Within the embedded systems sector we hear the term 'industrial grade' used frequently to describe products used for industrial applications. And why not, it gives the impression quite succinctly of hard-wearing reliability and of rugged construction? But is that what 'industrial' truly means? Well, to some extent it does. When we talk about industrial computers, the embedded systems we describe are instantly more recognisable as industrial. They are constructed using durable metal chassis' which clearly look more rugged than their pedestrian cousins we have sitting on our desks and internally we talk of fanless operation and SSD storage to reduce the amount of moving parts (thus increasing reliability). These differences apply to most of the products in our portfolio, including our huge range of industrial monitors (possibly the UK's widest range I may add).
Industrial means 'quality components'
Firstly, the components within commercial and industrial screens are made to last longer. Your desktop computer screen may be on for 8 hours a day, 6 days a week, but to run 24/7/365 as is called for in many industrial applications, the tolerances of internal components need to be increased. Additional to longevity, in certain units the components are designed to expand the operating temperature range.
Industrial means 'fit for purpose'
Arguably the greatest factor considered with an industrial display will be defined by where the screen is going to be situated. It's the versatility of placing a monitor which is one of the defining 'industrial' factors and dictates the application range of a screen. It may call for placement within an OEM designed facia or workstation for example. The choices of mountings available for an LCD display are as follows:
Open Frame Monitors
An open frame monitor is encased in a frame which enables the screen frontage to be clear of any fixing clutter. The frame surrounding the screen can then be clasped, screwed or bolted into position. Mounting from the inside, they offer a flush fitment for the OEM finish required by many clients. An open frame monitor offers customers maximum flexibility for the design and look of their final product.
Panel Mount Monitors
Where you have an aperture in which to place a screen you could use a panel mount monitor. A panel mount display has a front bezel around the screen which is larger than the chassis containing the constituent parts of the screen behind. These screens can be slotted into an aperture and are often then clamped or screwed into place from the reverse.
Chassis Mount Monitors
A chassis mount encases the monitor in a durable and metal skin. Chassis mount screens are fixed to a wall or similar surface using VESA fixings on the back of the chassis. VESA (Video Electronics Standards Association) is a family of standards and dimensions used across the screen industry. A VESA mount is used on most conventional TVs when fixed to a wall.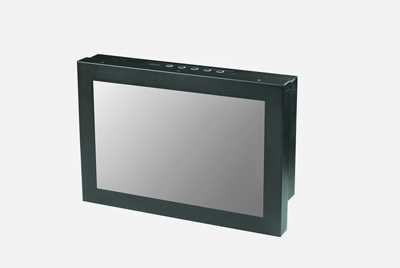 Monitors with Increased Ingress Protection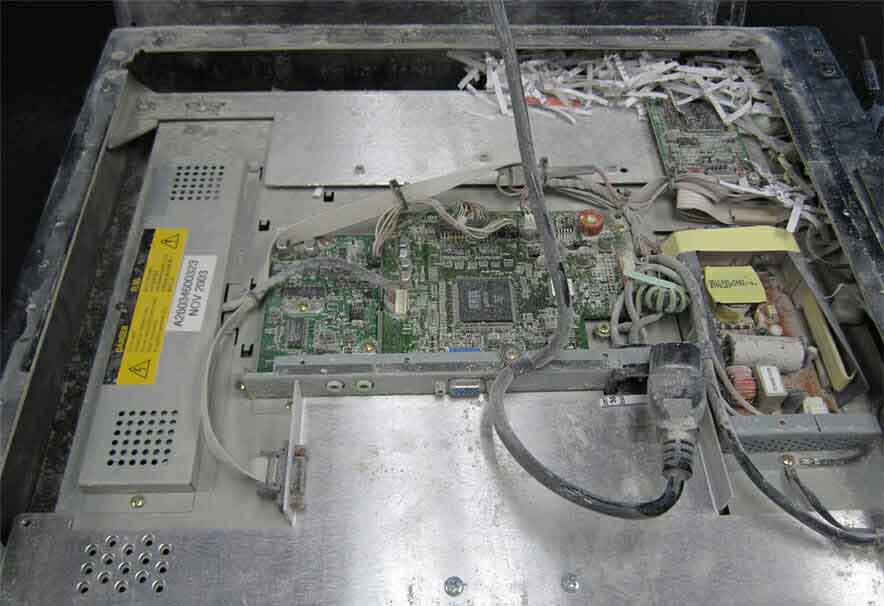 Dust ingress on an industrial monitor installed into a harsh environment.
Various applications call for monitors to be protected from dust and liquid ingress. These monitors are therefore made to be certified by the standard IP65. IP stands for ingress protection, the first number is the level of dust protection 'level 6' and the second number is the level of liquid protection 'level 5'. Level 6 offers complete protection against contact with dust and is considered 'dust tight' whilst level 5 liquid protection signifies resilience to water projected by a nozzle (6.3 mm) against the unit enclosure from any direction. An IP65 monitor can be rated partially or fully. If the monitor is being panel mounted and sealed into an aperture then quite often the rear of the unit does not need to be rated as only the frontage is exposed. However, there are certain applications where a full IP65 monitor is needed.
Oil & Gas, Maritime and Energy Certification
Further to an IP65 rating, monitors can be certified for use in various marine and offshore applications. Whether on the bridge or down in the engine room of a ship, out on an oil rig or in a rescue helicopter, there are global DNV test ratings for equipment used in maritime, oil & gas and energy applications. Assured Systems specialise in the supply of certified monitors and panel computers for such environments and levels of certification.
Touchscreen Monitors
Automation and process controls often use bespoke software, the interaction between human and machine being more convenient through pushing a few icons on a screen rather than utilising a peripheral keyboard and mouse. Furthermore the placement of said screens is commonly at eye level. It's no surprise then that OEM designers would look for an industrial grade touchscreen monitor to facilitate process and control in their designs. When configured to one of the above mounting options and certified to the necessary ingress protection, touchscreen is one of the most common features for an industrial monitor.
Industrial means 'longevity'
When choosing the correct screen for your specific application consideration needs to be paid to the life cycle of constituent parts. Assured Systems instils confidence by supplying long shelf life screens which can be replaced like for like without the need for mechanical adjustments to pre-existing housing or enclosures.
Screen Size and Resolution
Our previous blog on 4K UHD and Legacy Resolutions explains the many different aspect ratios and resolutions available for screens. The drive behind so many different screens of shape, size and sharpness is undoubtedly the thousands of specific industrial applications utilising screens and monitors. Whether you need a 17 industrial touch screen monitor or an 8 widescreen industrial touch screen display, there is a screen size and dimension to fit any application.
19 Rackmount Monitors / 17 Rackmount Monitors / 15 Rackmount Monitors
Rackmount computer systems allow for different components to be brought together to make a bespoke system within an industry standard 15, 17 and 19 inch racks. Quite often these racks contain servers and multiple rackmount computers which need one screen to monitor all the servers and/or computers. Commonly screens are integrated with keyboards and trackballs to provide an all-in-one monitoring and control rackmount unit called a KVM.
OEM Support
Assured Systems are available for support when choosing components, including screens, for an OEM design. If there is a particular sized aperture which needs a product to retrospectively fit, we can manufacture a solution to fit.
Assured Systems specialise in the production of industrial screens for OEM designs and applications in highly specific vertical markets. We can assess your needs to find the correct screen solution having a more than extensive range of options which nears a bespoke service, without bespoke prices. Call our sales team now on +44 1785 87 90 50 (EMEA) or +1 864 421 6991 (USA) for any advice on screen displays in digital signage, OEM integration or general industrial use.