About Microsoft Embedded
Our Windows Embedded partnership has been a fundamental foundation from the beginning and of course with good reason.  Windows embedded is a stripped back version of the standard Windows OS variations, this allows industrial users to utilize more space that is usually taken up by larger operating systems. This therefore allows us to fully build systems with integrated content ready-to-go for our clients ensuring the smoothest integration into your facilities or devices.
However, a lot is changing with Windows Embedded and the family of operating systems is growing to accommodate the ever-expanding needs of the infinite number of industries who will utilize the various forms. The embedded system allows you to customize intelligent systems for your exact specification to gather, store and process data for actionable business intelligence. As a longstanding Windows Embedded partner we understand that there is very fine definitions between all the numbers and levels of software available, so we thought we'd give you a head start, but for further information we have a full write-up ready and waiting to give you the full run down. Being a Microsoft Partner and building embedded solutions based on windows embedded enables us to experience the full-breadth of Microsoft technologies and provide you with end-to-end solutions.
With our Embedded partner experience not only can we build intelligent systems but the embedded partner network extends the power of Windows and Microsoft technologies to edge devices allowing the software to meet unique industry requirements and span enterprises of any size and/or complexity.
Windows Embedded 7
Built using the Windows 7 operating system, Windows Embedded 7 delivers all the functions, performance, reliability and flexibility of Windows 7 in modular format to meet specific industry requirements of devices and intelligent systems. The embedded platform enables you the power to leverage your existing technology, creating secure systems to generate richer operational intelligence and can allow you to benefit from a solution specific to your particular field to address challenges and opportunities of your company through a rich stream of data generated by your network.
Windows Embedded 8
Designed to connect with existing enterprise systems Windows Embedded 8 empowers you with the manageability, consistency and predictability that is integral to any enterprise. For Assured, as partners, it allows us to produce the advanced industry devices and solutions our clients require, with the flexibility and familiarity of the Windows operating system. It is available with the latest 8.1 update and aims to serve 4 formats; Industry, Pro, Standard and Handheld. By standardizing all your devices on the Windows platform, you simplify processes with a single operating and development platforms easily allowing you to use your existing infrastructure that exchange secure data with back-end systems, customizing you device experiences for intuitive, rich interfaces for a targeted, dependable user experience.
Windows Embedded 8 Standard
Offers flexibility for purpose-built devices, such as thin clients, kiosks and automated manufacturing solutions.
Compelling UI, powerful app support, security and manageability of Windows 8.
Modular format allows you to use only the components needed.
Ensure consistent configuration with embedded specific lockdown features.
Custom branding feature.
Windows Embedded 8.1 Pro
The power and flexibility of Windows 8 in a platform designed specifically for building edge devices and intelligent systems solutions.
Deliver a user experience that's identical to Windows 8.1.
Design custom apps that feature the fast, fluid behavior of Windows 8.1.
Security features such as Bitlocker and Trusted Boot.
Compatible with line-of-business and productivity apps.
Windows Embedded 8.1 Industry
A consistent, streamlined application platform that shortens development cycles for specific industry device scenarios in retail, manufacturing and other industries.
Compelling UI, powerful app support, security and manageability of Windows 8.1.
Ensure consistent configuration with lockdown features.
Full Windows provides a consistent development experience.
Plug and play peripheral capabilities with POS for .NET.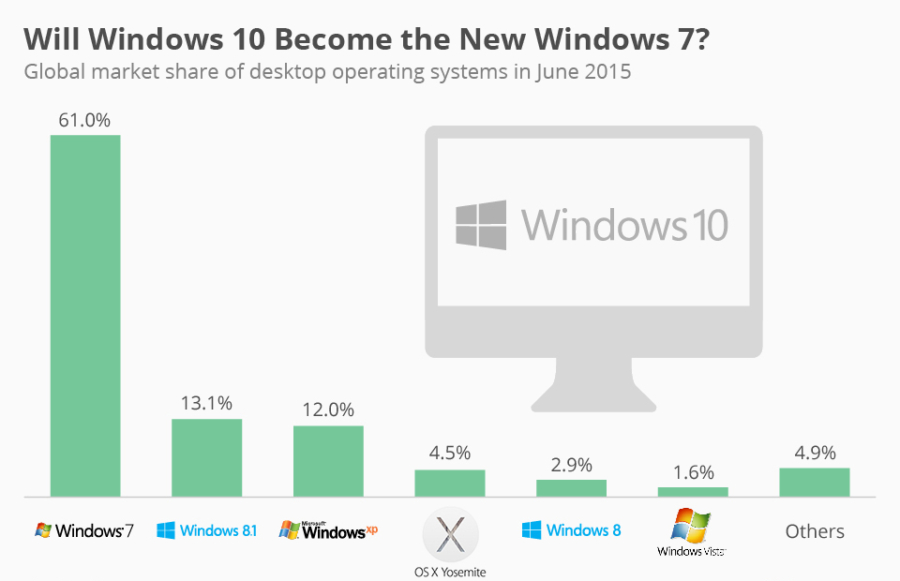 Windows Embedded IoT: Official Partner
Windows 10 has taken a bit of a different turn however. As a part of Microsoft's desire to get us and all our devices connected, Windows 10 Embedded is now newly dressed as Windows IoT. Microsoft's Embedded versions have existed for over 15 years and in that time pretty much every version of Windows has had an embedded incarnation such as XP, 7, 8 and now 10. For more information on the whole windows family see here.
Windows 10 IoT Enterprise
Windows 10 IoT Enterprise is a direct descendant of the Windows Embedded OS family, it entails an x86 version of Windows designed to run unattended in non-PC devices such as POS, Kiosk, ATM or outdoor displays. It can run all varieties of Windows applications due to its backwards compatibility with applications created decades ago. For instance if you're running Windows XP Embedded (end of life 2016) then it is the natural progression.
It works therefore in perfect harmony with the Azure cloud which Microsoft is reinforcing to compete against Google and Amazon variations. However Microsoft has a secret weapon- the Azure Stack, which many businesses have been waiting for and are going to have to wait a little longer until 2017. Microsoft have one huge advantage over Google and Amazon. For decades companies have depended on Microsoft operating systems, it is instilled into so many and Microsoft recognize this and are therefore looking to capitalize and bring Azure to them by producing integrable private clouds for individual entities as a part of an effortless transition.
Windows 10 IoT Core
Windows 10 IoT Core is optimized for smaller, lower cost industry devices such as IoT gateways and micro-kiosks for single line business applications. It runs the Universal Windows App and sits comfortably in-line with other Windows 10 editions for simplified integration and to allow you to develop, configure and manage tools in the format that you are accustomed to.
IoT Core is a free download available without the usual licensing required for embedded partners. However It is designed to run on resource limited equipment and not suitable for general purpose computing though despite missing a system UI, it is a fully functional OS that will also take advantage of core Windows APIs.