About Papercast
Papercast e-paper signage technology was originally developed and launched in 2016 to transform real-time passenger information at bus stops around the world. Now with a major foothold in this market and deployed in 47 countries worldwide, Papercast has attracted attention and is gaining momentum from across the transport sector and beyond, working with a wide range of organisations looking for an innovative, versatile and sustainable solution for sharing digital content with the public.
In response, their engineers have developed various configurations to offer the most versatile off-grid display technology available.
With a vision to bring information to life, they are committed to ensuring that their e-paper technology remains at the forefront of making this a reality.
Strong vision
In making our vision a reality, we believe we need to help as many service providers as possible to transition to next generation technologies.
Collaborative innovation
Working with partners and customers, we ensure that our technology continues to support them in their information strategies.
Empowered engineers
Supported by ongoing investment, our engineers ensure that Papercast remains the most advanced e-paper digital signage solution available.
Delivery capability
Eternally focused on their strengths as a technology innovator, Papercast work with a network of partners with the same commitment to our vision.
Need to share important and dynamic digital content?
Papercast brings your information to life. Show a wide range of visually striking graphical information, easily updated with the powerful content management system.
Meet the most innovative, versatile and sustainable solution for sharing digital content with the public – perfect for any indoor or outdoor, fixed or portable use.
Award winning e-paper signage
If you need to share changing information with the public in real-time, you'll know how challenging it can be.
Discover the most innovative and versatile e-paper signage solution for both indoor and outdoor environments, already deployed in 47 countries worldwide.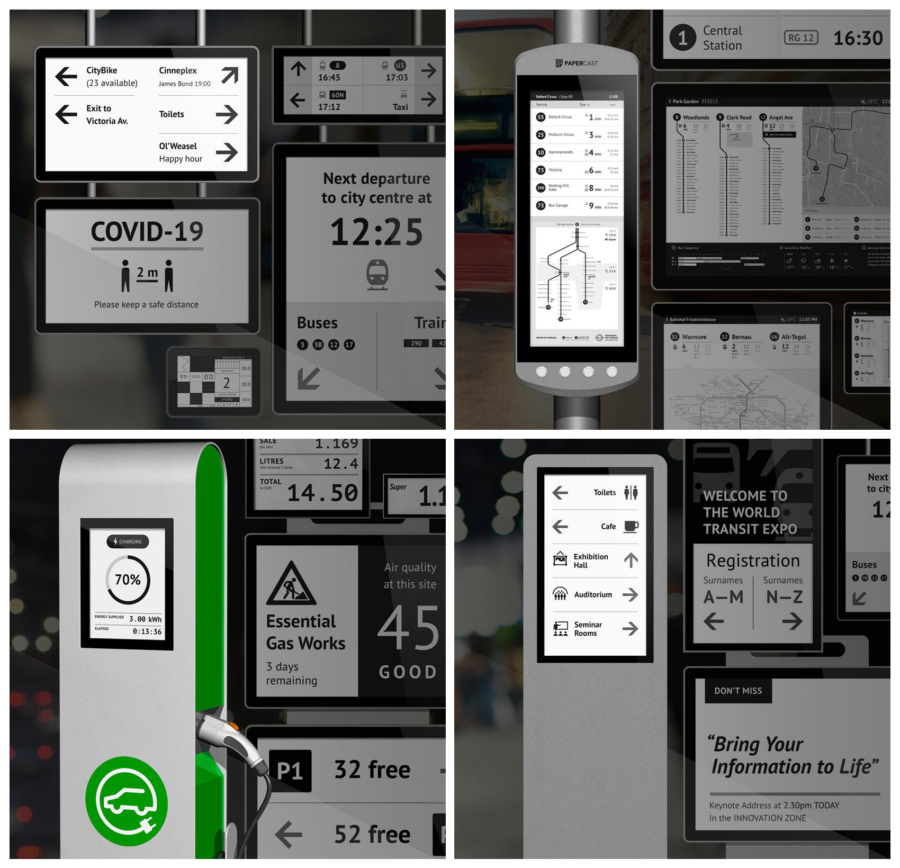 Your Information. Your Way.
Bus stop passenger information displays
Rail arrival and station wayfinding
Airport wayfinding and information
Highways, roadworks and car parks
Off-grid
With industry-leading power efficiency, rechargeable battery powered digital signage technology for inside and solar powered for outside use. Mains powered also available.
Versatile
Designed for both indoor or outdoor, fixed or portable use – Papercast e-paper displays are incredibly versatile and can be easily installed in any environment within an hour.
Limitless
Share a wide range of simple or complex, real-time or static information with the public using our powerful, easy-to-use content management system.