In this article:
The Difference Between 304 and 316 Stainless Steel
Assured Systems sell a wide range of industrial displays and Panel PCs manufactured from 304 or 316 grade stainless steel. We can support your project requirements with the right grade stainless steel to provide a long life solution whilst lowering cost of ownership.
Industrial monitors and panel PCs used in the food & beverage, pharmaceutical, and chemical industries have stringent requirements to avoid product contamination and be highly resistant to water, cleaning or sterilization wipe-downs, and other industrial chemicals exposed in the factory. Manufacturing the industrial monitor or panel pc with a stainless-steel chassis or front panel, providing it meets the right grade, meets the functional anti-corrosive requirements providing a longer life solution for their manufacturing needs, reducing the cost of ownership, and ultimately avoiding any risk of contamination.
Assured Systems have both stainless-steel monitors and stainless-steel panel PCs with IP65 / IP66 / IP69K or NEMA 4X ratings, which not only look great but are guaranteed to last when deployed in harsh conditions and undergo high-pressure jet washing and are exposed to chemical cleaning. Typical options for our stainless-steel monitors and stainless-steel panel PCs include the use of M12 connectors and having the option for a high bright display but also can come with an option for 304 or 316-grade stainless steel, so what's the best option?
What's the difference between 304 and 316 stainless-steel?
In short, 304-grade stainless steel also known as "18/8 stainless steel," contains 18% chromium and 8% nickel, whereas 316-grade stainless steel contains 16% chromium, 10% nickel and 2% molybdenum. The molybdenum is added to help corrosion resistance to chlorides such as seawater.
304 Grade Benefits

316 Grade Benefits

· Lower cost corrosion resistant option

· Resistant to oxidation

· No limitations on fabrication

· UL NEMA 4X Rated & Certified

· Superior corrosion resistance

· Chlorine resistance

· Offshore, marine & washdown applications

· UL NEMA 4X Rated & Certified
How do you know you're getting 316 stainless steel instead of 304 stainless steel?
There's no visible difference between 304 and 316 stainless steel sheet metal, they are both polished and grained the exact same way. A material test report (MTR) of the actual material can be undertaken to validate it as being 304 grade or 316 grade. Our manufacturing partners make sure that they get one with every shipment they receive so that they can assure our customers that the stainless monitor and stainless panel pc are constructed of the exact grade stainless steel material specified and ordered.
Avoiding surface corrosion on even the best grades of stainless steel
Even when utilizing the highest grade of stainless steel, there is another very important factor that affects the final performance of any grade of the stainless product. Lack of care when preparing the surface can make even the best grades of stainless steel appear to be rusting. This can be seen in the image below.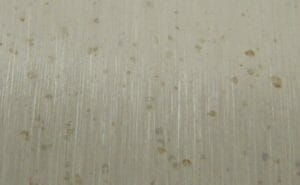 If the proper care is not taken, iron from tools that were used on non-stainless grades of steel can impregnate the surface of stainless steel. If the surface of stainless steel becomes "contaminated" with iron, it will develop corrosion stains from iron oxide that will make even the best stainless steel appear to be corroding. The original contamination cannot be seen with the naked eye or any basic magnification, and it may take several weeks for the corrosion of the surface iron to become visible.
The adage "an ounce of prevention is worth a pound of cure" applies in this issue. Special care can be taken by the fabricator to ensure tools and sanding belts used on stainless steel are not used on any other metals.
Which grade of stainless steel most popular for industrial applications?
Due to its lower cost, 304-grade stainless steel is much more common than 316 outdoor grade stainless steel for industrial use and is standard on all our stainless-steel displays and stainless-steel panel computers. This meets the requirements for many of our industrial customers. When 316-grade stainless steel is required, it is an easy customization our manufacturing partners can make to our range of IP65 / IP66 / IP69K / NEMA 4X stainless steel products. We recommend using 316 stainless steel instead of 304 stainless steel for outdoor applications where the industrial display or panel PC will be exposed to the elements, like on an oil rig, whereby the risk of chloride contamination is also present. This will not only increase the life span of the product, but it is much safer to be around.
If you'd like to discuss a project requiring stainless steel panel PCs or displays please send an inquiry.