4K digital signage and TV's have been on the boundaries for a while but with falling consumer prices they are now much more affordable, but what actually is 4K and is it really worth the investment? Well in an industry where the display is everything 4K signage offers you the opportunity to stand further ahead of your competitors than ever before.
The 4K generation is upon us. It's the new HD, in fact its Ultra HD (UHD) but in truth it is opening the door for a number of technologies such as HDR- explained in our PS4K post- OLED and Quantum Dot to finally find fruition and enter our living rooms and work spaces. Just as with the introduction of HD when many people contested the visible difference, 4K offers pretty major technological advancements. 4K Ultra HD TV's deliver four times better definition than what is more than likely- your 1080p HD TV.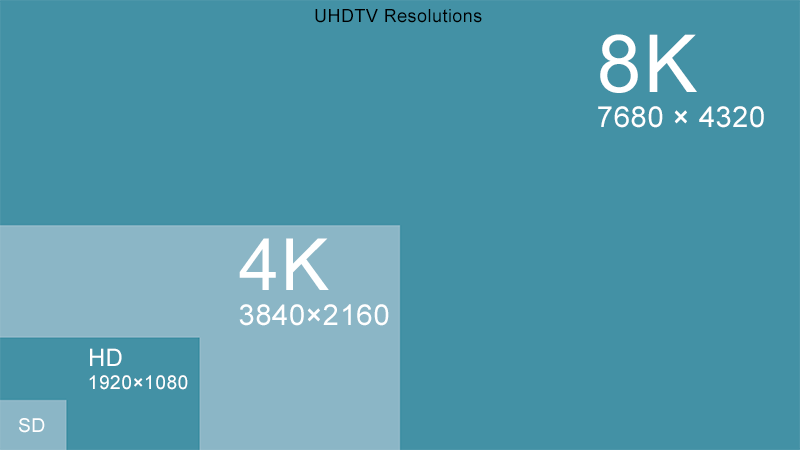 Ultra HD is a derivative of 4K, whilst 4096 x 2160 is the 4K resolution, Ultra HD is slightly lower at 3840 x 2160 which is why majority of TVs avoid the 4K stamp at all and instead vouch for UHD. Essentially it becomes much more difficult to see the grid-like structure of the image itself however close you get meaning you can watch a much bigger screen from the same position- hence why majority of 4K TVs are in excess of 50-inches.
4K will not be like the fad of 3D, 4K/UHD is unquestionably superior to any previous format. Currently the only drawback is the lack of 4K content but if you are considering the upgrade, the density of pixels will improve displays full-stop dependent on which you choose of course, but there are various boards coming together to produce new standards and ensure an abundance of content will be ready for the mainstream demand- which is expected to explode in the coming years leading up to Japan's Olympics in 2020 as 8K broadcasting looks to take off by NHK, who are attempting to shoot and transmit the games in 8K or in more simple terms- Super Hi-Vision.
8K delivers 16 times the definition of Full HD with a stupendous 33 million pixels in a single 8K screen, hence why sceptics believe price and technology will limit 8K for a number of years to come although it is expected that 1,000,000 8K units will have been sold by 2019, by contrast in the first quarter of 2015 alone, 4.7 million 4K units flew off the shelves.
In the UK BBC and BSkyB are chairing a working group mulling over every potential exploit of the 4K generation whilst market leaders including Samsung, LG and Sony have split-off from that group to create their own UHD Alliance indicating the scale of opportunity for superior displays in the coming years. As for ourselves we have 4K screens for any exploit, whether you want to produce ultimate electronic advertising at the height of industry displays, or if you're perhaps looking to illustrate production facilities and/or visuals in a clearer format.
We have contrast ratios up to 5000:1 with 4K ready UHD screens in sizes 32", 42", 55", 65", 75", 84" and finally 85" as well as host of 4K digital signage options, whether you require all in one portable signage, or a stationary mounted alternative. All available with various touchscreen mechanisms including Resistive, Infrared, PCAP and Capacitive touch. Our 4K screens come standard with Black Anti-Glare and a low reflection coating, with optional protected glass and sunlight readable display to maximize your campaigns and/or content. Whether you have OEM, IoT or M2M applications it is more important to be ahead of the game than ever and Assured Systems displays will guarantee you are not left behind in the HD era.
About Assured Systems
Assured Systems is a leading technology company offering high quality and innovative applied computing solutions to the embedded, industrial, and digital-out-of-home markets across the world. Headquartered in Stone, England and with offices in North America, our reach is truly global. Our impressive product portfolio includes a full range of Fanless Embedded Computer Systems, Digital Signage & Multimedia Computer Systems, Touchscreen Panel PCs, Human Machine Interfaces, Vehicle Mount Computers, Rackmount Computer Systems, Single Board Computers, Rugged Laptops & Tablets. Please call the numbers listed above or visit our website at www.assured-systems.com for more information.