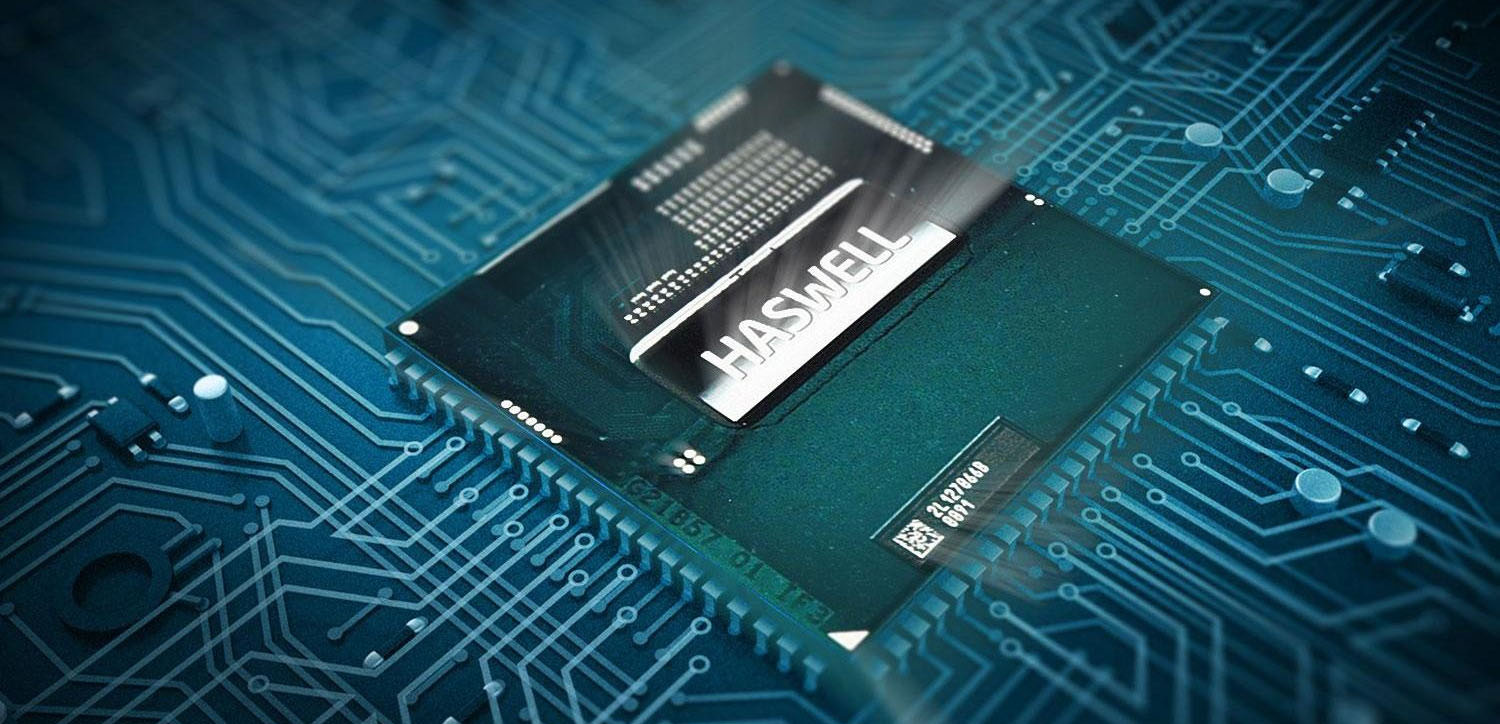 In this article, we look at the advantages of 4th generation Intel Core i7 processors over other members of the 4th generation Intel Core processor family and earlier 3rd generation Intel Core processors. We consider computational and graphics performance, as well as security, manageability, connectivity, alongside other factors.
Intel's Tick-Tock Model
To appreciate the advantages of one generation of Intel processor over another, it's important to look at the "tick-tock" model Intel uses for advancing its microprocessors. This model provides a continuous cycle (alternating between "ticks" and "tocks") of improvements and new capabilities based on regular innovations in manufacturing process technology and processor microarchitecture. With every "tick" cycle, Intel advances its manufacturing process technology and delivers the expected benefits of Moore's Law. These advances increase transistor density, enabling new capabilities, higher performance levels, and greater energy efficiency—all within a smaller, more capable version of the previous "tock" microarchitecture. In alternating "tock" cycles, Intel uses the previous "tick" cycle's manufacturing process technologies to introduce the next big innovation in processor microarchitecture. These advancements seek to further improve energy efficiency and performance, as well as functionality and density of features such as hardware-supported video transcoding, encryption/decryption, and other integrated capabilities.
4th Generation Intel Core Processors
The last advance in manufacturing process technology, or tick, produced the 3rd generation Intel Core processor (codenamed "Ivy Bridge") and the mobile Intel HM76/QM77 Express Chipsets. Based on Intel's industry-leading 22nm process technology, these platforms delivered performance and graphics improvements, plus remote manageability and security, and power-saving functions ideal for medical applications. Embedded versions operate at maximum thermal design power (TDP) levels as low as 17 W. Intel followed this tick with a significant advance in processor microarchitecture, or tock: the 4th generation Intel Core processor product family (codenamed "Haswell"). Building on the innovations of the previous generation, the 4th generation Intel Core processor family delivers superior CPU, graphics and media performance, enhanced security features, improved power management features, and a maximum TDP as low as 15 W. Typically our products use 4th generation Intel Core processors designed specifically for the embedded market. These energy-efficient processors enable small form factor, fanless designs. Like other Intel embedded processors, 4th generation Intel Core processors feature long lifecycle support. Intel's 7-year extended lifecycle support for processors and chipsets ensures a long-period of availability for organizations using devices based on them.
Key Advantages of 4th Generation Intel Core Processors for Imaging
To help drive innovation and improved application performance, the 4th generation Intel Core processor family delivers up to 2X faster image processing performance, rich 2D/3D graphics, and robust security. Targeted applications include digital signage, mapping, navigation, medical imaging, ultrasound, patient monitoring, patient bedside terminals, fitness consoles, and many other devices. Offering from two to four cores with up to 15 percent faster performance than previous generations, 4th generation Intel Core processors improve medical imaging performance through Intel Advanced Vector Extensions 2.0 (Intel AVX 2.0). This upgraded vector-processing technology introduces a fused multiply-add (FMA3) that effectively doubles the peak floating point throughput in comparison to the previous generation. Multiply-add workloads are a critical component of image processing, so this upgrade significantly speeds up imaging and signage applications. Intel AVX 2.0 doubles fixed-point performance as well by expanding most integer Intel AVX instructions from 128 bits to 256 bits. Adding 16 new "gather" support instructions, Intel AVX enables vector elements to be loaded from non-contiguous memory locations to simplify code vectorization and improve performance.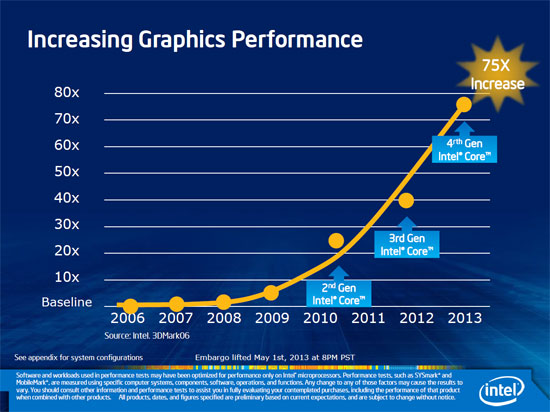 Graphics and Video Performance Gains
For 3D graphics, the 4th generation Intel Core processor family's upgraded graphics engine delivers up to a 60 percent improvement over previous generations, virtually eliminating the need for expensive, power-hungry discrete graphics cards. Enhanced high-resolution display capabilities support up to 4K resolution on three independent displays. A new collage mode can present multiple displays to the OS as one large unified screen. Built-in video enhancements, including Intel Clear Video HD technology and Intel Quick Sync Video 2.0, deliver a 30 percent improvement in video playback and display capability over the 3rd generation Intel Core processors. These improvements provide smoother visual quality, increased ability to decode and transcode simultaneous video streams in real-time, and outstanding HD media playback. Table 1 compares the processor and graphics performance of the ultra-low voltage Intel processors used by Advantech in our products for the medical market. Note the performance gains of the 4th generation Intel Core processors over previous generations.
About Assured Systems
Assured Systems is a leading technology company offering high quality and innovative applied computing solutions to the embedded, industrial, and digital-out-of-home markets across the world. Headquartered in Stone, England and with offices in North America, our reach is truly global. Our impressive product portfolio includes a full range of Fanless Embedded Computer Systems, Digital Signage & Multimedia Computer Systems, Touchscreen Panel PCs, Human Machine Interfaces, Vehicle Mount Computers, Rackmount Computer Systems, Single Board Computers, Rugged Laptops & Tablets. Please call the numbers listed above or visit our website at www.assured-systems.com for more information.