Touchscreen devices are everywhere to be seen these days, largely thanks to the advent of smartphones and tablet computers from the highly desirable Apple conveyor belt. However, prior to the explosion in the consumer market, the touchscreen has long been a staple component in Industrial computing applications such as factory automation and control. These traditional arenas tended to demand certain types of touch technology, however, as their popularity has increased in the mass market, so has the amount of technology types in which we have to choose from.
Assured Systems recognises that this makes for a difficult decision when choosing your hardware, so we've compiled a guide to the main technologies identifying their features & benefits.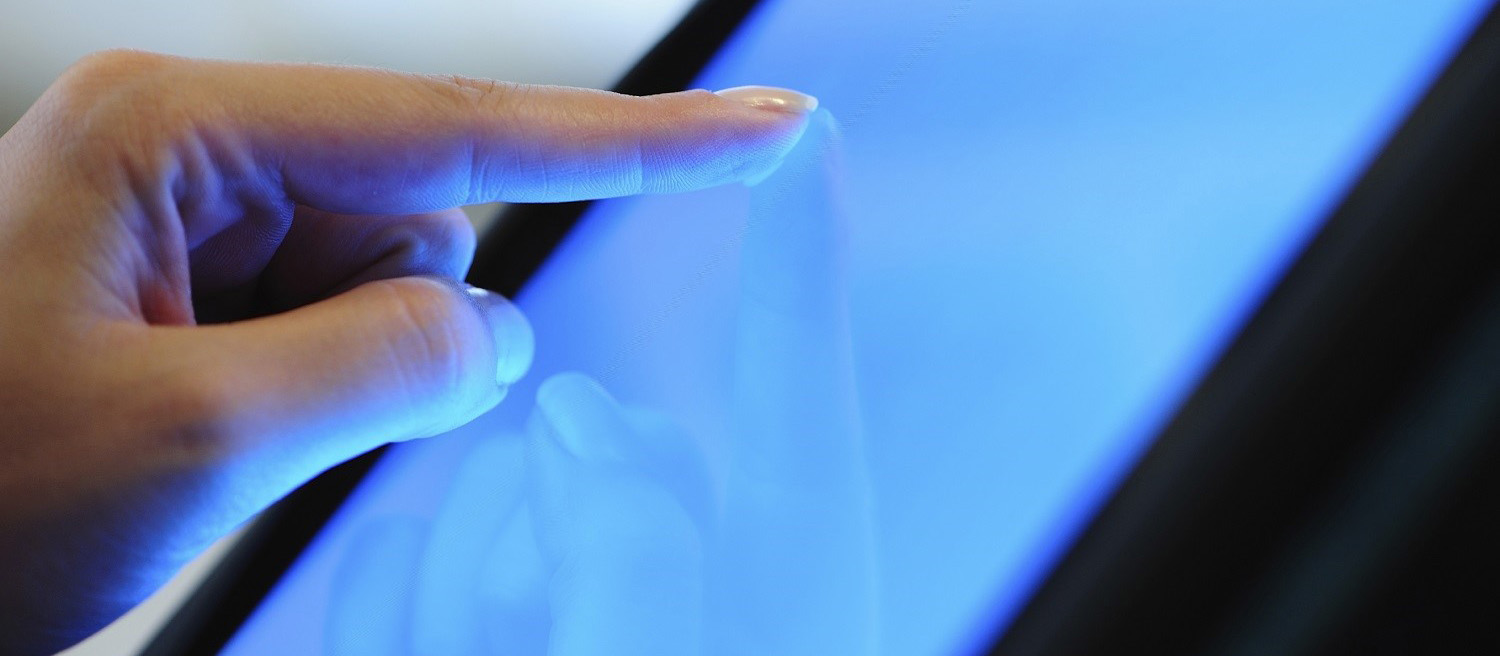 Resistive
Resistive touchscreen technology is composed of two flexible sheets coated with a resistive material and separated by an air gap or microdots. When these element touch together, they register the precise location and enable the connected computer to determine which part of the screen has been touched and undertake the appropriate instruction. As resistive technology requires physical contact, the touchscreen senses inputs from any input device.
Features
Can be sealed to IP65
Fast touch response
Finger, fingernail, gloved hand, pen, swipe-card, or any other stylus activation
Excellent durability (5-Wire or above)
Continues to work with liquids and other contaminants on the screen
Competitive price point
Main Limitations
Does not scale to large displays easily
Not recommended for sunlight readable transflective displays
Susceptible to vandalism, can be scratched
Surface Acoustic Wave (SAW)
Surface acoustic wave (SAW) technology uses ultrasonic waves that pass over the touchscreen panel. When the panel is touched, a portion of the wave is absorbed. This change in the ultrasonic waves registers the position of the touch event and sends this information to the controller for processing.
Features
Pure-glass touchscreen for superior image clarity, brightness, and light transmission
Scalable to larger screen displays
Can be sealed to IP64
Durable, scratch-resistant glass surface
Unaffected by static water droplets and scratches on the screen
Touch response faster than human perception
Finger or gloved-hand activation
Main Limitations
Can be susceptible to electrical noise
Some SAW touchscreens can only be sealed to IP54
Infrared
An infrared touchscreen uses an array of X-Y infrared LED and photodetector pairs around the edges of the screen to detect a disruption in the pattern of LED beams. These LED beams cross each other in vertical and horizontal patterns. This helps the sensors pick up the exact location of the touch. A major benefit of such a system is that it can detect essentially any input including a finger, gloved finger, stylus or pen.
Features
Shock resistant
Can be sealed to IP65
Finger, gloved-hand, or any other stylus activation
Stable, drift-free operation for an accurate touch response
Operation unaffected by direct sunlight (used in new touch based Amazon Kindle)
Main Limitations
Cost to manufacture bezel
Susceptible to false activations from surface contaminants
Surface Capacitive
A capacitive touchscreen panel consists of an insulator such as glass, coated with a transparent conductor such as indium tin oxide (ITO). As the human body is also an electrical conductor, touching the surface of the screen results in a distortion of the screen's electrostatic field, measurable as a change in capacitance. From this, the attached computer can register the precise location and enable the connected computer to determine which part of the screen has been touched and undertake the appropriate instruction.
Features
Excellent Image Clarity
Can be sealed to IP65
Sensor resistant to scratches and abrasions.
Continues to work with liquids and other contaminants on the screen
Controller responds to quick, light touches, and operates drift-free even in areas of poor grounding
Main Limitations
Requires finger touch or specialist glove
Not easily scalable to larger displays
Projected Capacitive
Projected Capacitive Touch (PCT) technology is a variant of capacitive touch technology. All PCT touch screens are made up of a matrix of rows and columns of conductive material, layered on sheet of glass. This can be done either by etching a single conductive layer to form a grid pattern of electrodes, or by etching two separate, perpendicular layers of conductive material with parallel lines or tracks to form a grid. Current applied to this grid creates a uniform electrostatic field, which can be measured. When a conductive object, such as a finger, comes into contact with a PCT panel, it distorts the local electrostatic field at that point. This is measurable as a change in capacitance. If a finger bridges the gap between two of the "tracks", the charge field is further interrupted and detected by the controller. The capacitance can be changed and measured at every individual point on the grid (intersection). Therefore, this system is able to accurately track touches.
Features
Perfect for outdoor applications offering protection against the elements
Scalable to larger displays
Still operational when glass scratched or broken (often seen in iPhones which have been neglected!)
Can be used in conjunction with Perspex or vandal resistant glass up to 18mm thick
True flat front surface without bezel possible for aesthetically pleasing designs
Multi Touch Capability offering touch gesturing feature
Main Limitations
Periodic recalibration can be required
Assured Systems offers the full complement of touch technologies described above through our wide range of Industrial LCD Monitors, available in a variety of different mechanical designs, including Open Frame Monitors, Panel Mount Monitors , IP65 Panel Mount Monitors, Rack Mount Monitors or Chassis Mount Monitors. If you would like to discuss your project or application in more detail please contact technical sales on +44 1785 87 90 50 (EMEA) +1 864 421 6991 (USA) or email us at sales@assured-systems.com and one of our qualified sales team will be happy to offer advice on the technology that best fits your project.
About Assured Systems
Assured Systems is a leading British technology company offering high quality and innovative applied computing solutions to the embedded, industrial, and digital-out-of-home markets across the USA and Ireland. Our impressive product portfolio includes a full range of Fanless Embedded Computer Systems, Digital Signage & Multimedia Computer Systems, Touchscreen Panel PCs, Human Machine Interfaces, Vehicle Mount Computers, Rackmount Computer Systems, Single Board Computers, Rugged Laptops & Tablets.