In this article:
Thin Panel PC for Kiosk Applications
Nexcom have brought out a new range of Thin Touchscreen Panel PCs available in 10.1″ and 23.8″ variants. With their slim design these touchscreen computers are ideal for integration in kiosks.
Thinner, lighter, better: the XPPC series takes touch computers to new levels of utility and versatility. Powered by Intel Apollo Lake J3455 processors, the XPPC 10-100 and XPPC 24-100 provide high performance in small packages, assuring superior protection with their IP65 rating. The choice of three distinct mounts makes the XPPC series ideal for kiosk applications. Main features of these new thin Panel PCs include:
10.1" TFT WXGA 16:10 Panel (XPPC 10-100) or 23.8" TFT FHD 16:9 Panel (XPPC 24-100)
10 Points P-Cap multi-touch with slim bezel design
Glass surface treatment : AS  (Anti-Smudge Coating for easy cleaning)
Mounting support: VESA 75mm x 75mm (XPPC 10-100) or 100mm x 100mm (XPPC 24-100) / Panel / Open frame
Light transparency: 90%
Intel Celeron processor J3455, Quad Core, 1.50 GHz
Supports DDR3L up to 8GB, M.2 M-KEY 2242 for storage device
Includes 19V DCIN 45W Adapter (XPPC 10-100) or 90W Adapter (XPPC 24-100)
IP65 compliant front panel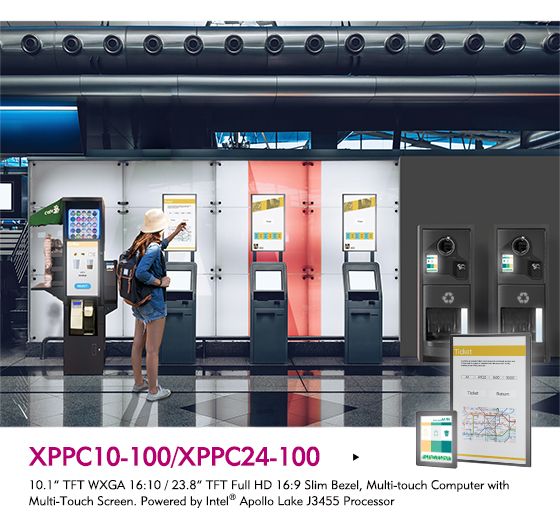 Low power CPU with more performance
Until recently, many smaller-size computing platforms have used proprietary or low-powered processors as their system backbones for efficiency purposes. The onboard Intel Celeron processor provides cost efficient performance. With DDR3L memory of up to 8 GB and M.2 2242 storage, the XPPC makes for a dependable retail kiosk PC.
Array of uses that all customers will love
The ten-point PCAP screen makes it suitable for a variety of indoor uses. The fanless thin panel PCs can function as interactive and/or promotional displays, the 10" XPPC 10-100 in restaurants and convenience stores, and the 23.8" XPPC 24-100 in department stores, exhibitions, and vending and ticketing machines – all of which will help you retain existing customers and acquire new ones. What's more, the XPPC comes standard with USB, COM, HDMI, and audio I/Os, as well as Ethernet jacks and mini-PCIe expansion sockets suitable for Wi-Fi/4G modules.
Slim design that maintains durability
The XPPC is thin and lightweight, avoiding the stereotypical bulky look of industrial Computers, blending seamlessly into surroundings. Yet the touchscreen panel PC is sturdy and weight optimized, as well as IP65 compliant on the front panel, giving you peace of mind that it's shielded from dust, accidental contact with water in industrial environments.
Available in an open frame, panel mount or chassis mount solution
As the XPPC emphasizes flexible applications, we also offer an assortment of mounts to fit your diverse needs. The VESA mount comes standard but you can easily order supplemental panel and open frame kits.