The SU Series from DFI are a pair of compact, fanless embedded computers with big I/O and powerful processing options. The EC70A-SU and EC70B-SU are both configured with the Intel 6th Generation i3/i5/i7 U-series of processors (codename Skylake). IoT ready, the EC70A/EC70B-SU Series should be considered for any smart factory, healthcare, surveillance or demanding applications that call for a powerful and versatile system.
The EC70A-SU is claimed to be the world's smallest and lightest embedded box PC delivering only 15 watts TDP and measuring only 181mm x 118mm x 57mm with a weight of just 1.1kg. The aluminum chassis holds a lot of I/O for such a compact system which includes 2x Intel Gbe, 4x COM, 3x USB 3.0, 1x VGA and 1x HDMI which support 2 displays independently. The systems size together with excellent heat dissipation makes for a perfect choice in space restrictive applications.
The EC70B-SU is taller having a deeper aluminum chassis to allow for a greater range of I/O. This includes 5x COM (including 1x for 8-bit DIO), 1x VGA & 1x HDMI again supporting dual displays, 4x Intel Gbe including 2x for PoE and 1x for iAMT 11.0 (supported in the i5/i7 only) plus 6x USB 3.0. Expansion is available through 1x full size Mini PCIe and 1x half size Mini PCIe and storage is held by 1x mSATA 4GB/8GB and 1x M.2/CFast Slot.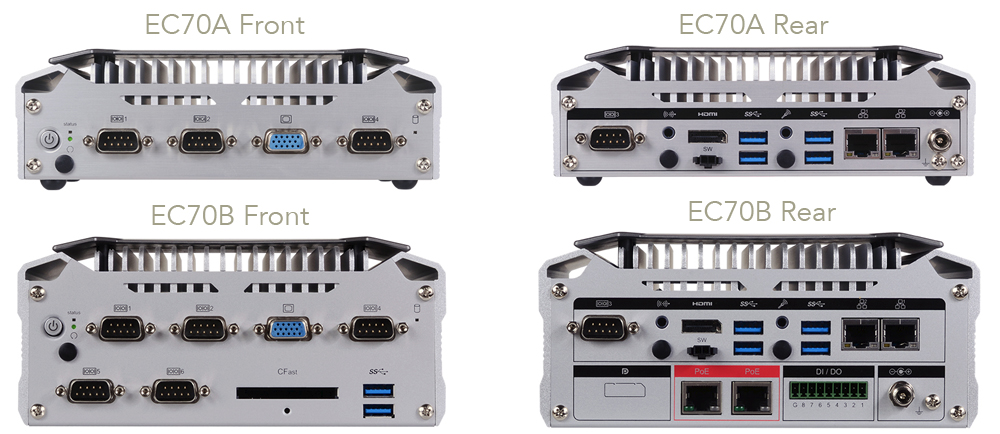 The new Skylake chips in the EC70A/EC70B-SU Series use the BGA 1440 form factor and are soldered down instead of socketed which indicates Intel's dedication to more highly integrated all-in-one systems. The new i3/i5/i7 trio support DDR4 and also have the new Intel Iris Pro Graphics 580 GPU with a redesigned 128MB eDRAM cache making the GPU considerably faster. All three chips are quad-core, although the Core i7 additionally supports HyperThreading which effectively gives it eight cores.
The operating temperature for both fanless embedded systems is between -20 to 60°C and they support a wide DC voltage of between 15 – 36V. Together with great processing power and extensive I/O, the EC70A/EC70B-SU Series offer versatility and true ruggedness to the IPC market.
The SU Series is only one example out of our extensive range of embedded computer systems, please follow the above links, click to see the EC70A-SU and EC70B-SU for specs, or feel free to reach out to our sales team in either the UK 01785 879 050 or USA 864 421 6991.
About Assured Systems
Assured Systems is a leading technology company offering high quality and innovative applied computing solutions to the embedded, industrial, and digital-out-of-home markets across the world. Headquartered in Stone, England and with offices in North America, our reach is truly global. Our impressive product portfolio includes a full range of Fanless Embedded Computer Systems, Digital Signage & Multimedia Computer Systems, Touchscreen Panel PCs, Human Machine Interfaces, Vehicle Mount Computers, Rackmount Computer Systems, Single Board Computers, Rugged Laptops & Tablets.