In this article: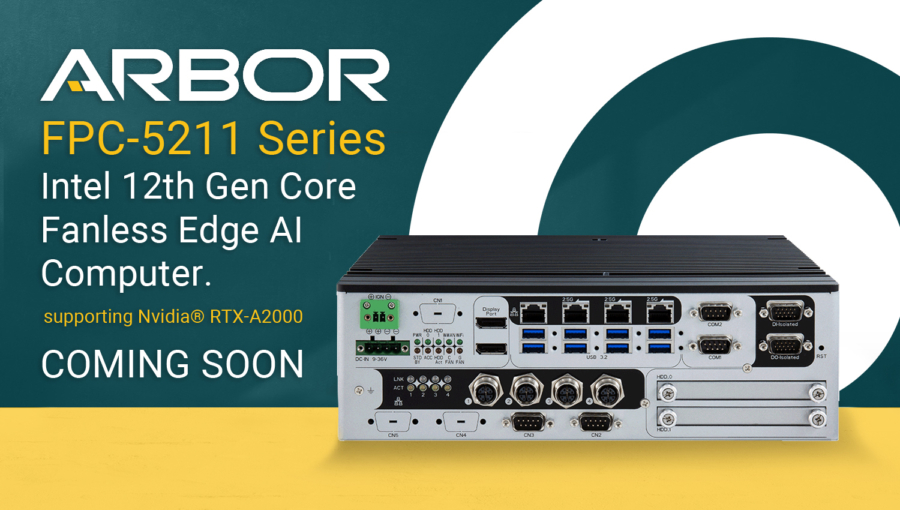 The Arbor FPC-5211 Series includes the cutting-edge FPC-5211-M4.
Looking for a powerful, cutting-edge computer that can handle complex tasks and data-intensive applications with ease? Look no further than the Arbor FPC-5211-M4.
Powered by the latest 12th Gen Intel Core processors, this computer delivers lightning-fast performance that's perfect for AI and machine learning applications. And with its Nvidia RTX-A2000 graphics card, it offers advanced graphics capabilities that are ideal for autonomous vehicles, industrial automation, and video analytics.
As this advanced computer also comes with 4x M12 POEs, making it ideal for edge computing and AI applications. With its powerful processing capabilities, the Arbor FPC-5211-M4 can help you get your work done more efficiently and effectively than ever before.
But that's not all – the Arbor FPC-5211-M4 also features a fanless design that makes it ideal for noise-sensitive environments like hospitals and recording studios. And because there are no moving parts to wear out or break, it's also incredibly reliable. So if you're looking for a powerful, versatile computer that can handle all your edge computing needs, the Arbor FPC-5211-M4 is the perfect choice.
Stand Out Features of The Arbor FPC-5211-M4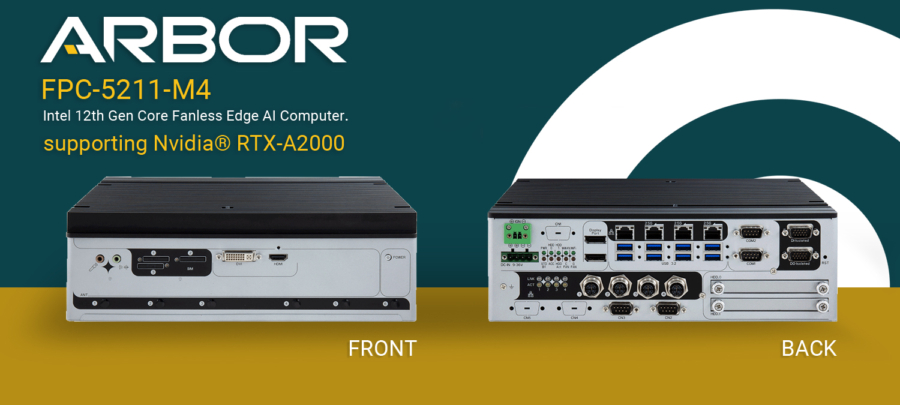 The Arbor FPC-5211-M4 boasts a remarkable feature – the ability to support 4x M12 POEs. With this feature, the device can be connected to up to four cameras or other devices using Ethernet cables with M12 connectors, making it the perfect solution for surveillance applications that require multiple cameras to be connected to a single computer.
Apart from this, the Arbor FPC-5211-M4 offers several connectivity options, such as Wi-Fi, Bluetooth and multiple USB ports. This makes it incredibly easy to connect to other devices and networks, making it a versatile and adaptable solution for edge computing and AI applications.
One of the device's major advantages is its flexibility, with various optional configurations that enable customisation to meet specific needs. One of the most critical configurations is the processor's selection, with the device supporting a range of Intel processors, including the Celeron, Core i3, i5, and i7, depending on the performance requirements of the application. This level of customization means that the device can be tailored to a wide range of use cases, from low-power applications that require only basic processing power to more demanding applications that require high-performance computing.
Another important optional configuration is the amount of memory and storage. The Arbor FPC-5211-M4 can be configured with up to 32GB of DDR5 RAM and up to 2TB of solid-state storage, allowing it to handle even the most data-intensive applications.
What are the benefits of DDR5 RAM ?
DDR5 RAM or Double Data Rate 5 RAM, was introduced in 2021, and is the most recent generation of memory technology, marking a revolutionary jump in architecture and offers several advantages over its predecessors.
DDR5 RAM offers faster speeds than its predecessors, with data transfer rates of up to 6,400 MT/s (mega-transfers per second), which is a significant improvement over the 3,200 MT/s maximum speed of DDR4 RAM. This means that DDR5 RAM can deliver more data per clock cycle, resulting in faster overall performance and improved multitasking capabilities.
Another advantage of DDR5 RAM is its increased memory capacity. DDR5 RAM can support up to 256 GB per DIMM (dual in-line memory module), which is twice the capacity of DDR4 RAM. This means that systems equipped with DDR5 RAM can handle larger data sets, run more virtual machines, and support more intensive applications whilst featuring improved power efficiency. The new RAM standard uses a lower operating voltage of 1.1 volts, which is a decrease from the 1.2 volts used in DDR4 RAM. This means that DDR5 RAM can operate at lower power consumption levels while still delivering faster performance, resulting in longer battery life for laptops and other mobile devices.
DDR5 RAM also includes improvements to error correction and improved reliability. The new RAM standard features enhanced error correction capabilities, which reduce the likelihood of data corruption and improve overall system stability. This is particularly important for enterprise applications, where data integrity is crucial.  The new standard includes on-die ECC (error-correcting code), which provides real-time error correction and detection. This means that DDR5 RAM can detect and correct errors as they occur, without relying on the operating system or other software tools. This makes DDR5 RAM more reliable and less prone to system crashes and data loss.
What are the customizable options of the FPC-5211-M4 ?
The Arbor FPC-5211-M4 offers a range of customizable I/O options, including USB, HDMI, Ethernet, and optional COM, GPIO, and CAN bus ports. This allows the device to easily integrate with a wide variety of industrial equipment, sensors, and other devices. Additionally, optional Wi-Fi and Bluetooth connectivity make it a versatile choice for applications where mobility is important or wired connectivity is not practical.
One of the key advantages of these customizable options is the flexibility they offer. The Arbor FPC-5211-M4 can be tailored to the specific needs of the application, with a range of processor, memory, storage, and connectivity options to choose from. This means that customers can avoid paying for unnecessary features or hardware while ensuring that the device meets the performance and connectivity requirements of their unique application.
Another benefit of the Arbor FPC-5211-M4's customizable options is the scalability they provide. As the needs of the application evolve over time, the device can be upgraded with additional hardware or connectivity options to meet new requirements. This makes the Arbor FPC-5211-M4 an ideal long-term solution, providing reliable performance and connectivity throughout the lifespan of the application.
Summary
In summary, the Arbor FPC-5211-M4 Intel 12th Gen Core Fanless Edge AI Computer supporting Nvidia RTX-A2000 w/4x M12 POEs is a powerful, reliable, and versatile computer that offers advanced capabilities for edge computing and AI applications. Its fanless design, powerful processing capabilities, and support for multiple devices make it an ideal choice for a wide range of applications.