What is an IoT Gateway?
The Internet-of-Things (IoT) refers to billions of devices around the globe that communicate with each other through wireles networks. Intelligent gateways play a critical role in IoT by collecting sensor data at the network edge, filtering and normalizing the data for sharing in the cloud. For sectors like transportation, industrial automation, energy, and smart buildings, the ability to connect individual intelligent devices in a secured, managed manner is the key to the next wave of growth.
Advantech Gateway Solution UTX-3115
To facilitate IoT deployment, Assured is pleased to introduce the new UTX-3115 gateway to its family of embedded computers. This fanless and wide-temperature embedded computer comes with Intel® Gateway Solutions for the Internet of Things (IoT), a pre-integrated software and hardware platform containing a Linux operating system, security and management features. This out-of-the-box solution greatly simplifies customer deployment of IoT applications because it allows secure data aggregation, filtering and analysis from edge devices to the cloud through Wi-Fi and/or Cellular technologies. Measuring only 5.5 x 1.4 x 4.6 inches, UTX-3115 is an extremely small embedded system supporting a wide range of operating temperatures from -20 ~ 60 °C and rich I/O expansion. The UTX-3115 is based around the acclaimed Intel® Atom™ E3800 series of processors delivering high performance and low power consumption required for IoT applications.
Intel® Gateway Solutions for the IoT
The UTX-3115 embedded computer is pre-integrated with Intel® Gateway Solution for the IoT, which bundles together Wind River IDP2.1 technology, McAfee security functionality and a wide variety of connectivity protocols, developer tools, and programming environments. By providing pre-integrated, pre-validated hardware and software building blocks, the gateways connect both legacy and new systems offering a seamless and secure data flow between edge devices and the cloud.

UTX-3115 Features
Intel® Atom™ E3800 processor series; low power consumption, high performance delivery
Supports two gigabit Ethernet and two mini-PCIe cards for Wi-Fi and 3G/4G modules
Rich I/O with one USB 3.0 port, two USB 2.0 ports, and one RS-232 or RS-422/485 port for data communication
Palm-size with wide temperature support between -20 ~ 60 °C
Bundled with Intel® Gateway Solutions for the IoT which integrates technologies and protocols for networking, embedded control, enterprise-grade security, and easy manageability on which application-specific software can run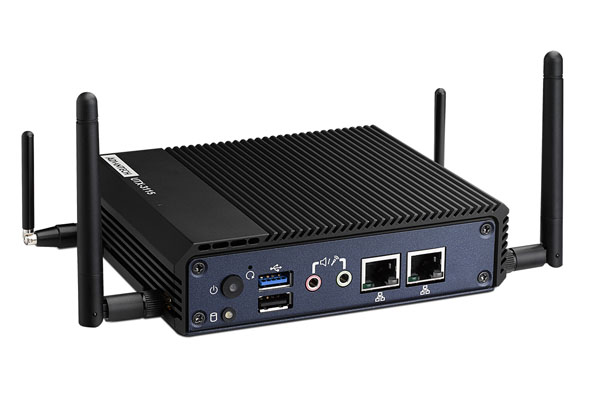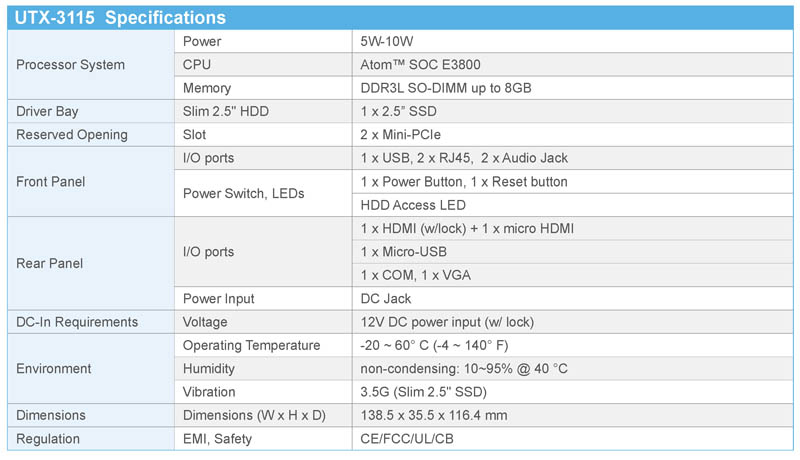 Please see the full UTX-3115 specifications. Our experienced sales team can offer the most up to date information and suggest options which fit your specification and budget; depending on location, please call the numbers listed at the top of the page or use the contact form to send us your requirements.
About Assured Systems
Assured Systems is a leading technology company offering high quality and innovative applied computing solutions to the embedded, industrial, and digital-out-of-home markets across the world. Headquartered in Stone, England and with offices in North America and the UAE (coming 2015), our reach is truly global. Our impressive product portfolio includes a full range of Fanless Embedded Computer Systems, Digital Signage & Multimedia Computer Systems, Touchscreen Panel PCs, Human Machine Interfaces, Vehicle Mount Computers, Rackmount Computer Systems, Single Board Computers, Rugged Laptops & Tablets. Please call the numbers listed above or visit our website at www.assured-systems.com for more information.