USB Isolated I/O and Serial Communication Board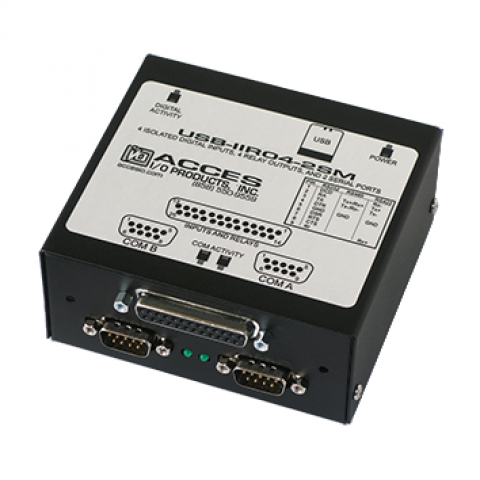 ACCES I/O Official Distributor

The USB-IIRO4-2SM is a USB multifunction device, incorporating a USB 4-port hub internally to provide four optically isolated digital inputs, four electromechanical relay outputs and two ports of RS-232/422/485 serial communication in one small product. The digital portion is ideal for adding easy-to-install isolated input and relay output capabilities to any PC or embedded system with a USB port. This single USB multifunction device is ideal for a variety of applications such as industrial monitoring, control and communication.
Multifunction I/O adapter for USB 1.1 and 2.0 port hosts
Four optically isolated digital inputs
Four Form C electromechanical 1A relays
Two serial ports, field selectable RS-232/422/485
Small (4"x4"X1.8") rugged industrial enclosure
PC/104 module size and mounting compatibility
All required power drawn from USB port, no external power adapter required
Expansion USB hub port connector
Type B USB connector features industrial strength and high-retention design
Compute. Control. Communicate.
Call our experts today for friendly advice on
+1 864 421 6991