Industrial Wi-Fi Access Point, Dual RF, Dual Band, 802.11 a/b/g/n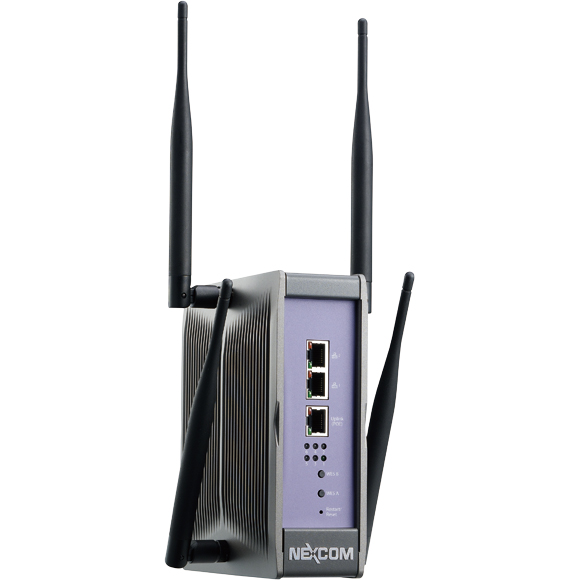 Nexcom Official Distributor

Size:
58.8mm x 139.6mm x 167mm
Designed for industrial applications in critical environments, such as the factory automation field, the IWF 3320X Access Point features dual-band 802.11a/b/g/n up to 300Mbps, alongside a dual RF capable solution housed in an industrial grade metal chassis that supports operating temperatures of -30~+80°C. To meet the expectations of high reliability communication in diversified applications, the IWF 3320X series provides a robust redundant mechanism to ensure trusted operation. The dual power input of both PoE 802.3af & wide voltage 9~36VDC ensures power connected all the time. The Dual RF can automatically backup the data transmission each other, and any RF disconnects can utilise and establish mesh network with other nodes. Dual band radio of 2.4GHz and 5GHz can be separated into different paths, for instance, the 5GHz radio can be used for central backend communication while 2.4GHz radio is used for front end device communication. The fast roaming capability supports on-the-move wireless communication without any concern in connectivity. When managed by a backend AP controller, the IWF 3320X supports CAPWAP through a private tunnel for security & users behaviour control cross subnets. This will help administrators easily maintain the access points located in local andor remote sites.
Concurrent IEEE802.11 a/b/g/n for transmission rate up to 2x 300Mbps
Redundant power input supporting 802.3af PoE and 9-36VDC Input
Industrial grade conformal coating for harsh environment
Rugged Die-casting housing with -30 to + 80°C wide-temperature
The layer-2 Wireless Firewall gives protection from wireless attacks
Press-n-Connect to enable auto WDS/mesh network
Comprehensive WLAN security encryption with WEP, WPA/ WPA2, IEEE 802.1X or PSK
Multiple-SSID Virtual APs for grouping policy management
Tunnel-based AP management by backend AP controller
Compute. Control. Communicate.
Call our experts today for friendly advice on
+1 347 719 4508