Industrial 4-port RS232/422/485 to 2-port 10/100TX Device Server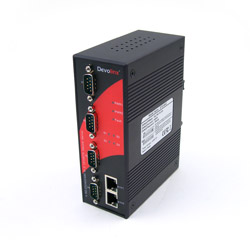 Aaxeon Official Distributor
Size:
52(W) x 144(H) x 106(D) mm
The STE-604C-P is an innovative 4 port RS232/422/485 to 2 port LAN redundant device server. To assure the agility and security of critical data, the STE-604C-P offers many powerful features for HW & SW redundant functions. When the connection between the master-link and LAN fails, the STE-604C-P can automatically switch to another LAN port within 10ms and still guarantee a non-stop connection. The STE-604C-P also supports switch mode. Users can Daisy Chain to reduce the usage of Ethernet switch ports. Secondly, the STE-604C-P can simultaneously transfer data into 5 host PCs. This feature can assure all critical data is saved in different host PCs to avoid Ethernet break or host PC failure. Thirdly, the STE-604C-P provides dual redundant power inputs on the DC power jack and terminal block. The unit provides a NAT pass through function so that users are able to manage their STE-604C-P inside or outside the NAT router. It is also easy for different IP domain users to use the STE-604C-P. The STE-604C-P is one of the best communication redundant solutions for serial device applications. In addition, the STE-604C-P also supports P.O.E. PD on ETH2. This feature is fully compliant with IEEE802.3af standards.
Fully Compliant with IEEE 802.3af (P.O.E., Power Device)
Redundant Dual Ethernet Ports: Recovery Time < 10ms
Switch Mode Support: Daisy Chain to Reduce Usage of Switch Ports
NAT-Pass Through: Users Can Manage Through NAT Router
Redundant Power Inputs: 12 ~ 48VDC on Terminal Block
Redundant Multiple Host Devices:
5 Simultaneous in Virtual COM, TCP Server, TCP Client Mode, UDP
Secured Management by HTTPS and SSH
Event Warning by Syslog, Email, SNMP Trap, and Beeper
5-Year Warranty
Serial Connector: 4 x DB9
Serial Interface: RS-232/422/485
Data Rate: 110 bps to 460.8 Kbps
Flow Control: XON/XOFF, RTS/CTS, DTR/DSR
Pins RS_232: TxD, RxD, RTS, CTS, DTR, DSR, DCD, RI, GND
Pins RS_422: Tx+, Tx-, Rx+, Rx-, GND
Pins RS_485: 4-Wire: Tx+, Tx-, Rx+, Rx-, GND
2-Wire: Data+, Data-, GND
Data Bits: 5, 6, 7, 8
Parity: Odd, Even, None, Mark, Space
Stop Bits: 1, 1.5, 2
Network Interface: 2 x 10/100BaseT(X) Ports in RJ-45 Auto MDI/MDI-X
Led Displays: PWR 1(2)/Ready, Link/ACT, Serial TX/RX
Power Over Ethernet: Present at ETH2 (PD)
Power Device: IEEE 802.3af compliant input interface
Power consumption: 8 Watts max.
Over load & short circuit protection
Isolation Voltage: 1000 VDC min.
Isolation Resistance : 108 ohms min
Power: Dual DC Inputs
12 ~ 48VDC in 6-pin Terminal Block
Power Consumption: 5.5 Watts
Overload Current Protection: Present
Reverse Polarity Protection: Present
Operating Temperature: -30° C to 70° C (-22° F to 158° F)
Storage Temperature: -40° C to 85° C (-40° F to 185° F)
Operating Humidity: 5% to 95% (Non-Condensing)
Casing Enclosure: IP30 Protection
Dimensions: 52 x 144 x 106 mm (2.05 x 5.67 x 4.17 inches)
Weight: 678 g
Approvals: EMI: FCC Part 15, CISPR (EN55022) Class A
EMS: CE EN61000-4-2/3/4/5/6/8/11
Shock: IEC60068-2-27
Free Fall: IEC60068-2-32
Vibration: IEC60068-2-6
Safety: EN60950
Compute. Control. Communicate.
Call our experts today for friendly advice on
+1 347 719 4508