Iiyama TF1534MC-B6X 15'' Open Frame PCAP 10pt Touch Monitor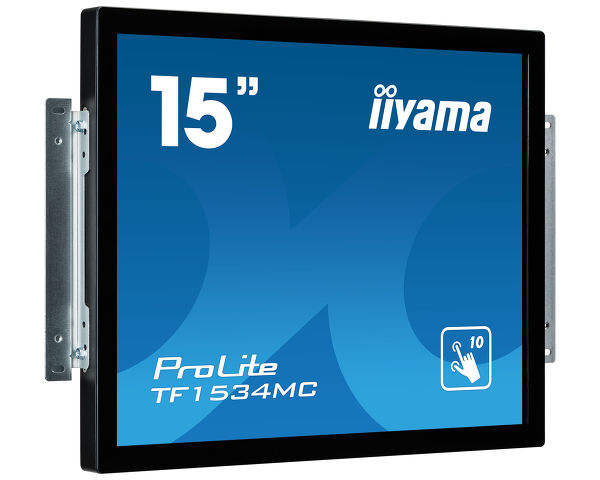 Iiyama Official Distributor

Model No:
PROLITE TF1534MC-B6X
Highlights:
Capacitive Touch Technology
Open Frame Brackets
IP Rating
Scratch Resistance
Anti-Fingerprint Coating
The Iiyama ProLite TF1534MC-B6X 15" multi touch screen is based on projective capacitive technology which thanks to a glass overlay covering the screen guarantees high durability, scratch-resistance and perfect picture performance. The touch function remains unaffected even if the glass is scratched. The screen is IP65 rated which means it is dust and water resistant from the front. For ease of installation in any environment the Iiyama ProLite TF1534MC-B6X comes equipped with external mounting brackets making it an ideal solution for kiosk integrators and Instore Retail.
Design
Open Frame
Diagonal
15", 38cm
Panel
TN LED
Native resolution
1024 x 768 (0.8 megapixel)
Aspect ratio
04:03
Brightness
370 cd/m² typical
Brightness
330 cd/m² with touch
Static contrast
700:1 with touch
Light transmittance
90%
Response time
8ms
Viewing zone
horizontal/vertical: 170°/160°, right/left: 85°/85°, up/down: 80°/80°
Colour support
16.7mln 8bit (6bit + Hi-FRC)
Horizontal Sync
31.4 - 60KHz
Vertical Sync
50 - 75Hz
Viewable area W x H
304 x 228mm, 12 x 9"
Pixel pitch
0.297mm
Bezel colour and finish
black, matte
Analog signal input
VGA x1
Digital signal input
HDMI x1
DisplayPort x1
HDCP
yes
Extra
anti-fingerprint coating
Water and dust protection
IP65 (front)
OSD key lock
yes
Compute. Control. Communicate.
Call our experts today for friendly advice on
+1 347 719 4508