Advantech ADAM-4011 1-ch Thermocouple Input Module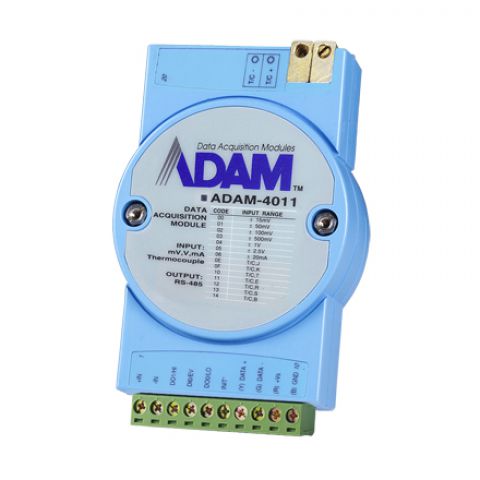 Advantech Official Distributor

Highlights:
Input type: Thermocouple, mV, V or mA
Isolation voltage: 3000 VDC
Watchdog Timer
Advantech's ADAM-4011 analog input modules use a microprocessor-controlled integrating A/D converter to convert sensor voltage, current, thermocouple, or RTD signals into digital data. The digital data is then translated into either engineering units, twos complement hexadecimal format or percentage of full-scale range (FSR) according to the module's configuration.
The Analog Input Modules offer signal conditioning, A/D conversion, ranging, and RS-485 digital communication functions. They protect your equipment from ground loops and power surges by providing opto-isolation of the A/D input and transformer based isolation up to 3000 V DC. The ADAM-4011 has transformer-based isolation up to 500 V DC.
Power Consumption 1.4 W @ 24 VDC
Supported Protocols ASCII command
Analog Input
Channels: 1
Input Impedance: Voltage: 2 MΩ Current: 125 Ω (Added by user)
Input Type: T/C, mV, V or mA
Input Range: ±15 mV, ±50 mV, ±100 mV,
±500 mV, ±1 V,
±2.5 V, ±20 mA
Accuracy: Voltage mode: ±0.1% or better
Current mode: ±0.2% or better
T/C Type and Temperature Range
J 0 ~ 760°C R 500 ~ 1,750°C
K 0 ~ 1,370°C S 500 ~ 1,750°C
T -100 ~ 400°C B 500 ~ 1,800°C
E 0 ~ 1,000°C
Span Drift: ±25 ppm/°C
Zero Drift: ±6 μV/°C
Digital Input
Channels: 1
Logic level 0: 1 V max.
Logic level 1: 3.5 ~ 30 V
Pull up current: 0.5 mA,
10 kΩ resistor to 5 V
Event Counter: Max. input freq: 50 Hz
Digital Output
Channels: 2, open collector to
30 V, 30 mA max. load
Power Dissipation: 300 mW
Compute. Control. Communicate.
Call our experts today for friendly advice on
+1 347 719 4508