4-Port USB to Serial RS-232/422/485 Adapter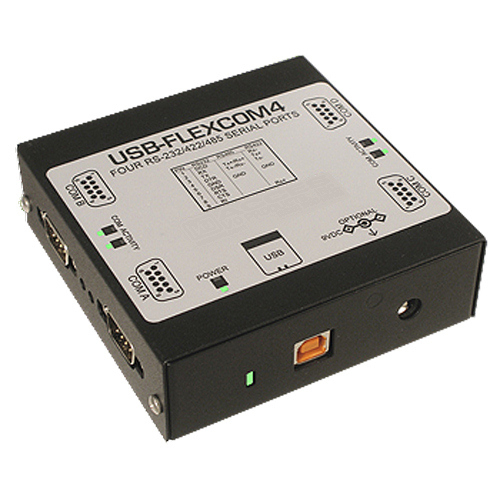 ACCES I/O Official Distributor

Size:
101mm (W) x 101mm (D) x 46mm (H)
The USB-FLEXCOM4 is a four-port asynchronous serial communication adapter designed for use with any computer system equipped with a USB port. Multiple peripherals such as POS, barcode scanners, scales, date-entry terminals, data acquisition modules, and automation equipment can now be recognized and used on a single USB port. Simply install the included software and connect the unit to your USB port. It instantly provides four RS-232, RS-422, or RS-485 serial ports which can be selected on a port by port basis. It is now easier than ever to add serial ports and serial devices to any application along with easy plug-and-play and hot-swapping features.
Four-port serial communications adapter for USB 1.1 and USB 2.0 host ports
Supports field selectable RS-232, RS-422 or RS-485 protocols, per port
Includes type FT232BM UART with 384-byte receive/128-byte transmit FIFO buffers
Speeds up to 921.6kbps simultaneously
Power LED and individual port activity LEDs next to the USB and each COM connector
All required power drawn from USB port, no external power adapter required
Compact, low profile enclosure
OEM Board only version with no enclosure
HDR OEM board with 10-pin vertical male headers instead of DB9s
DIN DIN rail mounting bracket
Compute. Control. Communicate.
Call our experts today for friendly advice on
+1 347 719 4508