4-Port RS-232/422/485 To Ethernet Device Server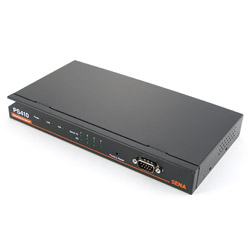 Apple Official Distributor
The PS410 is a versatile 8-port serial-Ethernet communication device. The HelloDevice Pro Series supports RS232, RS422 or RS485 on each serial port allowing virtually any asynchronous serial device to be accessed over a network. With the rich broadband network connectivity protocols such as DHCP, PPPoE and Dynamic DNS, you could easily manage the legacy serial devices over broadband Internet by using DSL or cable modem connection. The built-in Dynamic DNS protocol of the HelloDevice Pro Series enables you to access the serial devices with their domain names. Thanks to its inner Linux OS, the PS410 has the similar easy-to-use user interface that Linux machines have. They provide you with a full-featured system management functionality.
Connects legacy serial devices to 10/100Base-T Ethernet network
Supports surge protector for RS232/422/485 interface, up to 230Kbps speed
Flexible TCP/UDP host mode support: Multiple host connection/data transfer
Powerful security support, SSL (Secure Socket Layer), RC4 and 3DES
System logging & port buffering
Dynamic DNS protocol for broadband Internet connection
Configuration via Web, Telnet/SSH, Windows Utility or console
Serial Connector: 4-port DB9 connector
Serial Interface: RS-232/422/485
Data Rate: 75bps to 230kbps
Flow Control: Hardware, Software
Pins RS_232: Rx, Tx, RTS, CTS, DSR, DTR, DCD, GND
Pins RS_422: Tx+, Tx-, Rx+, Rx-, RTS+, RTS-, CTS+, CTS-
Pins RS_485: 2/4-wire
Surge Protection: Surge protector equipped for each serial port
Network Interface: 10/100 Base-T Ethernet with RJ45
IP Address: Supports static and dynamic IP address
Protocols: IP: ARP, IP/ICMP, TCP, UDP, Telnet/SSH
DNS: DNS, Dynamic DNS
HTTP: HTTP, SMTP, DHCP, SNMP v1 & v2, SSL
Ethernet Modem: Full AT command set support
Management: Web, Console port, Telnet/SSH, & HelloDevice Manager
Security: SSH, SSL, IP address filtering, HTTPS
Logging: Versatile system logging support for all system events
Buffering: Serial port data buffering
Led Displays: Power, Link, Serial Rx/Tx
Power: 9~30VDC
Supply Power Current: 700mA/9VDC
Operating Temperature: 5° C to 55° C
Storage Temperature: -40° C to 66° C
Dimensions: 227 x 119 x 28 mm (8.9 x 4.7 x 1.1 inches)
Weight: 750g
Approvals: FCC (A), CE, MIC
Microsoft: Win 98/ME/NT4/2000/XP/Vista
Linux: Linux x86
Unix: Unix98 pty driver (included in Linux by default)
Firmware: Upgrade using console, telnet/SSH and web
Cable: 1 x Serial data cable (DB9F to DB9F)
Power Adapter:External 110V power adapter
Warranty: 5-year Limited Warranty
Compute. Control. Communicate.
Call our experts today for friendly advice on
+1 347 719 4508