1-Port RS-232 To Ethernet Device Server - Bare Board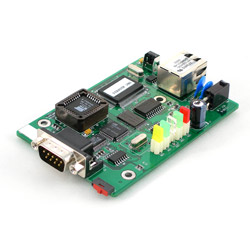 Size:
100(L) x 72(W) x 25(H)mm
The LS100B is the board-only product of the HelloDevice LS100. If the application comes with its own case or box that can contain the serial-device servers safely, the LS100B can be used instead of the LS100. The LS100B supports RS232 serial communication allowing virtually any asynchronous serial device to be accessed over a network. As for the Internet connectivity, the LS100B supports open network protocols such as TCP/IP allowing serial devices to be accessed over broadband network or conventional LAN (Local Area Network) environment.
Connects legacy serial devices to 10Base-T Ethernet network
Supports RS232 based serial devices via DB9 serial port
Serial data transfer rate up to 115Kbps
Reliable TCP/IP protocol stack
PPPoE protocol for DSL connection to broadband network
Low-price model for lowest transition cost
Configuration via telnet or serial port
Management software for configuration and administration
Serial Connector: Male DB9
Serial Interface: RS-232
Data Rate: 1200bps ~ 115Kbps
Flow Control: None, Hardware
Pins RS_232: RS232: Rx, Tx, RTS, CTS, DTR, DSR, GND
Network Interface: 10 Base-T Ethernet with RJ45
Protocols: ARP, IP/ICMP, TCP/IP, Telnet, DHCP client, PPPoE
Management: Telnet, Serial console port & HelloDevice Manager
Security: User ID & Password
Led Displays: Power/Ready/10 Base-T Link/Act, Serial Rx, Tx
Power: 7.5V ~ 15V DC
Supply Power Current: 300mA / 7.5V DC
Operating Temperature: 5° C to 55° C
Storage Temperature: -40° C to 66° C
Approvals: FCC(A), CE, MIC
Microsoft: Win 98/ME/NT4/2000/XP/Vista
Linux: Linux x86
Unix: Unix98 pty driver (included in Linux by default)
Cable: NONE INCLUDED
Power Adapter: NONE INCLUDED
Warranty: 1-year Limited Warranty
Want A Quote? Get In Touch
Call our experts today for friendly advice on
+1 864 421 6991