1-Port Industrial RS-232/422/485 To Ethernet Device Server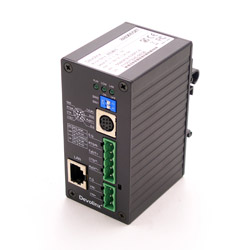 Aaxeon Official Distributor
Size:
45(W)x91(H)x76(D)mm
The Industrial Serial to Ethernet Device Server STE-601C is a gateway between Ethernet (TCP/IP) and RS-232/422/485 communications. It allows almost any serial device to be connected to a new or existing Ethernet network. In industrial and manufacturing automation applications, the STE-601C is used as a field device to connect Ethernet through TCP/IP protocol directly. It is also specially designed for conjunction with PLCs, HMIs, Barcode Scanners, Data Terminals, Shop Floor Control Systems, etc...
Single-Port DIN-Rail Model
IP50 Standard Metal Housing
15 KV ESD Protection for Serial Signals
10/100Mbps Fast Ethernet Full Duplex Auto Negotiation
Supports Multiple Link Mode with TCP Server/Client, UDP, and Virtual COM Mode
Extends Distance of Point-to-Point Serial Connection
Selectable RS-232, RS-422, or RS-485 Serial Interface
Configurable via Built-in Web Server, Serial Console, Telnet, or Windows Based Utilities
Compact Size
Upgradeable Firmware via Network
Serial Connector: 5-Pin Terminal Block, 8-Pin Mini-DIN, & DB9 Male cable
Serial Interface: 1 Port, RS-232/422/485 Console Switch Selectable
Data Rate: 1200 ~ 230400 bps (230 Kbps)
Flow Control: Xon/Xoff, RTC/CTS
Data Bits : 7 or 8 Data Bits
Parity: None, Even, Odd, Mark, Space
Stop Bits: 1 or 2
Flash Memory: 512 KBytes
SDRAM: 512 KBytes
CPU: 16-bit Embedded CPU
EEPROM: 512 Bytes
Network Interface: 10/100Mbps Fast Ethernet
Protocols: TCP/IP, UDP, HTTP, SNMP, ARP, Telnet, ICMP, BOOTP, DHCP
Management: Web, Telnet, Serial Console, and Windows Based Utility
Watchdog Timer: 1.34sec Hardware Auto Reset
Led Displays: LAN, RUN, and COM
Power: 9 ~ 30VDC
Power Consumption: 3 Watts
Power Failure Threshold: Internal Power Failure Threshold: 4.75V
Operating Temperature: -20° C to 70° C (-4° F to 158° F)
Storage Temperature: -20° C to 85° C (-4° F to 185° F)
Operating Humidity:20% to 90% (Non-Condensing)
Dimensions: 45 x 91 x 76 mm (1.77 x 3.58 x 2.99 inches)
Approvals: FCC, CE
Software: Windows OS Based Configuration Utility, Virtual COM Software
Warranty: 5-year Warranty
Compute. Control. Communicate.
Call our experts today for friendly advice on
+1 347 719 4508