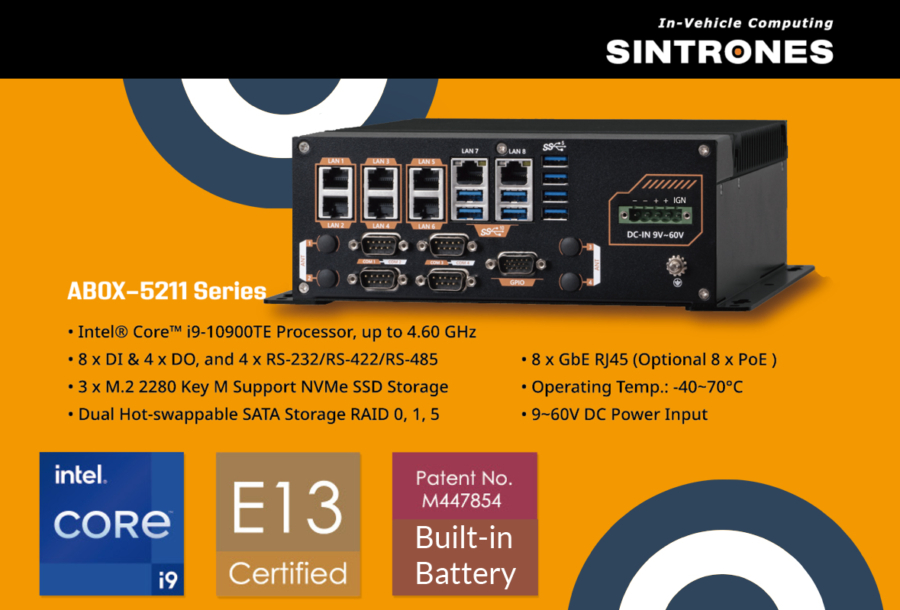 Sintrones ABOX-5211 (P) Series  is designed to accelerate the development of carrier-type or service-type AMRS. Edge AI Platform enables businesses to collect and analyze data from a number of connected devices in real time and directly on the field, it helps generate valuable information into businesses day-to-day operations.
Sintrone embedded computers provide high performance computing capacity and abundance storage space for Edge AI applications, which can process data autonomously, perform Machine Learning (ML) in the field and apply Deep Learning Inference Platform for applications like Autonomous Driving, AI Vision System, Patrol Robot, Autonomous Mobil Robot (AMR), Automated Guided Vehicle (AGV).
Industrial IoT and Industry 4.0 technologies are revolutionizing the way manufacturers develop, deploy and maintain operations within factory facilities to improve production efficiency.  Artificial intelligence, big data and the Industrial Internet of Things (IIoT) are among those megatrends.
One technology combines all three of these recent phenomenon's into one — and that is robotics, with it being in the main, AGVs (automated guided vehicles) and AMRs (autonomous mobile robots).
Production and manufacturing facilities are looking for new ways to drive efficiencies and increase throughput, even when faced with challenges in staffing and material shortages due to the fall out of the Covid-19 pandemic.
AGVs and AMRs for many, have been seen as the answer as these technologies leverage cutting-edge electronics to assist in tasks that previously required human intervention which can not only enable greater accuracy but also save time and costs.
AGVs and AMRs can carry out actions via laser guidance and real-time communication protocols, with extreme efficiency and accuracy, often working together to achieve tasks more quickly. By leveraging data processing at scale, these systems can also learn from their actions and drive improvement as they work.  Furthermore,  AMRs and AGVs can use real-time intelligence to increase production output and help human operators uncover potential areas for optimization, when interfaced directly with WMS (warehouse management systems) and MES (manufacturing execution systems).
AMR applications and needs are diverse and require significant computational power to achieve successful outcomes however, which presents a challenge.
To date, few dedicated computing systems are well-suited for the challenges of AMRs and AGVs. SINTRONES may change that with the ABOX-5211 series of industrial computers, designed to accelerate the development of carrier-type or service-type AMRS.
The ABOX-5211 opens new doors for robotic applications in production to assist in classified picking, environmental disinfection and hazardous material removal.
With a impressive list of hardware, the ABOX-5211 is undoubtedly built with the challenges of the IIoT in mind.
The SINTRONES ABOX-5211 can handle the complex requirements of AMRs (automated guided vehicles) and AMRs (autonomous mobile robots) by leveraging a 10th-generation Intel Core 10-Core I9 processor and dual SIM card slots that support both 5G and LTE communication.
It also has dual hot-swappable SATA storage and an Intel UHD Graphics 630 GPU. Perhaps more importantly, the ABOX-5211 features a unique single-side I/O panel, meaning that all the critical external device connections can happen on one side;  the ABOX-5211 provides eight RJ45 GbE and eight optional PoE (Power-over-Ethernet) connectors for ethernet networking,  with additional support provided via the seven Intel i210-AT and one i219LM (with support for iAMT ethernet controllers). The controllers provide onboard support for PXE and WOL for power on and booting.
This design feature overall achieves several things — including, maintenance and expansion are much more accessible. In addition, this makes the ABOX-5211 much easier to manage in embedded system designs and helps keep footprint and weight at a minimum.
More I/O options for audio, digital interfacing, and further expansion include:
1x line- out, 1x mic-in
8x DI (5 to 60VDC) and 4x DO (5VDC, 100mA)
1x M.2 B Key 3042/3052 for WWAN (USB3.0) with dual SIM slot
1x M.2 A-E Key 2230 slot for Wi-Fi (PCIe and USB)
2x Full Mini-PCIe Slots (with support for DIP switch enabled/disabled SMBus interface)
The graphics compute mentioned above features a max resolution of 4096 x 2340 via one of the two DisplayPort 1.2 operating at 60Hz. The four USB 3.2 operating at 10 Gbps and four USB 3.2 at 5 Gbps for 9 to 60V enable input AI computing processes.
This Edge AI computer also offers one DDR4 with 3200MHz of memory and one SO-DIMM for up to 64 GB of memory, with three M.2 2280 M key support NVMe SSD storage and dual hot swappable SATA storage RAID of 0,1, and 5.
This Fanless Box PC for Edge AI GPU computing is ideal for factory automation, service robots, smart retail, AIoT and cellular V2X applications, as well as critical industrial IoT deployments with an operating temperature of -40~70°C and environmental support for humidity at 10% RH – 90% RH (non-condensing), vibration with the SSD certified and tested under the following: IEC60068-2-64, 5andom at 2.5G@5~500Hz, 1hr/axis, in addition to certification under MIL-STD-810G, Method 514.6, Procedure I, Cat.4, and Operating. Shock is supported operating under the following: MIL-STD-810G, Method 516.6, Procedure I, and Trucks and semi-trailers=15G (11ms) with SSD.
The ABOX-5211 is compatible with the 64bit Windows 10 and Ubutnu 20.04 operating systems.
The ABOX-5211(P) Fanless Box PC series offers 9V to 60V of DC power input with various options for power protection and management via automatic recovery short circuit protection, vehicle power ignition and a power-off delay setting through BIOS and software.
The solution also includes a backup battery option that provides an average of 10 minutes of operation via an internal battery kit and for application and program monitoring, the ABOX-5211 features a watchdog timer with 1 ~ 255 level reset, and additional security via the TPM 2.0 for hardware-based security.