Axiomtek have released a new range of panel computers with PCI or PCIe expansion for the industrial market. The P1 series come with the LGA1151 socket and the Intel H110 chipset to support 7th and 6th generation Intel core i7/i5/i3, Celeron and Pentium processors. Available in 12", 15" and 19" screen sizes in a 4:3 aspect ratio, and with an IP65 rated front bezel, this range is aimed squarely at the industrial automation and HMI markets.

Set in an IP65 front panel, the LCD display on the range is 5-wire resistive touch. Brightness on the 12" P1127E-500 is 500 NITS whilst the P1157E-500 and P1197E-500 are both 250NITS. All have built-in speakers and front accessible OSD display and volume control buttons.
The industrial panel pcs come with 4 x COM as 3 x RS-232 and 1 x RS-232/422/485, 4 USB 3.0, 2 USB 2.0 and 2 x Gigabit Ethernet The systems have 1 x PCIe x4 or 1 x PCI slot options for expansion purposes. There's 1 x VGA, 1 x HDMI and 1 x Display Port, plus there's an option for Wi-Fi 802.11 b/g/n module and WLAN antenna for wireless connectivity.
Model shown P1127E-500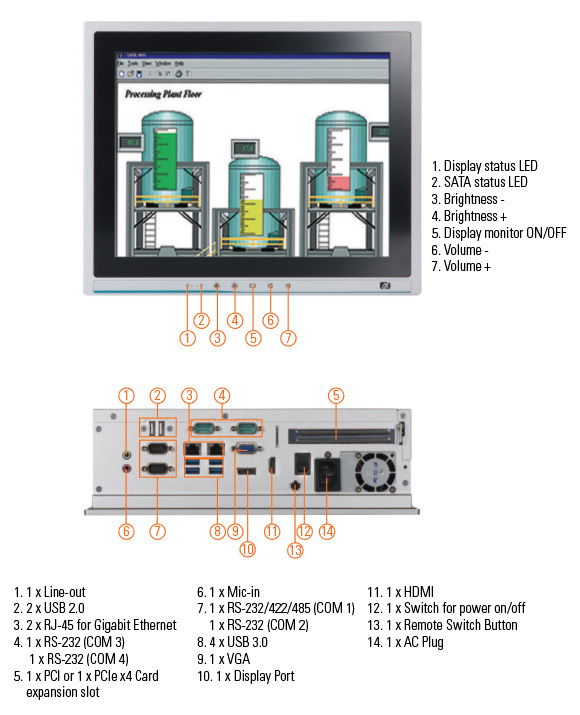 Check these links for more information and spec sheets for the individual models below:

About Assured Systems
Assured Systems is a leading technology company offering high quality and innovative applied computing solutions to the embedded, industrial, and digital-out-of-home markets across the world. Headquartered in Stone, England and with offices in North America, our reach is truly global. Our impressive product portfolio includes a full range of Fanless Embedded Computer Systems, Digital Signage & Multimedia Computer Systems, Touchscreen Panel PCs, Human Machine Interfaces, Vehicle Mount Computers, Rackmount Computer Systems, Single Board Computers, Rugged Laptops & Tablets.