In this article:

Touchscreen panel PCs popularity have exploded in recent years and not just because of smart phones but instead, the economic notion of Jevons Paradox- when technological progress increases efficiency (as we are currently seeing) the benefits of that progress becomes almost muted or even drowned due to the increased rate of consumption because of the demand for the newer, most efficient models. And, as you see when you look in almost any direction- screens, displays and touchscreens are now nowhere near personal devices they are now commercial tools, programmable intelligence that will one day, likely be your colleague. Hence it is now that the relationship between man and machine are almost connected, interfaces are becoming cutting-edge, they need to be more functional, ergonomic and have a beneficial, notable ROI. This allows for organizations to easily integrate the latest technology such as IoT installations and have an efficient, simple and practical human machine interface (HMI) for staff to work with.
Some of our newest inclusions into our Panel PC range are built specifically for the purpose. Seamless design for easy navigation and a clinical front- all with IP66 rating for total dust exclusion and significant water protection from jets and waves. The aluminum body of the new PCs enable further protection in harsh industrial environments where additional protection against shock and vibration ensure the systems longevity and reliability in your installation.
Crucially though, these new displays are built to take high performance into the most rugged environments, with 5000:1 contrast ratio and a Full HD resolution of 1920×1080, 16.7 million colors are available all at extended viewing angles. The new monitors range from 16" to 21" and run on the powerful J1900 Intel Celeron quad core-processors respectively, but as well as the stunning display and heavy-duty specification, the P-cap 10 point multi-touch display uses the latest projected capacitive touch technology, to provide a simple, clerical and effective interface for all stakeholders, check out the new products and let the vast specifications show you exactly why these industrial panel PCs are in such high demand.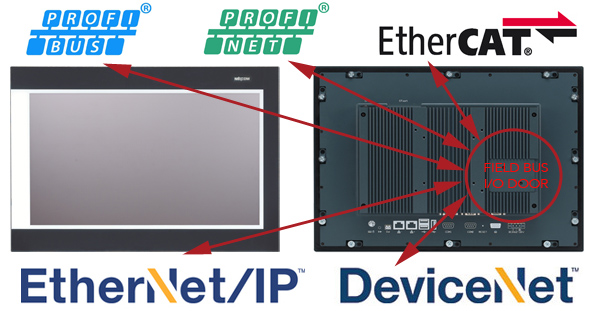 IPPC 1640P: 15.6″ Industrial Multi-Touch Panel PC with Fieldbus
IPPC 1640P is a 15.6" heavy-duty industrial panel PC incorporating an industrial motherboard for maximal functionality. The IPPC 1640P Panel PC also has a TFT LED backlit LCD panel with 1366×768 WXGA-HD resolution for optimal playback- all contained within a robust aluminum housing with no bezel for harsher environments. It's 10 point P-cap multi-touch system also benefits from the bezel-free design to boost usability whilst the front panel adopts a flush design and is rated as IP66 standard. The IPPC 1640P supports WWAN/WLAN expansion, dual Gigabit Ethernet connectors, 2x Mini-PCIe slots and one SIM card holder. A second display can be connected via a VGA port should you require whilst the IPPC 1640P also works as a support fieldbus module with optional fieldbus ports and 2x isolated RS232/422/485 ports.
IPCC 1840P: 18.5″ Industrial Multi-Touch Panel PC with Fieldbus
The IPCC 1840P is essentially a larger version of the IPPC 1640P– its 18.5" screen is a TFT HD (1366×768) panel that uses an efficient LED backlight for its LCD panel, the front of which complies with the IP66 standard. The display can work as a support fieldbus module for JMobile HMI and CODESYS SoftLogic (optional) with equivalently optional mounting with either panel, wall, stand or VESA fixings. A sleek bezel free design and 10 point P-cap multi-touch screen enable the user a clean aesthetic and functional finish accompanied by a wealth of I/O's including 3x USB, 2x mini-PCIe sockets, 1x CFast and 2x RS232/422/485. It is built with rugged industrial environments in mind for HMI applications within the automation and manufacturing industries.
IPPC 2140P: 21.5″ Multi-Touch Industrial Panel PC with Fieldbus
The IPPC 2140P is a 21" TFT industrial panel PC with a WXGA (HD) resolution, powered by the Intel Celeron J1900 quad-core processor, up to 2.42GHz. Memory comes in the form of 2x 204-pin DDR3L SO-DIMM sockets providing up to 4GB DDR3L-1066/1333 onboard memory. The IPPC 2140P also is touch screen enabled with a 10 point P-cap multi-touch display for additional ease of use. With a zero bezel finish and robust aluminum housing the IPPC 2140P has been specifically designed for rugged industrial environments and the various fields that work off them, for a range of users as well as applications. The front panel is IP66 compliant supporting a range of mounting options either panel, wall, stand or VESA mount and a wide range power input of 12-30VDC.

About Assured Systems
Assured Systems is a leading technology company offering high quality and innovative applied computing solutions to the embedded, industrial, and digital-out-of-home markets across the world. Headquartered in Stone, England and with offices in North America, our reach is truly global. Our impressive product portfolio includes a full range of Fanless Embedded Computer Systems, Digital Signage & Multimedia Computer Systems, Touchscreen Panel PCs, Human Machine Interfaces, Vehicle Mount Computers, Rackmount Computer Systems, Single Board Computers, Rugged Laptops & Tablets.