In this article:
NRU-110V - Ruggedized Edge AI Platform Supporting 8x GMSL Cameras
Learn about the new NRU-110V by Neousys Technology. Powered by NVIDIA Jetson AGX Xavier, the NRU-110V is perfect for outdoor AI applications supporting 8x GMSL automotive cameras enabling captures of clear images with minimal latency.
Neousys Technology , an industry-leading provider of rugged embedded systems, today announced a new Edge AI inference platform, the NRU-110V. Powered by NVIDIA Jetson AGX Xavier, it supports 8 GMSL automotive cameras and has one 10GBASE-T Ethernet port for massive real-time video data transfer.
With the ever-increasing need for outdoor AI applications, a capable transmission scheme for low-latency and high dynamic range (HDR) videos becomes critical. With the support of GMSL cameras that feature 3-exposure characteristics, they enable the NRU-110V to capture clear images with minimal latency. The ability to quickly and automatically adjust the camera's exposure value according to changes in light, shadow and auto white balance are some of NRU-110V's biggest traits. Another unique function of NRU-110V is its synchronize mechanism to simultaneously capture high-quality images from 8 GMSL cameras while accepting GPS PPS signal to align image data with other sensors.
In addition to supporting GMSL cameras, NRU-110V also has comprehensive I/Os for connecting a wide range of devices. Of which, the 10Gb Ethernet is designed to transmit mass image data volume to another GPU computer that performs high-speed sensing applications and the connection helps realize sensing and planning on the same platform. There are 32GB of eMMC storage but NRU-110V also comes with an M.2 2280 NVMe socket for installing an SSD for fast read/ write data performances. Other expansions and connections include one mini-PCIe socket for WiFi or 4G module, 1x GPS PPS for cross-platform synchronization, 3-CH isolated DI and 4-CH isolated DO for communication with external devices.
NRU-110V Key Features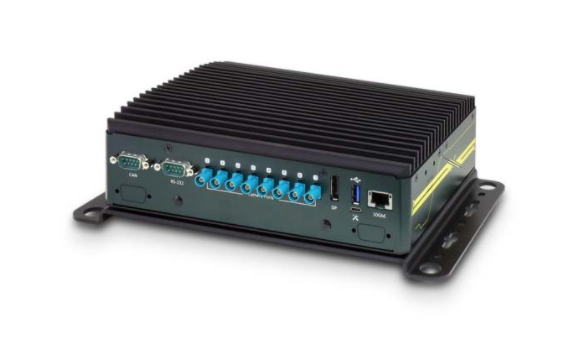 NVIDIA Jetson AGX Xavier Edge AI Platform Supporting 8x GMSL Automotive Cameras and 10G Ethernet
Powered by NVIDIA Jetson AGX Xavier SOM bundled with JetPack 4.4
Support 8x GMSL automotive cameras via FAKRA Z connectors
1x 10GBASE-T 10G Ethernet port
1x M.2 2280 M key socket for NVMe SSD
1x mini PCIe socket for WiFi/ 4G module
1x isolated CAN bus port and 1x RS232 port with flow control
1x GPS PPS input, 3-CH isolated DI and 4-CH isolated DO
8V to 35V wide-range DC input with built-in ignition power control
"NRU-110V consolidates outdoor AI applications by bridging low-latency HDR automotive camera to powerful GPU x86 computers with industrial-grade features. It is a turnkey solution that features on-board GMSL deserializers to pre-installed board support package (BSP) with drivers for selected cameras. It is suitable for AI-based vision applications requiring continuous interaction with surroundings in dynamic lighting conditions. For example, autonomous driving, mobile robots, precision agriculture, intelligent V2X, to teleoperation," said Andy Whitehouse Head of Marketing at Assured Systems. With the integration of GMSL camera support, GPU deep learning, excellent transcoding capability through the NVIDIA Jetson Xavier module, the Neousys NRU-110V is an innovative platform designed for modern edge AI applications.
The Cores of NRU-110V
Power Efficient Edge AI Platform

Powered by NVIDIA Jetson Xavier
Offers 11 TFLOPS FP16 or 22 TOPS INT8
GPU workstation computing capability under 30W of power

Agile Image Processing

Support of GMSL cameras
Auto adjust in light or overcast conditions for clear images
Minimum image transfer latencies

10Gb Ethernet Connection

Support high data volume throughput
Ideal for remote sensing and planning

Patented Thermal & Damping Design

-25°C to 70°C wide temperature operation
Patented dampening bracket to operate in shock and vibration environments