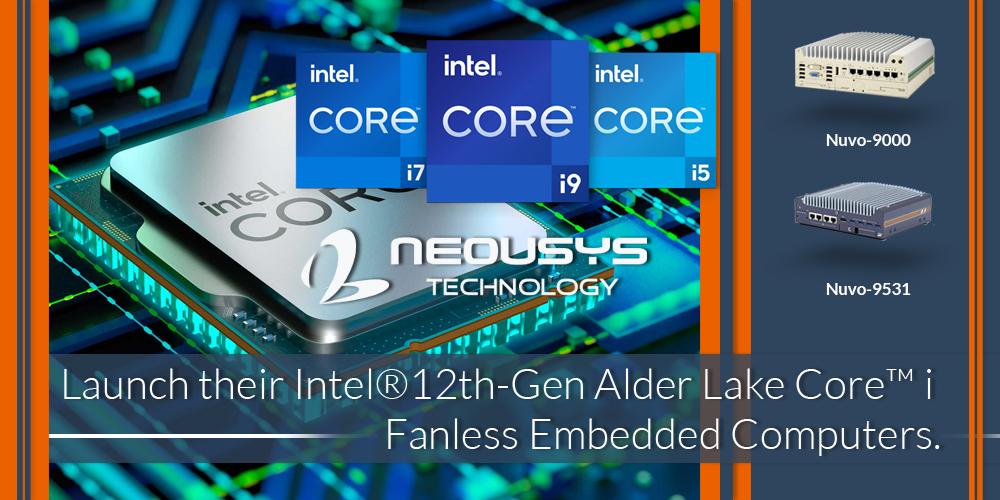 Neousys Technology, an industry-leading provider of rugged embedded systems, have announced their latest fanless embedded computers, the Nuvo-9000 series and Nuvo-9531 series. Powered by Intel 12th-Gen Alder Lake Core i processor, they support up to 64GB of DDR5-4800 memory, flexible expansion, wide temperature operations, rich I/O ports, and are ideal embedded solutions for automation, vision inspection, and industrial edge computing applications.
Benefited by the 16-core/ 24 thread configuration of Intel 12th generation Core I processor, Nuvo-9000 and Nuvo-9531 series present an incredible boost of performance when compared to the previous-generation platform. With the Intel 12th generation processors, they support the new DDR5 memory standard for more memory bandwidth to handle additional workloads.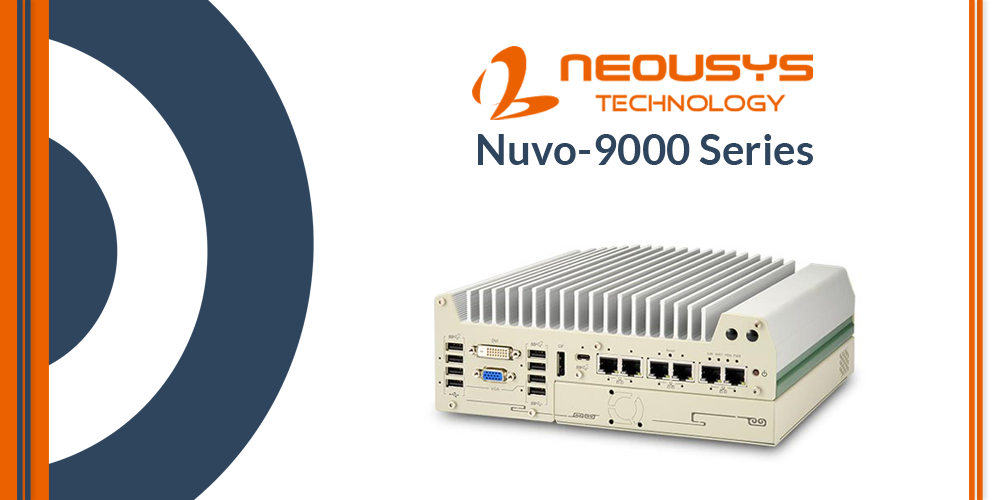 Nuvo-9000 Series Overview
Nuvo-9000 series is Neousys' new rugged embedded computer based on Intel 12th-Gen Alder Lake platform. Benefiting from cutting-edge Intel 7 photolithography, the latest Core desktop processor comes with up to 16 cores and 24 threads and presents an incredible boost of computational performance. Combining the increase of DDR5 memory bandwidth and PCIe Gen4 NVMe high-speed disk read/write, users can expect an overall system performance improvement of up to 1.8x when compared to previous 10th or 11th-Gen platforms.
In addition, Nuvo-9000 series also features rich I/O ports, wide-range DC input and wide-range operating temperatures from -25℃ to 70℃.
Nuvo-9000 series inherits Neousys' patented expansion Cassette design to provide great versatility by allowing additional installation of PCIe or PCI add-on cards. There are three expansion Cassette options available for Nuvo-9000 series, the Nuvo-9000E features a single x16 Gen3 PCIe slot; Nuvo-9000DE has dual x16 PCIe slots, and Nuvo-9000P has a single PCI slot. For users who need more flexible storage, Nuvo-9000LP has a 2.5″ HDD tray instead of an expansion Cassette to support a hotswappable 2.5″ HDD/SSD.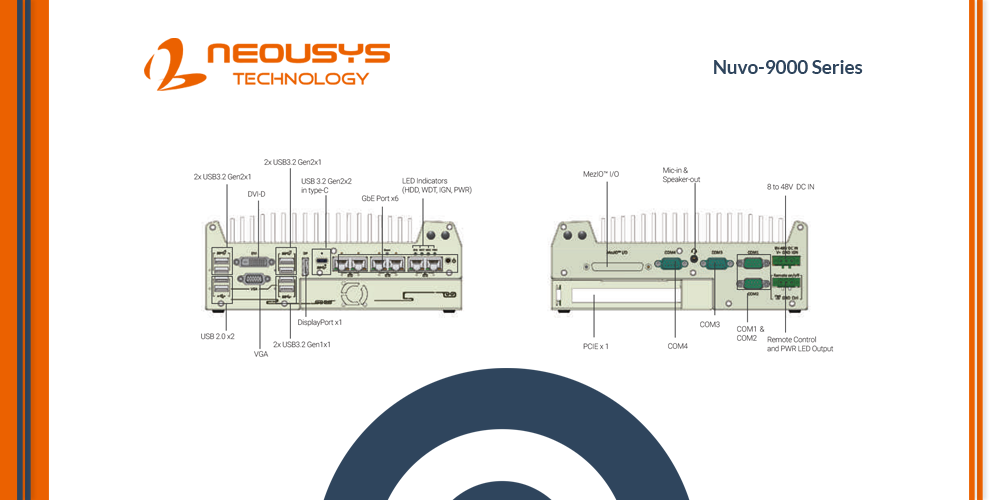 I/O functions are also comprehensively enhanced. In addition to six gigabit Ethernet ports with PoE+ PSE option, Nuvo-9000 series features a USB 3.2 Gen2x2 type-C port offering 20 Gbps bandwidth for data exchange with external devices, plus another six USB 3.2 Gen2x1 type-A ports for USB3 camera connectivity. It also has an upgraded M.2 Gen4x4 slot to support the latest NVMe SSD to boost disk read/write speed up to 7000 MB/s. For unfulfilled I/O requirements, users can utilize the expansion Cassette to add on function-specific PCIe/ PCI card, the proprietary MezIO interface, and internal mini-PCIe/M.2 interfaces.
With its field-proven thermal design, significant CPU and I/O upgrades, and multiple expansion methods, the Neousys Nuvo-9000 series fits your need for ruggedness, performance, and versatility for a variety of applications.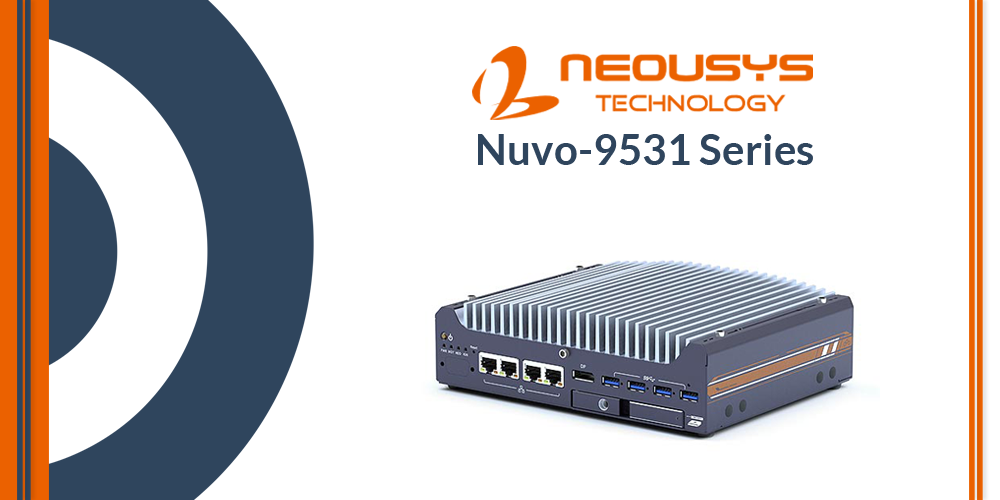 Nuvo-9531 Overview
Nuvo-9531 is one of the most compact fanless embedded computers based on the Intel 12th -Gen Alder Lake platform. Measuring just 212 x 165 x 63 mm, it can fit into restricted spaces, such as in robotic arm and AMR applications. Despite its compact size, Nuvo-9531 does not compromise on performance. Built on Intel's 7nm process, Intel 12th Gen processors have up to 16 cores/ 24 threads to deliver up to 1.8x the performance when compared to previous Intel 10th or 11th Gen platforms. Nuvo-9531 is a compact fanless embedded computer that can provide the ultimate computing for various industrial applications.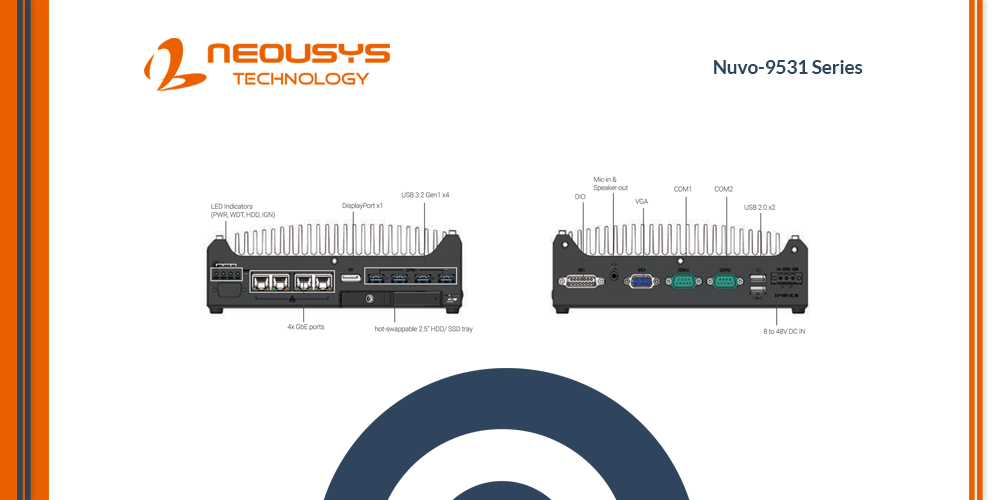 Nuvo-9531 has rich I/O functions. It features four GbE and four USB3.2 Gen 1 ports for multiple camera connectivity. In addition, it features a Gen4 x4 M.2 NVMe slot for the latest NVMe SSDs that support read/ write speeds up to 7000 MB/s. It also has another hot-swappable HDD tray to hot-swap the storage drive without turning off the system or dismantling the chassis. There are two mPCIe and one M.2 E key slots to install WiFi or 5G/ 4G for wireless communication needs. In addition, Nuvo-9531 is also equipped with 8x DIO, 2x COM ports, and dual display outputs for your application needs.
As a compact embedded computer, Nuvo-9531 delivers excellent computing performance and offers an abundance of I/O connections. It is suitable for a variety of industrial applications, especially when installation space is limited. Nuvo-9531 is the ideal compact fanless computer for the industrial market.