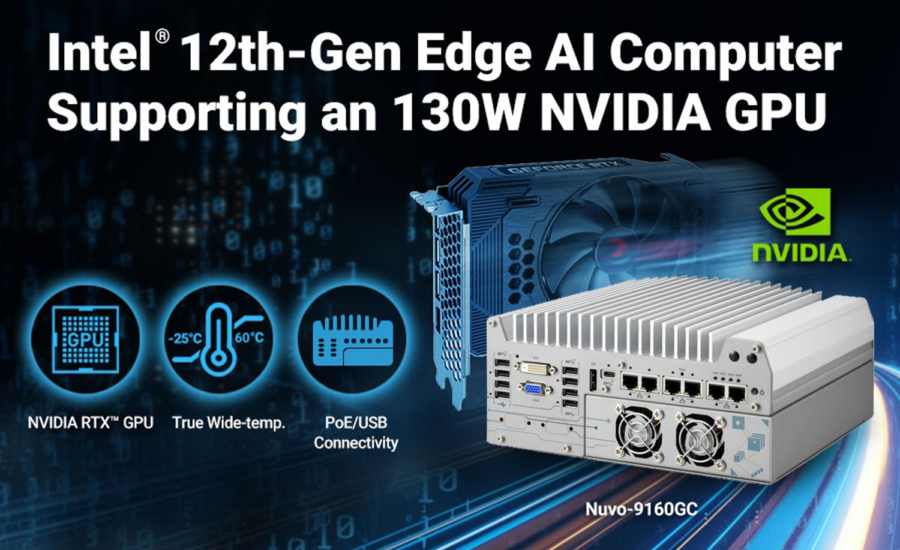 Neousys has recently released a market-leading Intel 12th-Gen Edge AI Platform Supporting an 130W NVIDIA RTX GPU.
Neousys Technology, an industry-leading provider of rugged embedded systems, has announced its Nuvo-9160GC, a wide-temperature edge AI platform with superior CPU and GPU performance, by leveraging Intel's 12th-Gen platform and an 130W NVIDIA RTX GPU card.
Neousys remains ahead of the pack as one of the pioneers to release a rugged Intel 12th-Gen Core industrial computer with support for a GPU card. Featuring true wide-temperature operation, rich camera connectivity and flexible expansion, the Nuvo-9160GC is ideal for robotic guidance, autonomous mobile robot (AMR), intelligent video analytics or teleoperation in forestry and construction industries.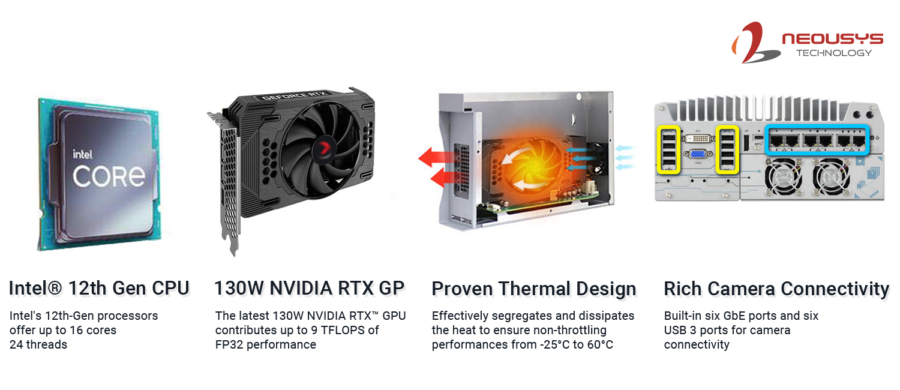 Benefiting from the cutting-edge Intel 7 photolithography, Intel's 12th-Gen processors can offer up to 16 cores/ 24 threads with 1.8x the performance improvement compared to previous Intel 11th/10th-Gen platforms, and the latest 130W NVIDIA RTX GPU contributes up to 9 TFLOPS of FP32 performance to fuel real-time AI inference analytics applications for multiple cameras.
These two aspects are part of Nuvo-9160GC's vital integral components in providing industrial automation with AI inference computation performances.
Nuvo-9160GC inherits a tested and proven thermal design to guarantee reliable system operation from -25°C to 60°C. The passive-cooling design coupled with an in-house designed motherboard circuit, strategically disperses heat-generating components and a patented Cassette module to segregate and ventilate the 130W NVIDIA RTX GPU card.
The system has six onboard GbE ports and six USB 3 ports. With the patented MezIO expansion, the Nuvo-9160GC can support up to ten GigE or USB 3 cameras in a compact architecture, which makes it ideal for consolidating and miniaturising multiple camera vision-based platforms.
There are also expansion slots for wireless internet modules such as WiFi or 4G LTE / 5G NR and flexible data storage options which include an M.2 2280 Gen4x4 slot for NVMe with up to 7000 MB/s high speed read/ write and two 2.5″ SATA HDD/SSD for storage capacity.
"We believe an integration of the latest Intel CPU and NVIDIA RTX GPU card is the key to providing a balanced and optimized CPU/ GPU performance for rule-based computer vision and AI inspection. With an advanced industrial-grade thermal and power design, performance enhancements and comprehensive I/Os, the Nuvo-9160GC is the perfect industrial edge AI inference platform for autonomous factory, logistic and machines," said Kaichu Wu, Product Manager at Neousys Technology.