The incredible thing about the IoT is that the opportunities are just as pivotal and widespread for SMEs as for the global powerhouses- but in any stretch of the imagination it is the global powerhouses of whom are pioneering the technology, but who are they, how much are they investing and what are they actually investing in?
India Smart Cities Project is the colossus, the Indian government has announced a $2trillion package for its own IoT strategy to interconnect 100 cities across the country. Overkill? India has the fastest growing economy in the world outpacing China consistently in the last two quarters, no one is investing more in the IoT, India are setting the benchmark for their future developments with first phase completion expected in 2023.
Global force IBM have invested $3billion to connect to the IoT which will be established between 2015 and 2019, as they look to produce a new unit for clients and partners to build IoT solutions having already contributed to the Smarter Planet and Smarter Cities program ranging from water management, retail optimization and customer loyalty, to alleviating congestions combining and analyzing data from various sources.

Google are also heavy endorsers as you'd expect, after investing $3.7million in various acquisitions including that of their entry into the smart home market where Apple, Samsung and even Facebook are hedging their bets. Although this has nothing on its $12.5billion spend on Motorola Mobility to further bolster its IoT infantry in what was Google's biggest ever single spend!
GE are also going through rounds of investments with their controversial takeover of Alstom's power business- ALSO.PA- GE's investment in the internet of things or industrial internet of things comprises of a $2.5billion move to decipher its technological future, its focused industries are Power, Water, Oil and Gas, Energy Management, Aviation, Healthcare and Transportation have been the clear reason with GE realizing the broader trend and benefits of becoming IIoT ready across all of their divisions. The company says turning industrial machinery into smart industrial machines has become extremely cost effective and permitted business agility at all levels, no wonder- having worked with IBM and HP to produce sensors for almost every application.
The world leader in mobile chip making, Qualcomm has expanded its 3G, 4G and next generation of wireless technologies with the purchase of Cambridge Silicon Radio. CSR were pioneers in Bluetooth technology for machine-to-machine communication with a consequential impact on the automotive and the highly anticipated wearable market. Qualcomms focus is more the rapid growth of the Internet of Things with other purchases including Wilocity and AllJoyn in recent years.
EE is pioneering the movement in the UK with a $2.2billion investment in their 4G footprint by 2017 it is a part of their "Signalling the Future" manifesto to adapt the UKs infrastructure into a new reality of a 24/7 connected society across the country. They have faced considerable criticism for their lack of coverage in certain areas though through this strategy are aiming for world leading 90% voice and data services to the UK and 99.6% reliability. They are also considering the adoption of 5G speeds within the next decade laying the foundations for the UK to become a global leader in not just communications but its IoT infrastructure as a whole.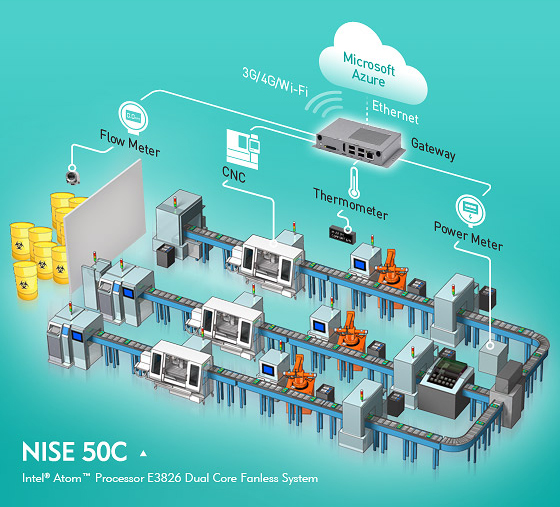 Of course the aforementioned projects are on a world leading scale, but it does highlight the potential prosperity that the IoT promotes, integration is quite simple with either an interchange or integration of a gateway device, Nexcom's NISE 50C is a brand new embedded computer that does just that, it has numerous versatile functions that enable you to have real-time control over your network of devices and/or sensors, whilst you then have the option of controlling all from the business manager tool in Microsoft's Azure IoT suite. Machine-to-machine communication and seamless cloud integration gives you the choice in how to control and monitor your devices, whether it be for asset management, predictive maintenance or cloud-based monitoring.
The NISE 50C makes it exceptionally easy to step up to the IoT and begin to realise the huge array of accompanying benefits and what it could do for you, an onboard dual-core Intel Atom E3826 provides the power whilst 4 latest generation 2.0 USB ports give super-fast connectivity along with 3 x RS232 and 1 HDMI port. The Microsoft Azure certified IoT computer is has a compact, solid state design using heat dissipation technology for maximal strength and endurance giving you an industrial IoT solution that cannot only get you and your devices connected but it can also withstand the toughest of environments, allowing you to govern devices, manage, store and transmit data and harness data that you could not before all with the option of Microsoft Azure's preconfigured solutions for analysis, visualization and ultimately superior control, the desire to get connected is greater than ever, and there is no better time than the present.
About Assured Systems
Assured Systems is a leading technology company offering high quality and innovative applied computing solutions to the embedded, industrial, and digital-out-of-home markets across the world. Headquartered in Stone, England and with offices in North America, our reach is truly global. Our impressive product portfolio includes a full range of Fanless Embedded Computer Systems, Digital Signage & Multimedia Computer Systems, Touchscreen Panel PCs, Human Machine Interfaces, Vehicle Mount Computers, Rackmount Computer Systems, Single Board Computers, Rugged Laptops & Tablets.