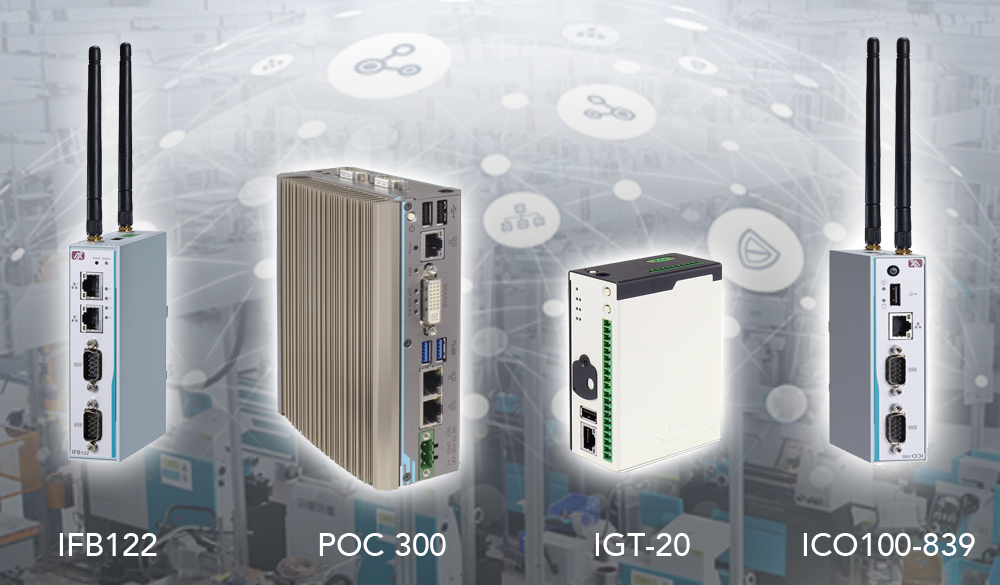 IoT (Internet of Things) Gateway Systems
Assured Systems present a range of IoT gateways, offering fit-to-purpose solutions which provide interoperability and manageability within established networks. These IoT systems offer remote control of 'things' within an existing network to reduce human intervention and improve efficiency which can result in increased accuracy and overall economic benefit for automation, intelligent machines, M2M, factory, gateway or data acquisition applications.
RISC Based IoT Systems
The IGT 20 from Neousys and the IFB122 from Axiomtek are both RISC based industrial grade IoT, IIoT automation gateways. The IGT 20 is based on the ARM AM3352 processor from the TI Sitara AM335x family, pre-installed with Debian Linux, whilst the IFB122 is powered by the Freescale i.MX 6UL-2 CPU with ARM Cortex A7 micro architecture. Both systems have a wide voltage input range and can withstand vibration to 5G making these units perfect for IoT applications in factory environments.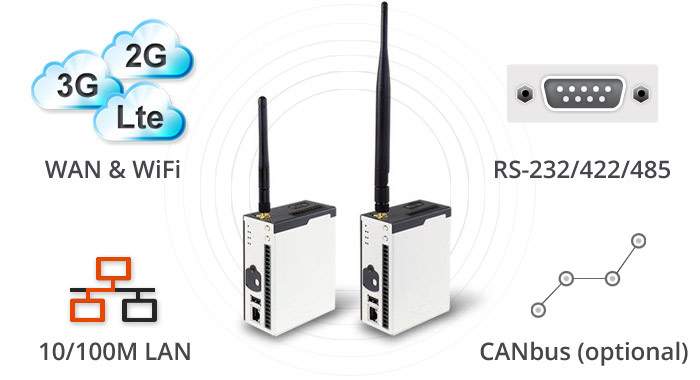 The IGT-20 is equipped to send and receive data from other gateway devices with 1x USB 2.0, 1x GB LAN, 2x configurable RS-232/422/485 and 1x CAN Bus port. Additionally the unit has 4x DI to receive signals from buttons and proximity sensors and 4x DO to control actuators and indicators. I/O on the IFB122 consists of 2x COM, 2x LAN, 1x DIO and 1x USB 2.0. Both Units have a mini PCIe slot and USIM holder for 3G, 4G or WiFi (with optional additional mini PCIe module). The IGT-20 has 1x antenna hole with SMA connector to connect the wireless module to the chassis whilst the IFB122 has 2. The IGT-20 however has 2x programmable buttons with 6x LED lights for system monitoring and management without the need for a keyboard or mouse. Being RISC based, both these machines are cost effective, run on low power and have really robust vibration tolerances which make them very durable and reliable in critical factory conditions.
ICO100-839
The ICO100-839 is the Axiomtek sibling to the IFB122. Again, it's a super compact DIN rail embedded system but is powered by the Intel Atom x5-E3930 processor (codename Apollo Lake). The system supports 1x DDR3L SO-DIMM slot with up to 8GB of memory whilst connectivity is via 2x COM ports, 2x USB 2.0. 1x GB LAN, 1x VGA and 1x DIO. The unit features 2x PCI Express Mini Card slots, one for mSATA storage and the other enabling 3G/GPRS/Wi-Fi connections. The speed of the x5-E3930 processor has led to impressive feedback from the field for this DIN-rail system, which provides great performance for the price.
POC-300 Series
The POC-300 Series is a family of 4 ultra-compact fanless embedded computers which can be applied to challenging IoT applications where a powerful processor and multiple I/O connections are needed which may include display monitors. Reliable in harsh environments with wide operating temperature and wide power input options, the POC 300 Series makes for a confident choice in various industrial applications.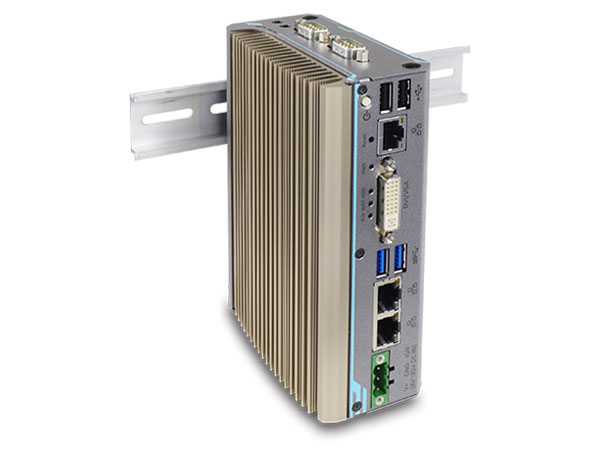 The POC-320 & POC-330 are powered by the latest Intel Pentium N4200 CPU and the POC-300 & POC-310 use the Atom x7-E3950. Both processors are Quad Core offering increased performance figures when benchmarked against the previous Atom E3845 CPU. All the I/O is accessed from the front which is useful for when the system needs to be DIN rail mounted. Main features include 1x GbE port and 2x PoE+ ports, DVI and VGA dual display outputs, 2x USB 3.0, 2x USB 2.0, 1x mini PCIe expansion and 1 x MezIOTM expansion interface for Neousys MezIOTM modules.
Superior Technical Advice
These easily configured systems offer seamless integration of field devices, database, web and cloud services. Crucially these units offer extensive connectivity and communication options that are a pivotal part of the IoT gateway. If have a project that would benefit from IoT technology integration, visit our Internet of Things section here or speak to us and we'll offer technical advice on the best gateway choices for you.
About Assured Systems
Assured Systems is a leading technology company offering high quality and innovative applied computing solutions to the embedded, industrial, and digital-out-of-home markets across the world. Headquartered in Stone, England and with offices in North America, our reach is truly global. Our impressive product portfolio includes a full range of Fanless Embedded Computer Systems, Digital Signage & Multimedia Computer Systems, Touchscreen Panel PCs, Human Machine Interfaces, Vehicle Mount Computers, Rackmount Computer Systems, Single Board Computers, Rugged Laptops & Tablets.