Intel have moved the goalposts again with the introduction of their 6th generation Core processors, code named Skylake. The new architecture and design delivers superior performance and offers support for DDR4 RAM technology allowing systems to have up to 64GB of memory alongside higher transfer speeds at lower power when compared to DDR3 (DDR4 is 2133 MT/s at 1.2V where as DDR3 is 1600MT/s at 1.5V). The i5 and i7 Skylake platforms also feature Intel Turbo Boost 2.0 Technology which gives the systems extra performance when processing multiple tasks. To further strengthen performance, Hyper-Threading Technology 2.0 allows each processor core to work on two tasks at the same time which speeds up workflow, and with the i7 variant the system can have up to 8 simultanious threads.
Arguably, the graphics performance is the biggest leap forward for the new Skylake processors – partly down to the use of DDR4 memory controller which offers a significant jump in speed. Both the i5 and i7 CPUs feature the new Intel HD 500 series graphics processor which when we look at the benchmark numbers (988) offer the performance of a good level graphics card and a performance jump of approximately 30% over the previous Intel GPU. Stunning visuals come to life in Ultra HD 4K and systems can run up to three independent displays at 4096×2304 resolutions. The i5-6600K and i7-6700K incorporate suppport for HEVC, VP8, VP9 and native support for the new DirectX 12 API so you can take advantage of a better graphics experience for high-end applications.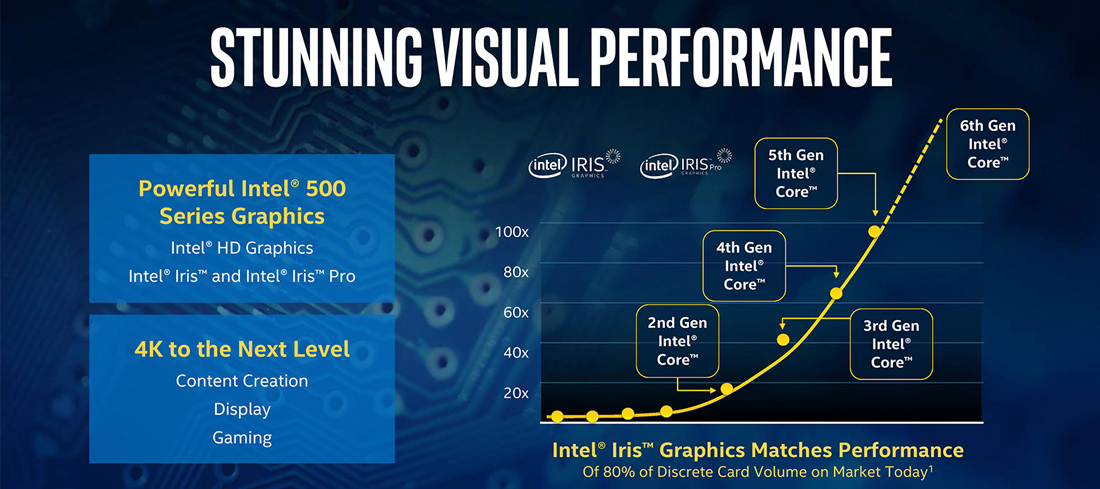 Main Feature of Skylane Processor Series
Dramatic Increase in Media & GraphicsIntel HD Graphics 530 can easily deliver an amazing visual experience in resolutions all the way up to Ultra HD 4K, so you can make the most of 4K displays. The Skylake Intel Core processors also has support for the latest graphics APIs such as DirectX 12, this means that you will be able to run mainstream games and apps up to 2x better graphics than previous generation processors. Intel's on-board graphics processor is up to 28% faster than previous generation GPUs.
Intel Turbo Boost Technology 2.0 This dynamically increases the processor's frequency, as needed, by taking advantage of thermal and power headroom when operating below specified limits.
Intel Clear Video HD TechnologyVisual quality and colour fidelity enhancements for HD playback and immersive web browsing.
Intel Virtualisation TechnologyOffers improved manageability by limiting downtime and maintaining productivity by isolating computing activities into separate partitions.
Integrated Memory ControllerDDR4 Memory offers stunning read/write performance through efficient prefetching algorithms, lower latency, and higher memory bandwidth.
Intel Power Optimizerincreases periods of silicon sleep state across the platform ingredients, including the CPU, chipset, and third-party system components, to reduce power.
Responsive PerformanceNew architecture and design in the Skylake Intel Core processors brings support for DDR4 RAM memory technology in mainstream platforms, allowing systems to have up to 64GB of memory and higher transfer speeds at lower power when compared to DDR3 (DDR4 speed 2133 MT/s at 1.2V vs DDR3 speed 1600 MT/s at 1.5V)
Stunning VisualsVideos come to life in Ultra HD 4K, so users can enjoy amazing and vibrant multimedia experiences on Ultra HD and 4K display (up to 4096×2304 resolution). To deliver this experience, Intel Core i7, i5 and i3 processors incorporate support for HEVC, VP8 and VP9. The Intel Quick Sync Video technology accelerates most video capabilities, allowing users to create and share in real-time and multi-task without interruption. With native support for the new DirectX 12 API, The Skylake Intel Core processors processor provides a better experience for gaming and graphics that take advantage of DirectX 12
Increased Security6th Gen Skylake Intel Core processors offer hardware-level security features such as Intel Software Guard Extensions (Intel SGX) that help protect your system and your data, Intel Memory Protection Extensions that help protect an application's run-time integrity and Intel Device Protection Technology to help protect your system during boot.
There are both desktop and mobile variants available, the SKU details are listed below: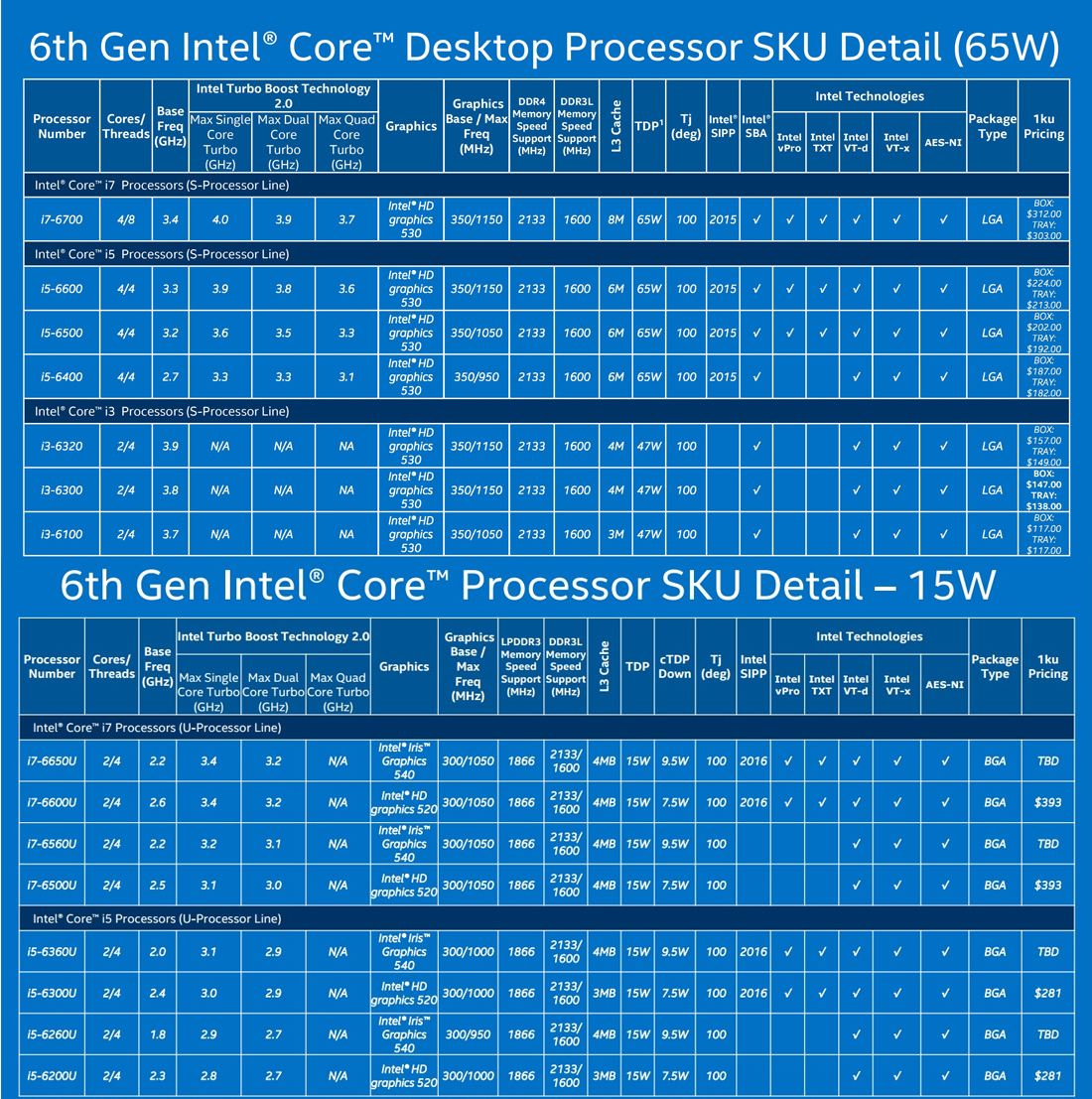 Assured Systems has a number of systems which are based around this new technology including fanless embedded systems, single board computers and panel computers. Click the link here for Skylake Products, however, please note we are constantly updating our product range so please call our sales team if you cannot find what you are looking for.

About Assured Systems
Assured Systems is a leading technology company offering high quality and innovative applied computing solutions to the embedded, industrial, and digital-out-of-home markets across the world. Headquartered in Stone, England and with offices in North America, our reach is truly global. Our impressive product portfolio includes a full range of Fanless Embedded Computer Systems, Digital Signage & Multimedia Computer Systems, Touchscreen Panel PCs, Human Machine Interfaces, Vehicle Mount Computers, Rackmount Computer Systems, Single Board Computers, Rugged Laptops & Tablets. Please call the numbers listed above or visit our website at www.assured-systems.com for more information.