In this article:
Intelligent Video Analytic Solution with NVIDIA Jetson AGX Xavier CPU
Neousys have introduced the new NRU-120S. An efficient compact fanless edge AI interference platform powered by NVIDIA Jetson AGX Xavier.
As a result of the continuous advancement of AI, the demand for image computing has elevated which has lead to the development of edge computing for roadside applications. In response, Neousys has entered the market with the NRU-120S. An efficient compact fanless edge AI interference platform featuring NVIDIA Jetson AGX Xavier that can distribute performances equivalent to a 120W GPU in under 30W.
NRU-120S processing powers consist of video recording and transcoding to real-time interference at the edge. Perfectly meeting the needs of intelligent video analytics, autonomous robots, industrial inspections, vehicle-to-infrastructure, embedded IoT edge applications, etc.
NRU-120S Key Features: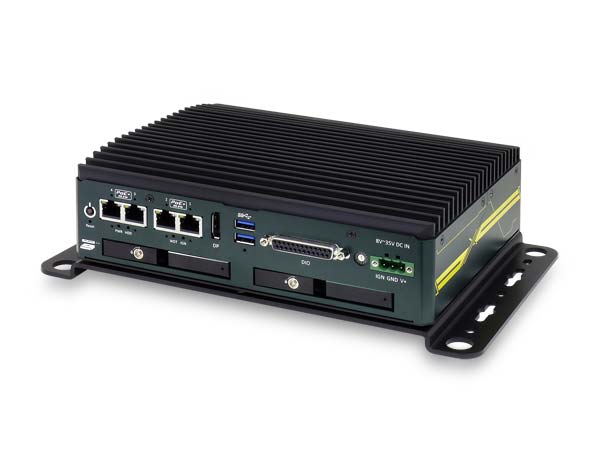 Powered by NVIDIA Jetson AGX Xavier SOM bundled with JetPack 4.4
4x IEEE 802.3at Gigabit PoE+ ports with screw lock
2x front-accessible, hot-swappable 2.5" HDD trays
1x M.2 2280 M Key socket for NVMe SSD
1x mini PCIe socket for WiFi/4G module
1x isolated CAN bus port and 1x RS232 port with flow control
1x GPS PPS input, 3-CH isolated DI and 4-CH isolated DO
8V to 35V wide-range DC input with built-in ignition power control
Robust and Reliable

With an exclusive mechanical and efficient thermal design, the NRU-120S can operate under 100% CPU/GPU load in extreme conditions. Moreover, it accepts 8-35V wide-range voltage input and comes with a damping kit, screw-lockable PoE+ ports; making it reliably suited for harsh outdoor environments or in a moving vehicle.

Rich Input/Output

NRU-120S offers 4x PoE+ ports and 3x USB ports for IP, industrial and USB cameras; two hot-swappable 2.5" storage trays for ease of accessibility at the edge and it also features various in-vehicle functions such as ignition control, CAN bus and one mini-PCIe socket for WiFi/ 4G module. Furthermore, there are 4 Digital Inputs and 4 Digital Outputs for communication with external devices, making NRU-120S perfect for mobile or in-vehicle deployments.

Compact & Power Efficient

NRU-120S measures at only 230mm(w) x 173mm (d) x 66mm (h), it is ultra-compact and consumes under 30w to deliver performances equivalent a 120W GPU, making it ideal for solutions that are space and power-constrained but require performance. Solutions such as roadside units for intelligent surveillance, V2I (vehicle to infrastructure) and field robots such as agricultural robots/ cleaning robots/ last-mile delivery robots, etc.

30W Fanless Edge AI Powers

The NVIDIA Jetson AGX Xavier features an 8-core ARM CPU, NVIDIA Volta GPU with 512 CUDA cores and 64 Tensor cores to offer 11 TFLOPS FP16 or 22 TOPS INT8 of computing power in under 30W. With a wide range of cost-effective NVIDIA AI tools and deep learning frameworks, NRU-120S pushes real-time image and video inference to the edge.