In this article:
Intel OPS Media Players
Assured Systems supply a wide range of Intel OPS media players and displays. This article provides a concise overview of the Intel OPS specification.
As the push to integrate intelligent systems intensifies, OPS (Open Pluggable Specification) signage platforms are paving the way to the advancement and evolution of the commercial and retail markets. In 2010 Intel released the Open Pluggable Specification in order to define a modular, integrated hardware architecture to forge a link between a digital signage player and the accompanying displays for a compact, cost-efficient and intelligent signage solution. Assured Systems is THE place to buy Intel OPS media players with a hand-picked selection from globally leading manufacturers and in-house system integration to provide you with a ready-to-go installation.
Intel OPS Compliance Explained
Intel developed the OPS standard six years ago upon acknowledging a fledgling but fragmented market with no industry standard flat level player but instead a range of signage players from manufacturers with their own proprietary solution. Standalone solutions would of course work well with a standalone digital signage player the growing demand was for integrated solutions and allows system integrators like ourselves to offer total solutions rather than seperate displays and media players. The Intel OPS has also improved efficiency in terms of system deployment, usage, maintenance and infrastructure upgrades.
A key issue that OPS slot computers have countered is that users were forking out substantial amounts to upgrade and replace systems as they had to modify the display itself to fit the new module. By engaging with their ecosystem partners such as Microsoft and Taiwan DS SIG the OPS was born. OPS slot computers are specially designed to consider future developments in signage such as slim line displays and the diversity of sizes of signage displays that have risen on to the market such as the stunning stretched monitors. OPS modules are constructed as lean and highly effective computers with adequate and considerate heat dissipation but due to their small form and OPS players have been a critical success that in truth has allowed the signage industry to succeed in the manner it is.
On top of all the conveniences for signage applications, OPS is a standard that has been adopted by many of Intel's partners and so many OPS manufacturers such as our own partners Axiomtek and Nexcom are able to produce versatile OPS slot computers that are compatible for instance with Smartboards such as Activpanel, Promethean and other interactive whiteboards of which we have various compatible slot computers available.
It is important to note that Intel OPS is a standard that defines the interoperability and integration ability between a media player and display, there are numerous manufacturers that comply with the OPS standard and hence produce OPS modules.
The OPS standard is a pluggable module utilizing an 80 pin JAE TX24A/TX25A series connector. This enables the OPS standard a completely versatile standard to guarantee easy integration into any compliant display, the JAE connector also assists the pluggable module in its industrial applications with the single connector providing I/O connectivity as well as its power that is received from the display.
Nexcom OPS Modules- Slot Computers
We have an expansive range of OPS signage players including new OPS media players such as the NDiS M533 from Nexcom. With a 4th generation Intel Core it is of course OPS compliant whilst offering comprehensive processing power. The NDiS M533 also has up-to 16GB of onboard memory as well as integrated Intel HD Graphics and is ideal for high-quality content to really catch your audience's attention.
Similarly the NDiS M335 also from Nexcom is an OPS compliant player based upon the Intel Celeron N3150 and is designed to render rich multimedia content via its Intel HD Graphics Engine supporting 4K and Microsoft DirectX 11.1, as well as 3D rendering image processing and video decoding for targeted, accurate delivery of marketing messages.
Axiomtek OPS Modules/ Slot Computers
The OPS500-501-H from Axiomtek is an OPS compliant digital signage player based around the 6th Generation Intel Core processors as well as the profound Intel HD530 GPU enabling the presentation of rich content up to 4K at 60Hz. There are various I/O capabilities on the OPS500-501-H as well as optional WiFi connectivity via the mini-PCIe slot, to see the full specification click here.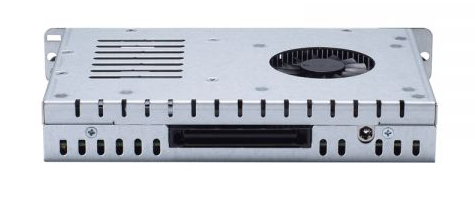 OPS: Intelligent Systems
The Intel OPS specification does however stretch further than the many benefits already discussed, advertisers can benefit from the anonymous detecting sensors for gender, age and impression time by using the Intel Audience Impression Metric (AIM) Suite anonymous viewer analytics software. The data can then be sent back to a server or the cloud for further analysis such as crosschecking sales data. The AIM application can also enable an intelligent screen with displayed content reflecting the viewers demographic for smarter and more effective signage. The OPS players also have the ability to integrate touchscreen or gesture technologies for interactive advertising.

OPS Module: Promethean/ActivPanel/Smartboard Compatible
Our OPS module range includes slot computers ideal for interactive whiteboards such as Promethean OPS, ActivPanel OPS and Smartboard OPS computers. Players such as the OPS883 and OPS880 are ideal for interactive whiteboard applications! As a system integrator we can provide OPS slot computers at an effective and efficient price point to provide you with a complete and suitable solution.
It is therefore evidently apparent that the OPS standard has been a success and adopted world wide, which is no small feat especially when you consider the OPS standard is beginning to encroach in other areas such as education and so what was originally a standardization effort by the industry that has become fully integrated itself.
About Assured Systems
Assured Systems is a leading technology company offering high quality and innovative applied computing solutions to the embedded, industrial, and digital-out-of-home markets across the world. Headquartered in Stone, England and with offices in North America, our reach is truly global. Our impressive product portfolio includes a full range of Fanless Embedded Computer Systems, Digital Signage & Multimedia Computer Systems, Touchscreen Panel PCs, Human Machine Interfaces, Vehicle Mount Computers, Rackmount Computer Systems, Single Board Computers, Rugged Laptops & Tablets.