In this article:
Industrial SSD 3D NAND Technology: SLC, MLC, TLC
Transcend are a leading manufacturer of industrial-grade SSDs and have recently introduced 2.5-inch and M.2 form factor industrial solid-state drives featuring 3D TLC NAND flash memory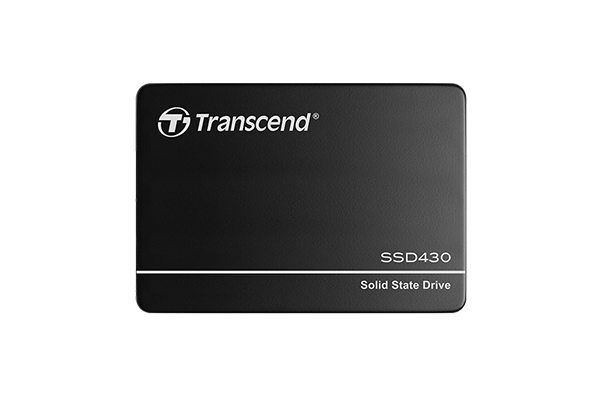 Industrial SSDs are the best choice for your embedded computer as an upgrade or add-on because of their remarkable performance. They are many times faster than traditional HDDs and produce much less noise. For particular applications, for example where in-vehicle computers are required, SSDs are an especially good choice due to their high shock-resistance and low energy consumption. Upgrading to an SSD from a traditional HDD, or installing a backup SSD in an embedded computer or ruggedized tablet, can contribute to faster load and access times.
| | | |
| --- | --- | --- |
| | | |
| Shock Resistant | Super Fast | Energy Efficient |
Technology Inside a Solid State Drive
An SSD is composed of three main components; the controller, DRAM memory, and NAND flash.
| | | |
| --- | --- | --- |
| | | |
| SSD Controller | SSD DRAM | SSD NAND Flash |
The controller serves as the main connector between the NAND flash and your computer. NAND flash chips are blocks of non-volatile memory where data is stored. Unlike NAND flash, DRAM is volatile memory that must be powered on to hold data. However, DRAM is not a mandatory component of every SSD. Certain SSDs are sold without DRAM, making them suitable for customers on a tight budget.
What is NAND Flash Memory?
NAND Flash Memory is a newer and better storage media when comparing with traditional HDD. It is adapted with the non-volatile memory which can still save data even power off.NAND flash memory is built up of many cells that holds bits and those bits are either turned on or off through an electric charge. The organization of the cells represents how the data stored on the SSD. The number of bits in those cells also determine the naming of the flash, for example Single Level Cell (SLC) flash contains a single bit in each cell.Because the circuit board of the SSD has to fulfill the industrial standard, MLC doubles the amount of bits per cell whereas TLC triples the amounts of bits per cell. Increasing the amount of bits per cell allows for greater storage capacity. With manufactures trying to minimize the production cost of storage whilst increasing the capacity at the same time we have distinguished the difference between SLC, MLC and TLC flash memory.
Single Level Cell – SLC SSDs
Single level cell, also called SLC, has the advantage of being the most accurate when reading or writing data. SLC SSDs also have the longest life span over any other type of flash memory. The read/write life cycle of SLC SSDs is expected to be between 90,000 and 100,000. This type of flash memory has done exceptionally well in the embedded market because of it's life span, accuracy and overall performance.
Multi Level Cell – MLC SSDs
Multiple Level Cell, also called MLC, stores 2 bits of data on one cell. The advantage is to lower the cost of manufacturing. As we all know, the cost in flash memory production is generally passed onto conumer in the end. Using MLC flash memory will be preferred for its lower costs, however, the read/write life is about 10 thousand times per cell, which is still suitable for embedded applications.
Triple Level Cell – TLC SSDs
Triple Level Cell, also called TLC, stores 3 bits of data per cell and it is the cheapest form of flash to manufacture. The biggest disadvantage of TLC up until recently is that it has only suitable for consumer usage and not be able to meet the standards for industrial or embedded applications. The read and write life cycles of TLC SSDs are considerably shorter at 3,000 to 5,000 cycles per cell.
Summary of SLC, MLC & TLC Planar NAND Flash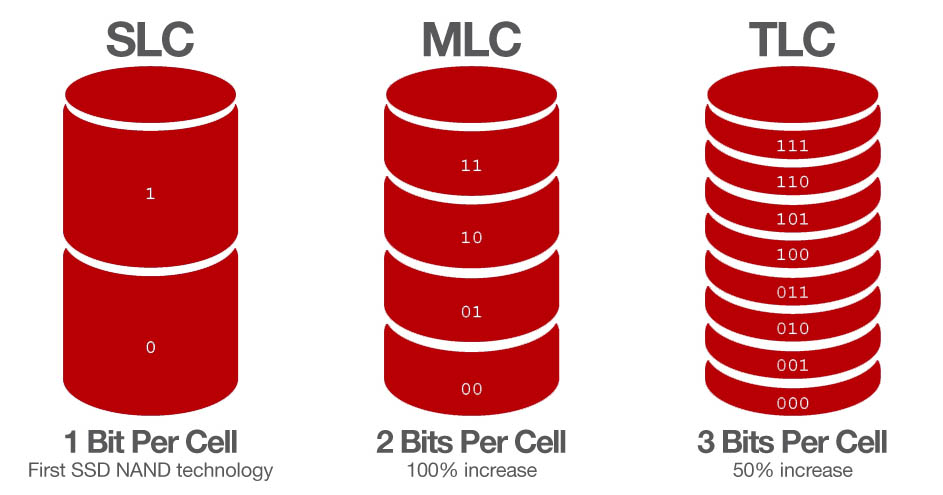 | | SLC | MLC | TLC |
| --- | --- | --- | --- |
| Bit per cell | 1 | 2 | 3 |
| Performance | ★★★ | ★★ | ★ |
| P/E Cycle | 50,000 | 3,000 | < 1,500 |
| Power Consumption | Low | Low | Average |
| Cost | $$$ | $$ | $ |
| Application | Embedded | Embedded & Consumer | Consumer |
Introducing 3D NAND flash
With 2D planar NAND flash approaching physical scaling limitations, 3D NAND flash is the latest technological breakthrough, and allows for far greater capacities and better performance. 3D TLC NAND flash memory has performance that can rival Planar (2D) MLC NAND flash, but at a very competitive price point. 3D NAND flash is currently offered in both TLC SSDs and MLC SSDs.
Faster Performance
Larger Capacity
Higher Endurance
Assured Systems Trust Transcend 3D TLC NAND SSDs for Embedded Applications
Transcend are a leading manufacturer of industrial-grade SSDs and have recently introduced 2.5-inch and M.2 form factor industrial solid-state drives featuring 3D TLC NAND flash memory. Built with high-quality 3D TLC NAND flash memory, theses SSDs break through physical limitations on Planar NAND by stacking layers of memory cells to allow for greater capacities and performance. Compared to Planar NAND, 3D NAND is faster, more reliable, and delivers greater performance. Transcends SSDs built with 3D NAND are price competitive, making them an excellent choice for embedded systems.
| | | |
| --- | --- | --- |
| | | |
| 2.5" 3D TLC | PCIe M.2 3D TLC | SATA III M.2 3D TLC |
Available in 2.5″, PCIe M.2, and SATA III M.2 format, Transcend's 3D TLC SSDs feature SLC caching to greatly enhance write performance and product longevity; a RAID engine to increase stability and protect data; and low-density parity check (LDPC) code to automatically correct errors. Their proprietary SSD Scope Pro software package is a user-friendly software suite that monitors device health, and helps embedded SSDs run more efficiently. Tools include View Drive Information, View S.M.A.R.T. Status, Diagnostic Scan, Secure Erase, Health Indicator, System Clone, and Firmware Update. Transcend's embedded SSDs are widely used in many industries and offer an unmatched track record of excellence in the demanding embedded application market. To ensure the utmost level of quality, Transcend SSDs undergo rigorous testing at all stages of production, including tests for vibration, temperature and humidity, speed, and functionality. All 3D TLC solid-state drives are covered by a three-year limited warranty.