The NISE 300 is a high performance fanless embedded server designed for industrial applications where multiple data interfaces are required. Based around the Intel® Core™ i5-4402E processor and featuring 6 x Mini-PCIe slots, the system offers a huge versaility whilst still maintaining a very compact footprint.
Combining the functions of data saver and communication gateway, the NISE 300 allows devices and equipment with different protocols to correspond with each other. The NISE 300 can also be used as a data acquisition server and supports a combination of mSATA, CFast, and SATA for data storage. Please click the link for the full specification:
NISE 300 – Fanless 4th Gen Intel Core i5 System with 6 x Mini-PCIe Slots
Rugged Fanless Design
On-board 4th generation Intel® Core™ i5-4420E CPU
Dual Intel Gigabit Ethernet ports
Supports 3 independent displays; either 1 x VGA, 1 x DVI-D, 1 x HDMI
2 x RS232/422/485 with auto flow control
On-board DC to DC power design to support 9V to 30V DC power input
Supports ATX power mode and PXE/WoL
2 x USB3.0; 2 x USB2.0
6 x Mini PCIe slot (1 x mSATA slot)
1 x CFast slot
2 x 2.5″ SATA bays for SSD/HDD
Windows & Linux support
The NISE 300 is designed to work in conjunction with our range of Mini-PCIe expansion modules. These modules allow easy interface to a number of industrial standard communication protocols – some options are listed below:
FBI90E-DNM – DeviceNet Master Mini-PCIe Interface Card
FBI90E-PBM – Profibus Master Mini-PCIe Interface Card
FBI90E-REM – Industrial Real Time Ethernet Fieldbus Master Mini-PCIe Interface
NISK300LAN – Mini-PCIe 2x Gigabit LAN Card with Universal I/O Bracket
Our experienced sales team can offer the most up to date information and suggest options which fit your specification and budget; depending on location, please call the numbers listed at the top of the page or use the contact form to send us your requirements.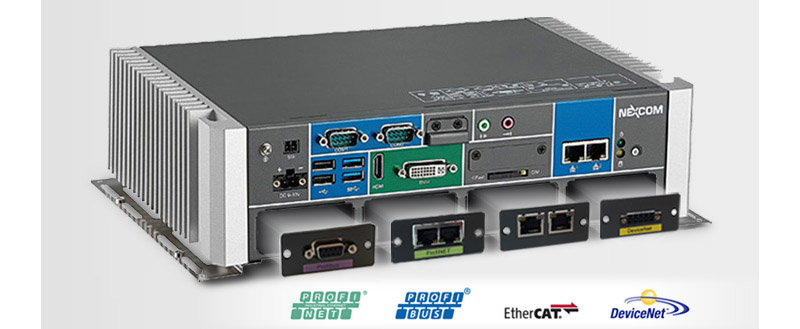 About Assured Systems
Assured Systems is a leading technology company offering high quality and innovative applied computing solutions to the embedded, industrial, and digital-out-of-home markets across the world. Headquartered in Stone, England and with offices in North America and the UAE (coming 2015), our reach is truly global. Our impressive product portfolio includes a full range of Fanless Embedded Computer Systems, Digital Signage & Multimedia Computer Systems, Touchscreen Panel PCs, Human Machine Interfaces, Vehicle Mount Computers, Rackmount Computer Systems, Single Board Computers, Rugged Laptops & Tablets. Please call the numbers listed above or visit our website at www.assured-systems.com for more information.