In this article:
IGT Series - IIoT Gateways for Every Industrial IoT Application needs
Learn all about IGT series from Neousys for every industrial IoT application needs, everything from predictive maintenance in intelligent manufacturing to environment monitoring.
The Neousys industrial IoT gateway IGT series is an effective system which combines a reliable hardware design with an open-source software development environment. Pre-installed with Debian, the IGT series is capable of running fragmented applications while providing rich I/Os for data acquisition and wireless communication. With minimum human intervention required and quick time-to-market deployment, the IGT series can greatly benefit users IoT projects.
Available in ARM and x86-based (Intel Atom Bay Trail) platforms, IGT series offers customization services to help accelerate your system development.
Neousys IGT Series Features
Neousys rugged DNA thrives in harsh environments 24/7
Compact fanless design
Wide temperature operating range (-25°C to 70°C)
8 or 12VDC up to 35VDC wide input
Rugged mounting options
PoE PD mode
Rich DAQ channels & wireless communication for data connectivity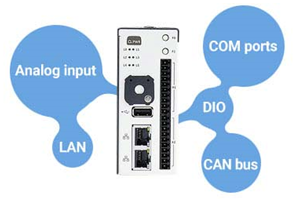 COM and LAN ports
Optional CAN bus ports
Digital I/O, analog input
Mini-PCIe for Wi-Fi/LTE
Pre-certified to operate on AT&T and Verizon networks
Fully-customizable to meet users needs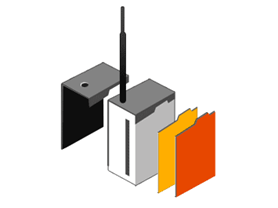 Branding
Tailor-made OS image
OS image deployment with applications pre-loaded
New design
Application board customization
The Neousys IGT Series is a true industrial gateway, a complete computing platform with pre-installed Debian that can truly operate in -25°C up to 70°C wide temperature conditions. Featuring a variety of input and output connections to connect to industrial sensors and devices, it has USB 2.0, 10/100Mbit LAN, RS-232/422/485 ports, digital and analog ports, making it one of the more connection capable industrial IoT gateways on the market. In addition, it features industrial specialized data acquisition channels that can accept most industrial analog channels 0 ~ 10V or 4 ~ 20mA output, especially useful for legacy machinery. Many microprocessors on the market have built-in analog input channels but most of them only support 0 ~ 3.3V, which is not in the range of most industrial sensors.
The Neousys IGT contains a variety of acquisition channels to connect to and collect data from In-situ sensors and OT devices. With the collected data, Neousys' industrial IoT gateway IGT series utilizes its ability to compute at the edge to offer field site decision making, data wrangling and encryption.
Essential Elements of an Industrial IoT Gateway

Survival in harsh environments is almost a given quality for industrial IoT gateways as they are often placed close to sensors that may detect extreme conditions which means they are also exposed to similar conditions 24/7. Industrial IoT gateways need to have a wide operating temperature that ranges from -25°C up to 70°C or so while the processor can withstand an even wider temperature range, such as from -40°C to +105°C.
Wide range industrial power acceptability plays an important role in the industrial IoT gateways' deploy-ability as more than often, the hard-to-reach locations have limited electrical distribution networks for power points. Hence the ability to accept wide range power input or other forms of power (such as PoE) can make deployment that much more convenient and deploy-able.
Real-time data acquisition is fundamental for industrial IoT gateways. With different data acquisition channels such as digital/ analog, Ethernet (Modbus, MQTT, TCP, etc.), serial connections, various data sources can be acquired from sensors or systems. Traditional OT systems transmit a steady flow of data that is comprehensible between controllers (PLC, RTU, SCADA, etc.) to sustain operations. In an industrial IoT network environment, the OT systems send a large amount of data directly to IT cloud systems for analysis.
Data transmission between OT & IT through wireless connectivity – This data transmission between OT and IT is vital because the IT system's analytic data have a "cause and effect" action that it directly correlates to the optimization of field site OT systems. And how do OT data from field sites acquired by the industrial IoT gateway get to IT systems?
Data connectivity of course, but it's ideal to have the connection field-tested and pre-certified so when deployed outside the testing ground, the connection is viable (4G/ LTE reception, WiFi signal compatibility, etc.).
Data storage – But what happens when the network connection or the cloud service is down? The industrial IoT gateway should also have the ability to store data. The data can be temporarily stored in the industrial IoT gateway and the upload process may resume once the connection is restored. The ability to store data also reduces the chances of data loss and excess data transfer.
Computing at the edge – Imagine a manufacturing factory with air, water, electrical, security, etc., thousands of sensors and over hundreds of OT systems, you will be looking at a lot of OT device data. To have the ability to filter unnecessary or "no-need to send data", it will speed up and reduce transmission costs. So how are data classified as unnecessary or "no-need to sent data"? This is where a next-generation industrial IoT gateway's ability to compute at the edge comes in. The onsite processed data offers immediate action/ reaction to on-site events and because this data is retained, it reduces the amount of raw data sent.
Data encryption – Once the need-to-be send data has been determined, the encryption process begins. Here, the main advantage of encryption is obvious as wirelessly transmitted business information data are prone to be hijacked; but once the data is encrypted, it is protected from direct hijack access and reduces security risks. Finally, the encrypted main data reaches the cloud application for analytics, the mass data can be organized and extracted, then be presented on a dashboard, a key HMI that displays your sensors/ OT systems' reading and statuses offering insights that allow you to manage and tweak your factory for efficiency or Predictive Management.
Neousys IGT Series for Predictive Maintenance in Intelligent Manufacturing

One of the main concerns when turning a factory into an 'intelligent factory' is the existing 'legacy machinery'. Legacy machinery are older machines that were not designed with IoT digitization in mind, hence the lack of connectivity or wireless communication capability. There are now smart industrial grade sensors and dedicated kits that can be deployed to attain quantifiable data from legacy machinery; or there are industrial gateways that feature both digital and analog connectivity to communicate with legacy devices, turning them into a part of your industrial IoT system.
Traditionally, factories schedule their maintenance tasks as this allows them to plan their downtime and minimize the factory's loss of productivity. The scheduled maintenance is the most common means of avoiding machine failure and factory operation downtime, it is based on a predetermined interval of workload sustained by the machine, it assumes a higher failure probability with repeated usage or time (age). However, research from ARC Advisory Group has shown that repeated usage and the age of machinery only contribute to approximately 18% cause of failures for industrial assets; while the other 82% arise from random failure instances. Apart from the obvious productivity loss and repair cost, the random failures may also result in a series of butterfly effect in the factory such as direct/ indirect associated machine failures, safety risk/ concerns and excess salary payment from overtime work.
An effective method to reduce the 82% random failure instances is through the utilization of PdM by implementing an industrial IoT system. By deploying industrial-grade sensors, it can monitor the operation status of critical components such as operating temperature, rotor vibration detection, revs per minute against predetermined safe range thresholds. The data are collected, computed and sent using industrial IoT gateways to the cloud for data analytics. The processed data are then presented on a human-machine interface (HMI) where the insight data can improve the overall efficiency of the factory but more importantly, they also show signs of wear and tear of floor machinery; which may be a telltale sign that necessary maintenance or repair is needed and can help you avoid bigger problems in the near future.
Neousys Technology IGT series is the ideal industrial IoT gateway for intelligent manufacturing and predictive maintenance purposes. By deploying Neousys Technology IGT series onto your industrial IoT network to build an intelligent manufacturing factory, you can connect your existing legacy and digital devices to the same network to predict failures and reduce downtime, maximize production and efficiency while saving overall costs in the process.
Predictive Maintenance applications assist in predicting possible future failure outcomes using a string of existing and live data. However, one must comprehend that Predictive Maintenance is a continuous on-going process. The process starts with predetermining the right set of threshold data points, integrating factory floor machinery into the industrial IoT system to attain real-time data; constantly compare live data against existing data and set thresholds to live-track the finest discrepancies to avoid unforeseen machine failures. As the case with any industrial IoT system, better the data quality, the more accurate the predictive model will be.
Neousys IGT Series Industrial IoT Gateway for Environment Monitoring
The Neousys IGT series is a next-generation industrial IoT gateway, a full-on computing platform with pre-installed Debian that meets industrial requirements and can withstand harsh industrial environment deployment. It features industrial specialized data acquisition channels that can accept most industrial analog channels 0 ~ 10V or 4 ~ 20mA output. Many microprocessors on the market have built-in analog input channels but most of them only support 0 ~ 3.3V, which is not in the range of most industrial sensors. The Neousys IGT contains a variety of acquisition channels to connect to and collect data from In-situ sensors and OT devices. With the collected data, Neousys' industrial IoT gateway IGT series utilizes its ability to compute at the edge to offer the following:
Data wrangling. It is the process where the raw data is transformed into a comprehensible format that may offer insight analytical statistics to your operation.
Data encryption. This ensures your data is free from being hijacked during transmission.
Field site decision making is also enabled by edge computing to respond almost instantly. Such as activating a contingency plan when the temperature of the boiler enters a particular range and issuing an urgent shut down when the temperature of the boiler exceeds the set threshold.
For data that were not able to be processed on-site, they are encrypted and sent off via a verified network to the cloud for analytic processes. This is where compatibility with cloud applications and packages become instrumental and is an additional benefit of Neousys IGT series industrial IoT gateway. The sent encrypted data is processed at the cloud and displayed on an HMI dashboard to give you a supervisory view of your edge sensors and devices that can extract useful data to further improve overall system efficiency. With over fifty-thousand solutions packages including some of the biggest names such as C/C++, Python, Modbus, HTTP, Apache, Node-RED, etc., I'm sure you will find one that suits your needs.
With Industry 5.0 on the horizon, the current Industry 4.0, also known as the "information revolution" proactively practices the integration of devices and digitalization into everything industrial. By bringing together devices and technologies such as cyber-physical systems, IIoT, cloud analytics, big data, edge computing made monitoring and operating a two hundred meters tall office building in front of a computer screen possible. The abilities of industrial IoT gateways deployed to accurately and efficiently engage your network devices to play a pivotal role in the performance and safety of a building's HVAC system or other environmental monitoring scenarios. The Neousys Technology IGT series is a next-generation industrial IoT gateway that is extremely capable and ideal for a variety of industrial IoT applications.